 MOSCOW, Feb 7 (Reuters) - Three members of Russian punk band Pussy Riot have appealed to the European Court of Human Rights over their jail sentences for a protest against President Vladimir Putin's links to the Russian Orthodox Church.
Convicted for "hooliganism motivated by religious hatred", Nadezhda Tolokonnikova and Maria Alyokhina are almost halfway through two-year terms. Yekaterina Samutsevich was released on appeal with a suspended sentence.
Lawyer Pavel Chikov said Russia had violated their right to freedom of speech, a fair trial and liberty. They were also treated in an inhumane way in custody by being deprived of sleep and enough food on days when they attended court, he added.
Pussy Riot's "punk prayer", which came at the height of the largest wave of protests yet against Putin's 13-year rule over Russia, was a political one and it was wrongly qualified as being aimed at inciting religious strife, Chikov said.
"I think they will be released from prison before the tribunal ruling," Chikov said on Thursday, the day after the appeal was sent to Strasbourg.
"But the European Court is not the key mechanism to seek their prompt release. It is important to bring in justice, declare them not guilty and, eventually, acquit them."
Their sentences expire in March 2014 and it is unclear whether the tribunal will announce its ruling before then.
Last February, the three stormed the altar of Russia's main Orthodox cathedral in Moscow to perform a noisy protest song calling on the Virgin Mary to rid Russia of Putin.
Pussy Riot band members were allowed to have only very limited contact with their defence lawyers, whose actions were often restricted, and they should not have been kept for more than five months in pre-trial detention, Chikov said.
Any ruling by the tribunal in favour of Pussy Riot could mean the three women would be eligible for compensation or even that their verdicts would have to be reconsidered.
Pussy Riot's profanity-laced protest offended many in mainly Orthodox Russia and was condemned by the Kremlin and the Russian Orthodox Church.
Putin is accused by critics of cracking down on dissent since his May return to the presidency for a third term and has increasingly leaned on the resurgent Orthodox Church for support among conservative constituencies.
Opposition activists say the Pussy Riot trial was a political one meant as a warning to other active critics of Putin. (Reporting by Gabriela Baczynska; Editing by Robert Woodward)

Before You Go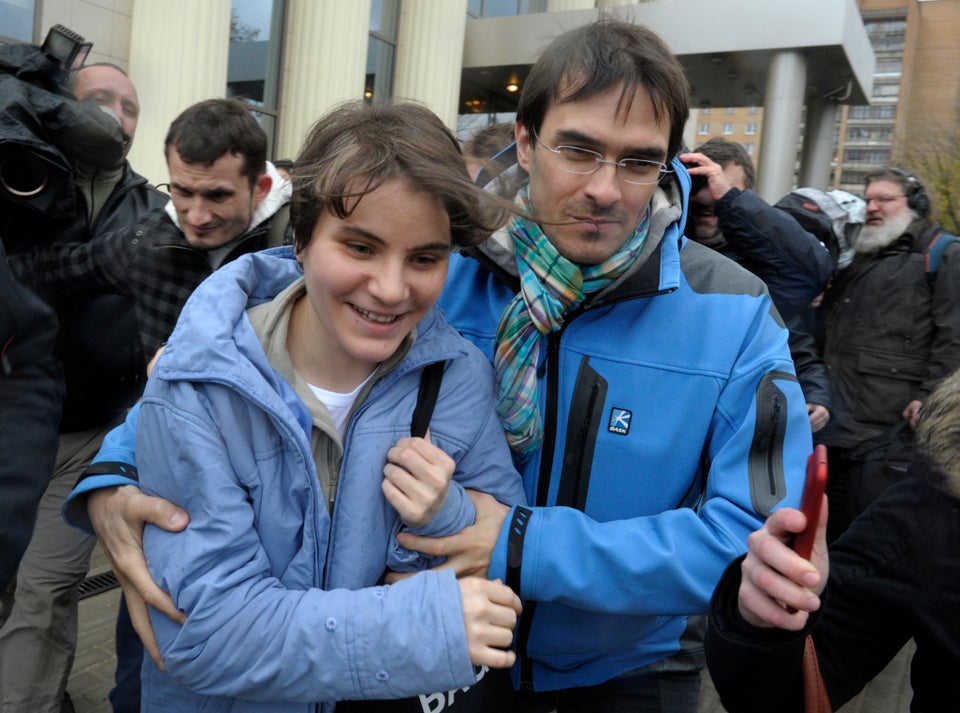 Pussy Riot Member Freed
Popular in the Community