"We sang a fun song at a church," said Pussy Riot's Masha Alyokhina when Stephen Colbert asked her and bandmate Nadya Tolokonnikova why the Russian government had imprisoned the band. What followed was a witty, insightful interview about the punk band's political prison stint at the hands of the Russian government, which ended when they were released last December.
Speaking through a translator, Alyokhina and Tolokonnikova explained why they had been thrown in jail for speaking out against Vladimir Putin's anti-gay regime. "We have different ideas about a bright future, and we don't want shirtless man on horse leading it," Tolokonnikova said.
Colbert remained true to his blustery conservative pundit during the interview, which was one of their first in the United States. When told that being a part of the gay community is illegal, Colbert asked, "Do you think many gay people will make the right decision and stop being gay?"
Tolokonnikova responded in Russian: "In our experience, it just turns them on even more."
The women received a long applause break when they thanked their American fans for supporting them throughout their time in prison. "I don't know what the Russian word for pander is, but well done," Colbert joked. He then pushed them on their claim that they were only released as a PR move for the Sochi Olympics.
"We don't think it improved the image of Russia, so maybe Putin made a mistake and should throw us back in jail," they said through their translator. Colbert joked that he is friends with Putin, and the Pussy Riot girls said they would even make Stephen an honorary member of the band if he would influence Putin to help prison conditions.
Colbert closed the interview with a question on everyone's mind: Why is the band called Pussy Riot? (The name of the band is in English, even though the members primary speak Russian.)
"We wanted to let English speaking people enjoy themselves," Tolokonnikova said.
Check out part 1 of the interview above and part 2 below.
Related
Before You Go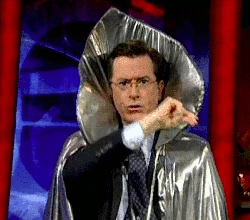 Stephen Colbert GIFs
Popular in the Community