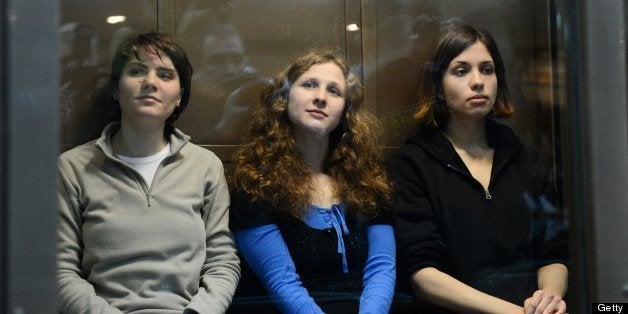 Pussy Riot, that feminist art collective from Russia that made brightly-colored balaclavas a symbol for political activism across the globe, is back in the headlines. The outspoken group is the subject of a new HBO documentary, "Pussy Riot: A Punk Prayer," a look back on the trials and tribulations of well-known members Nadia Tolokonnikova, Masha Alyokhina, and Katya Samutsevich.
The film, codirected by Maxim Pozdorovkin and Mike Lerner, tells the story of the unmasked trio who were sentenced to jail time for their guerrilla performance at Moscow's Cathedral of Christ the Savior last year. Including interviews with relatives, video of early Pussy Riot meetings, and evocative footage of courtroom dealings, it's likely the most comprehensive portrait of the women we've seen thus far, one that veers away from describing the Rioters as "punk girls" and opts to shed light on their informed activism and artistic intentions.
Pozdorovkin and Lerner walk the audience through the women's backstories, moving from childhood to political protest to imprisonment, while unraveling the events of Pussy Riot's widely publicized, yet deeply secretive court case. We learn how each of the three group members came to oppose Putin's regime and the lengths to which they'd go to further their beliefs.
For the film's premiere this week, two anonymous members of Pussy Riot, joined by the likes of Patti Smith and other high-profile celebrities, introduced the documentary to crowds at Manhattan's Landmark Sunshine Theater. Of course, neither Tolokonikova nor Alyokhina were able to attend the event, as they both remain in penal colonies in Russia. For her part, Samutsevich, who was released from prison under a suspended sentence, was only available for comment via Skype.
We were lucky enough to catch up with Samutsevich in a Skype interview this week. She spoke to us about her thoughts on the documentary, what's ahead for Pussy Riot and why she doesn't want her group to be labeled a punk band. Scroll down for interview.
I'm guessing you've watched the documentary by now? What did you think of it?
My general impression is very positive but it's very hard for me living in Russia and knowing the full context of the story to evaluate what it's like for someone who's seeing it without knowing the situation in Russia and without knowing all the details. But I think it's very well made and I enjoyed it.
Is there anything you think is important that we just don't see in the documentary?
You know, I'm not an expert in film, so it's hard for me to say what could have fit in organically and what wouldn't. But the story calls for many films to be made, dealing with Russian history, thinking about what happened during the fall of the Soviet Union, what happened with Putin's coming to power and the development of the Moscow Patriarchy. And subsequently the birth of the opposition.
One of the most striking moments of the film -- toward the end -- shows you leaving the courtroom after your appeal was granted while Nadia and Masha remained in their cage. You hugged them before you left and Masha was shown smiling. Were they expecting you to be released? Were they happy for you?
No, it was a surprise for everyone, myself included. We didn't really think anything would change at that point. Everyone was shocked but Nadia and Masha were obviously happy about it when it happened.
The film doesn't really explain in detail why you decided to appeal with a new lawyer? What was the motivation behind this?
Mostly it was an issue of a lack of trust. There were many things that I was feeling while in [prison], but a sense of trust for the people representing you is important when you are incarcerated. And I had my own suspicions and feelings -- all of which have been confirmed since then. So that was the decision for my changing lawyers.
One of your first appearances in the documentary shows you responding to repeated questions in court on whether all women want marriage and children. Do you wish that more aspects of Pussy Riot's feminist ideology would have made it into the spotlight during the trial?
Yes, of course, because our motivation was that we were fighting for the rights of women and what happened in the courtroom was a battle of discourses, where we were expressing what we stood for -- the rights of believers as well as people in general in our country, while the prosecution, which did everything possible, everything in their power to make it a point about these supposedly offended and insulted people. In a way, what you see in the courtroom is a battle about motives.
At one point in the film, one of the lawyers discusses the fact that punk culture and performance art has never really existed in Russia and therefore no one is really able to understand it, or the nature of Pussy Riot. Do you agree?
Not entirely. In Soviet times there was a punk scene that did exist and there was some sort of avant-garde scene, but when people speak in the film they speak from their own perspectives, and maybe trial lawyers don't have access to these things. With performance art it is a little more difficult, because when things were developing in the '60s and '70s, performance art was repressed and underground, familiar to only a few people. In recent times that has changed a little and the culture of performance art is more developed than it was in the Soviet Union.
Are there any particular contemporary artists you admire?
It's hard to choose because there are in fact many people who are doing this type of thing that's on the border between art and political protest. One person, for example, is a street artist named Misha Most. But you know, one of the things that's been happening recently is this split between institutional art -- which is the more commercial art that's seen in galleries, and political art, which tends to be seen as more marginal. Part of the problem, I think, is that institutional art often falls prey to implicit and explicit censorship. And so as a result, this kind of non-commercial art or street art is seen more as activism and not as art, which is a problem. Because even when people see Pussy Riot they see it as a form of activism and not as a form of art.
One question I have always had is how you or other members of Pussy Riot reacted to being called a punk band by Western media. Do you consider yourself a punk musician or do you relate more to the label performance artist? Does it even matter to you?
You know, while we call ourselves a punk group it should be clear -- because it's very important for us -- we're not a band and we're not interested in commercial types of performances or anything like that. One of the essential ideas from the start of Pussy Riot was to try and transform this idea of what a group is or what a band could be. Of course, it's a problem in Western media when people call it just a punk group or a punk band because a lot of the stereotypical associations of what goes along with being a punk band is touring, selling records, doing all of these things. We are against all of these things.
Do you see Pussy Riot continuing to do public performances?
In theory, yes, we hope that it will be possible, but the political situation is much more complex that it was before. There are figures in the Russian media that have very much used the fact that the three of us have been unmasked, and they've maximally tried to discredit us and focus on certain aspects of our biography to draw away from the purpose of the group and its ideas.
Do you feel safe performing in public?
No, of course not, unfortunately. Any person that performs unsanctioned performances or protests is in danger in our country and that's not just me, it extends to every person that's interested in illicit performances.
In the film, a few masked members of Pussy Riot discuss the tactics the group uses, explaining that they want to destroy the whole system, that talk and compromise gets you nowhere, and that riot and revolution is necessary. Would Pussy Riot ever turn to violent means of opposition?
You know, the idea of the group is artistic so our principle is to come up with artistic forms for the purposes of political activity. In terms of speaking individually, in terms of us being citizens and fulfilling our civic duty, I do not see anything that would prevent us from from waging a revolution. We're not against it, but it's just that the group -- Pussy Riot -- it's purpose is artistic.
Your father was a pretty compelling figure in the documentary. Does he remain proud of your actions and decisions?
My father, in reality, has very mixed feelings about it because on the one hand he was against our performance in the church and some of our feminist ideas. He's more conservative. But obviously he was very much against what happened to us, being put in prison, so I think he's very much come around to be a lot more anti-Putin then he had been.
Have you been able to contact Masha or Nadia at all since your release?
Yes, it is very limited because it's mostly through letters though. And since everything is censored in the written communication, we can't really discuss anything at length. I should add that in the Russian legal system if you are a co-conspirator in a case with someone else you are not allowed direct contact with them. I have a suspended sentence but I'm not allowed to visit them or call them on this sort of prison Skype that we have because it's against Russian law, so I actually have to write letters under fake names and send it to them to communicate.
Did you support Masha's decision to go on a hunger strike?
Yes of course. I believe that Masha can make the right decision based on her circumstances. I think she had the right reasons, based on interviews she's given and things she's written to me about.
Last question. In a bit of random news, just before this interview I read that Putin and his wife are getting a divorce. I think it's a bit strange for most people to consider that an authoritarian figure like Putin has a personal life. Do you have anything to add on the subject?
Well, my bigger interest is that he works to preserve a rule of law and if he's not able to do that then he should leave. For me, it's irrelevant whether he is or he isn't getting a divorce. It's his business if he is, and he has other obligations that he's not keeping. That being said, his wife did write a book not too long ago which I think was censored a little bit, but it described his sort of disrespectful attitude towards her and I think that that book wasn't really available for print but it circulated widely on the internet. Based on that [the divorce] is not very surprising. Still, the more important thing, or at least what I feel, is that he doesn't fulfill his obligations as a leader and fails to uphold the principles he claims.
Calling all HuffPost superfans!
Sign up for membership to become a founding member and help shape HuffPost's next chapter