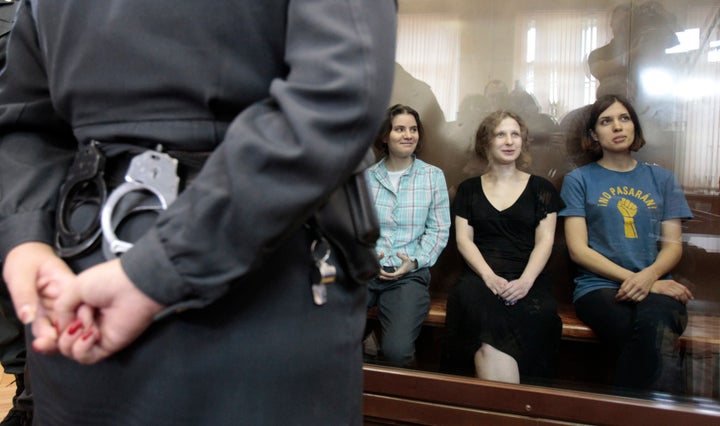 One year ago, the otherwise unknown Russian punk band Pussy Riot made music in the comfort of their own anonymity. However, after a strategically planned political protest, Pussy Riot have become the poster children for free speech on a global scale.

First Amendment rights are something that we take for granted as American citizens, but some parts of world don't get to experience the same freedoms that we enjoy.

Pussy Riot embodies this injustice.

In February of this year, the five members of the all-girl punk band staged an impromptu performance in Moscow's main cathedral the Cathedral of Christ the Savior, where they mocked Russia's president, Vladimir Putin, as well as the Orthodox Church, Putin's greatest contributor.

After they blessed themselves with the sign of the cross and bowed toward the altar, the members of the band, clad in vibrantly colored masks called balaclavas that cover most of the face except for the eyes, performed a "punk prayer" for a camera and a few straggling worshippers in the cathedral.

The video of these actions, entitled "Punk Prayer: Mother of God Drive Putin Away," was soon uploaded online. The title is a direct blast at Putin and his anti-feministic political infrastructure, and it calls for an uprising against his re-election.

Two members of Pussy Riot, Maria Alekhina and Nadezhda Tolokonnikova, were arrested last March for this exercise of free speech under allegations of "hooliganism motivated by religious hatred," and a third member, Yekaterina Samutsevich, was accused later that month under the same charges.

What is the punishment for "hooliganism?"

The trio was sentenced to serve two years in incarceration for the so-called crimes committed, a drastic penalty for the seemingly harmless actions.

Samutsevich was released from prison early last month, but her fellow band mates were transferred from the Moscow jail, where Samusevich had been visiting them daily, to prison colonies hundreds of miles from their home in the nation's capital.

Since her release, Samutsevich filed a complaint with the European Court of Human Rights regarding her treatment while incarcerated.

"I'm only now beginning to understand what happened over the last seven months, and to be honest I see that the situation has got a lot worse in Russia," Samutsevich said in an article featured in the Agence France-Presse.

Not only did Pussy Riot protest the Russian government, but their actions and unjust imprisonment have also opened a Pandora's box of protests for the release of the two remaining band members.

Protesters clad in embellished balaclavas have spoken out for the rights of the trio and other privileges, including the right to speak freely and practice one's religion as they see fit -- all notions that have become synonymous with our nation yet underappreciated by recent generations of American citizens.

After igniting this flame of protest, it has been estimated that Pussy Riot has become one of most influential artists of our generation. Moreover, many politicians and artists, including Paul McCartney, Madonna and Pete Townshend have publicly stood behind the band.

Citizens of New York City -- as well as those in Bulgaria, Scotland, Germany and Russia -- have taken notice and united under the cause.
Is it not the entitlement and duty of not only artists but all citizens to question their government especially in a proposed democratic world?
Though both of these incidents enraged and created worry among a number of people, there is no denying that as a free people, the freedom of speech is as vital to life as breathing.
No government should be able to censor what is and is not said. The actions that the Russian government are taking in regards to the members of Pussy Riot are the equivalent of those taken by the American government in the dark ages of its infancy with the Sedition Acts.
Yet more than 200 years later, countries are still making these mistakes and injustices against their citizens.
What can you do to help protect the rights of Pussy Riot as well as promote change not just in Russia but in other countries around the world?
Websites such as Change.org, U2 lead singer Bono's brainchild, as well as Amnesty International have online petitions that anyone can and should sign pleading for the release of these activists, pioneers, artists, citizens and their future generations.
Stand up for something that matters. Do something for your fellow man, and maybe create change. Even creating awareness can help these brave women and generations to come.
Popular in the Community