Members of the Russian punk band Pussy Riot released their first English-language song on Wednesday, titled "I Can't Breathe" -- the final words of New York police chokehold victim Eric Garner.
Pussy Riot members Nadya Tolokonnikova and Masha Alyokhina told The Guardian that they wrote the song after taking part in protests against police brutality in New York last December.
The song, inspired by Garner, is dedicated to people "around the globe who suffer from state terror -- killed, choked, perished because of war and state sponsored violence of all kinds," Pussy Riot wrote on the video's YouTube page.
American cities convulsed in protest last fall after grand juries declined to indict police linked to Garner's death in New York and Michael Brown's killing in Ferguson, Missouri. Garner's last words -- which he repeated 11 times -- became a symbol of public outrage at the police treatment of unarmed black men.
"Those words are his, but we hope they can also stand for us and for many around the world, for all who can't breathe because authorities act with impunity and feel invincible and above the law in using power to humiliate, intimidate, hurt, kill and oppress," the musicians told The Guardian.
The video, shot in Russia, shows Tolokonnikova and Alyokhina wearing Russian riot police uniforms and being buried alive. "We were realizing that Russia is burying itself alive in terms of the rest of the world. Committing suicide. Daily," Pussy Riot told BuzzFeed News.
The punk duo is fiercely critical of Russian President Vladimir Putin's repression of dissent and support for rebels fighting in Ukraine. "We really could not breathe for this whole last year," they said.
Tolokonnikova and Alyokhina's outspoken protests have raised the ire of the Kremlin. In 2012, they were jailed for over a year for taking part in a punk protest in a Moscow cathedral. At the 2014 Sochi Winter Olympics, they were violently attacked by horse whip-wielding Cossack militia members.
"We've known, on our own skin, what police brutality feels like and we can't be silent on this issue," they told The Guardian of their latest release.
Related
Before You Go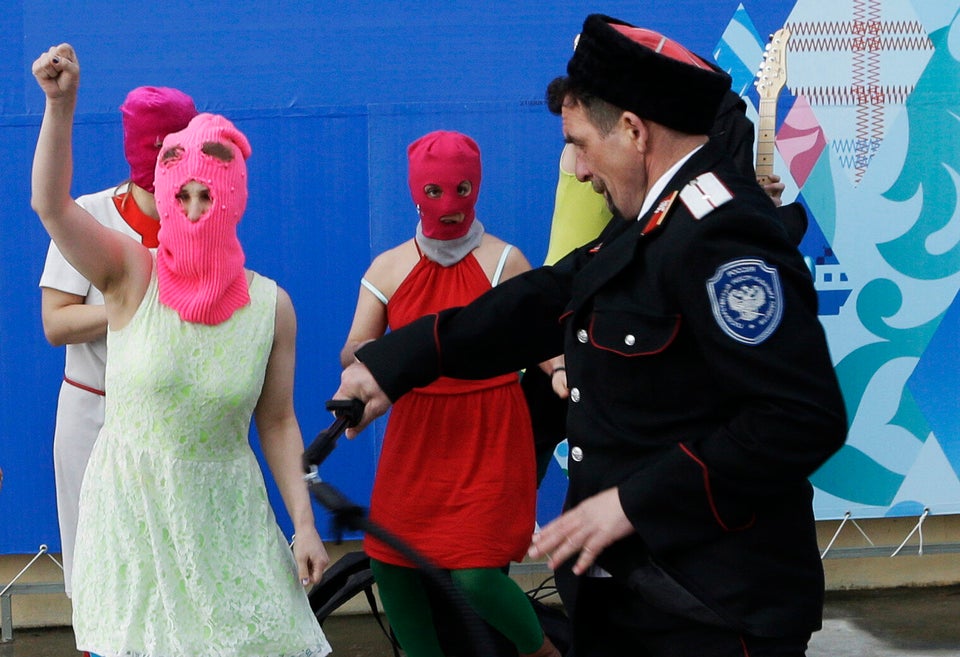 Pussy Riot Attacked In Sochi
Popular in the Community