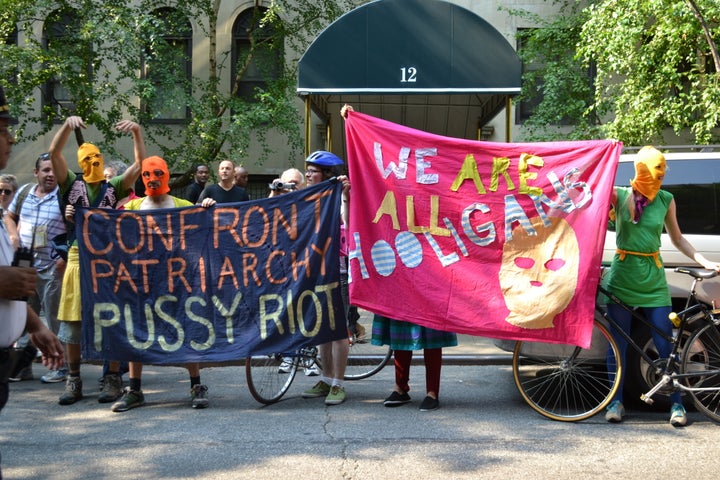 Many of you know by now that three members of the Russian punk band and activist group Pussy Riot were found guilty of hooliganism charges today, with Moscow Judge Marina Syrova announcing a prison sentence of two years for the three women who staged the anti-Putin protest in Russia's Cathedral of Christ the Savior last February.
Following the guilty verdict's announcement this morning, small protests were held in dozens of cities across the world, including demonstrations in Barcelona, Paris, Berlin and Washington, D.C.
In New York City, around 40 protestors gathered in Manhattan's Upper East Side, beginning with a small number of demonstrators playing musical instruments in front of St. Nicholas Orthodox Church in Manhattan. The group of balaclava-clad supporters then moved to the Russian Consulate, where marchers were met by a mixture of English and Russian-speaking participants, many of whom donned paper masks and held signs that read, "Confront Patriarchy" and "We Are All Hooligans."
Crowded into the sidewalks surrounding the consulate, we asked the masked supporters why they had decided to march in support of the jailed Russian women. One unnamed participant shouted, "Because I believe in civil liberties everywhere!" while another masked male said, "We're in a bind worldwide. We're all in the same struggle."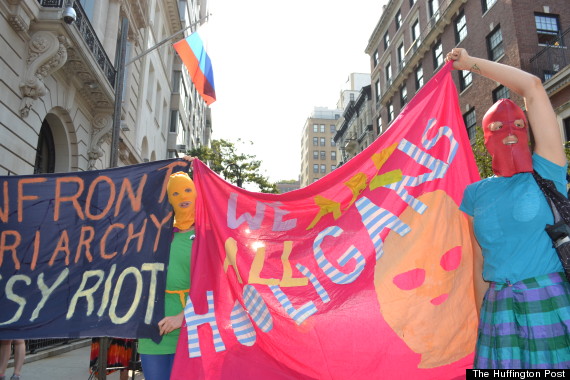 Balaclava-clad demonstrators gathered at the Russian Consulate to support Pussy Riot.
One man who identified as Russian arrived at St. Nicholas to voice his opposition to the feminist punk band, frequently stationing himself next to pro-Pussy Riot demonstrators with a manila folder-sign that read, "Jail Pussy Riot, Pussy Eater." (He was the only counter-protestor we saw attending the gathering.)
At this point, dozens of NYPD officers arrived at the Russian Consulate, telling protesters that they were disrupting traffic and unlawfully loitering. At least two male protestors dressed in Pussy Riot's signature bright colors were arrested during the march from the church to the consulate, while three female demonstrators were detained in a police van during the demonstrations in front of the consulate, forced to remove their balaclavas by officers.
Members of the feminist art and activism group Permanent Wave were present at the NYC protest, serenading the participants with Pussy Riot lyrics and songs affiliated with the Riot Grrl movement, such as Bikini Kill's "Rebel Girl." Remarking on the heightened police presence, one member stated, "The [New York City] police want what the Russian Consulate wants. They're like two peas in a pod."
Last night, there was a Free Pussy Riot public reading held in the basement of New York's Ace Hotel on the eve of the verdict. Organized by musician JD Sampson and academic Robert Lieber, and co-sponsored by Amnesty International, the event attracted famous Pussy Riot allies like Chloe Sevigny, K8 Hardy, Eileen Myles, Karen Finley, Johanna Fateman and Mx Justin Vivian Bond, who recited statements written by Pussy Riot to a packed crowd.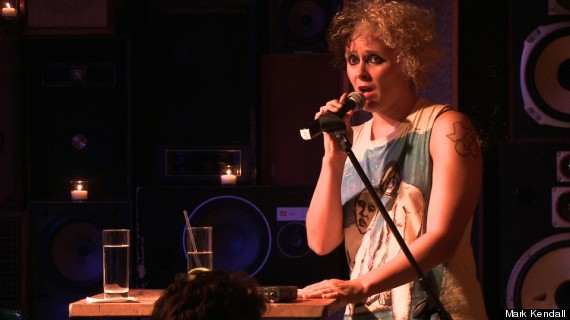 K8 Hardy speaking at the Free Pussy Riot public reading held at the Ace Hotel in Manhattan. Photo courtesy of Mark Kendall.
Commenting on the overwhelming response in support of these jailed artists, Sampson, a member of the band Le Tigre, told the Huffington Post, "I think to a certain extent, everyone can identify with these women. You don't even have to be an artist to understand what art is about. It's about freedom of expression, and freedom of movement. And these women, like all of us, were doing just that."
Now that the trial is over and the women have been sentenced to two years in prison, Lieber, who also runs the Free Pussy Riot website, claims that the group has no intention of stopping their art. "The group has a number of concerns. If you think about their lyrics, each of their songs is directed toward specific issues, specific to the present tightening of government in Russia," Lieber states. "In the past it's been environmentalism, now with the Duma moving to restrict homosexuals, this is also a concern."
Check out images of the New York City rally held for Pussy Riot, as well as a video of the public reading held at the Ace Hotel below. Let us know what you think of the women's sentencing in the comments section.
PHOTO GALLERY
Pussy Riot Rally In New York City
Calling all HuffPost superfans!
Sign up for membership to become a founding member and help shape HuffPost's next chapter
BEFORE YOU GO