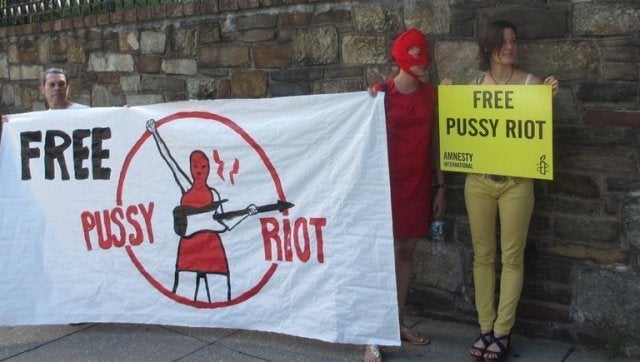 WASHINGTON -- About a hundred protesters, many donning bright balaclavas, dresses and tights, gathered in front of the Russian Embassy late Friday afternoon in support of human rights -- and punk music.
Dressed in the uniquely brash style of the jailed feminist band Pussy Riot, the demonstrators, led by Amnesty International organizers, brandished bullhorns, drum sticks and signs declaring "Stop Gulag 2.0" and "No Pussy 4 Putin."
The chant of "We won't be quiet, Set free Pussy Riot!" attracted the curiosity of motorists, joggers and others passing by on Wisconsin Avenue, many of whom stopped to snap a photo, sign a petition or even pick up a sign -- and don a balaclava.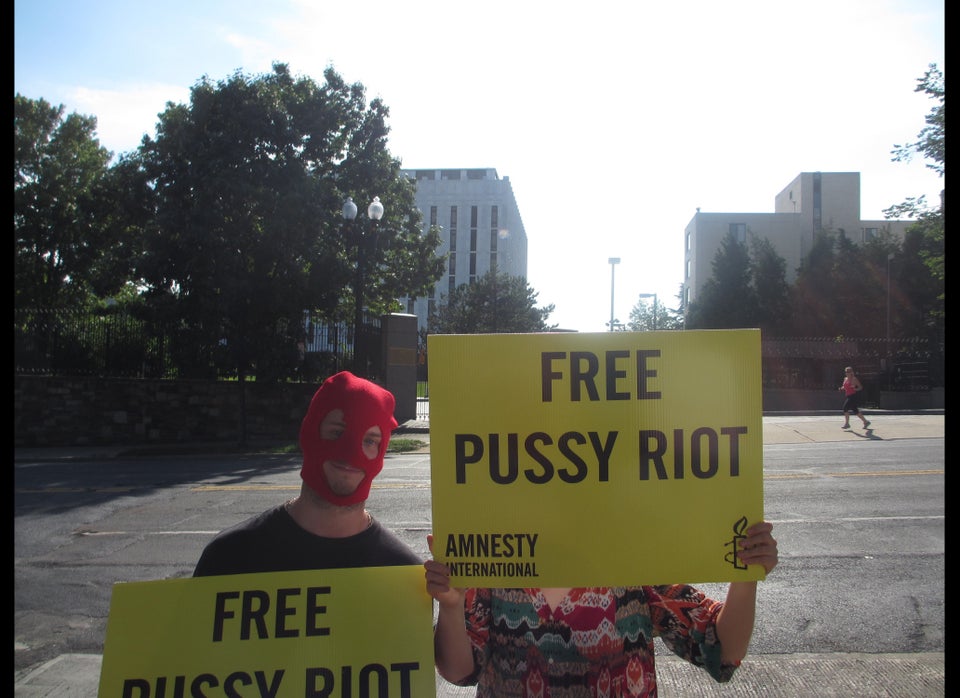 Pussy Riot Protest
Although there was no full-fledged concert, Gage and and bandmate Dave Lesser were on hand for the protest, both wearing neon-colored knit masks. Lesser was also sporting a short red dress and fabulously clashing maroon tights, his hairy, tattooed chest rising out of the low neckline.
Gage said she hopes they can perform in a real benefit concert soon. The members of Brenda have vowed to wear their balaclavas at every performance until Russian authorities free the jailed members of Pussy Riot.
As she pounded a drum, Gage told The Huffington Post: "We didn't want to let them quiet us all the way. We're going to make as much noise as possible to support our punk rock sisters. They can't play anymore, but we still can."
American activists were joined by Eastern European visitors, some in town for the International AIDS Conference, who said they were glad that the rest of the world is monitoring the situation in Russia.
Anya Sarang of Moscow said that the incarceration of the band is a symbol of Putin's dictatorship and told HuffPost that she was glad the world was watching and fighting back.
Pavlo Skala, from Kiev, Ukraine, expressed the concern that repression in Russia would spread to other European nations, and said he was amazed at the D.C. police's tolerance of the protest.
"It's American democracy," he said.
As the stretch of sidewalk in front of the embassy was blocked off by Metropolitan Police Department and and other law enforcement, pedestrians diverted by uniformed officers and the protesters were directed across the street.
Gage said she was puzzled that they had been directed off the sidewalks and into the empty lot across the street, where the concert was originally to have been held until the city revoked the protesters' permits to perform there.
A young woman wearing a dark T-shirt, shorts and a maroon balaclava admitted that it was a bit uncomfortable in the upper-90 degree temperatures. But she said it didn't matter.
"Sure, it's really hot out, but I imagine jail is a lot more uncomfortable."
Related
Popular in the Community