On Feb. 21, 2012, a group of five eccentrically dressed young women hurriedly set up microphones and loudspeakers in Moscow's Cathedral of Christ the Savior and launched into what they would later call a "punk prayer." Screaming, "Shit! Shit! The Lord's shit!" they pierced the sacred air of the church with their fists and with their sharp denunciations of both priestly finery and worshippers' cringing servility.
Clearly, these women had it in for the Russian Orthodox Church. Those in the cathedral that day seem to have thought so, as video of the physical and verbal violence of the band's ejection from the place testifies. A sizable number of the Russian people, when they came to learn of the act, seem to have thought so, too, according to poll data.
The church itself certainly thought so. Its leader, Patriarch Kirill, called for a day of prayer to defend the church against the attack, an event that drew tens of thousands of angry faithful to hear the Patriarch denounce the church's "persecutors."
Most critically for the women, the government of Russia thought so. Russian President Vladimir Putin was outraged. At his insistence, three of the women who had been disguised behind brightly colored balaclavas during the performance were identified, arrested and charged with "hooliganism," a crime that carries a sentence of up to seven years in prison. And Patriarch Kirill was not keen on affording them any leniency for their "devil's work." After all, punishment must be severe for church-hating vandals who strike at the heart of Russian faith.
But was the performance on that day in February 2012 really an attack on faith?
The women who took over the cathedral for those fateful 30 seconds prior to their removal are members of an artists' collective of young Russian feminists. This group, Pussy Riot, now famous the world over not only for the "punk prayer" but for the hooliganism trial that ensued and the global outpouring of support they received, understands itself as a band of guerilla artists who attempt to shock their fellow Russians out of their complacency. Steeped in art history, performance theory, feminism, French philosophy, and the aesthetic and political legacy of the punk movement, Pussy Riot stages performances designed to incite people to think about things they don't normally question: gender, politics, society and, of course, religion. So, what were they actually up to with that prayer in the cathedral?
Let's look at the lyrics. They were not able to perform the entire piece before they were escorted out. Had they been, here (in a literal English translation provided by Jeffrey Tayler in The Atlantic, a short article that includes a detailed explanation of what the women were referencing that is well-worth reading) is what worshippers that day would have heard:
Virgin birth-giver of God, drive away Putin!
Drive away Putin, drive away Putin!

Black frock, golden epaulettes
Parishioners crawl bowing
Freedom's ghost [to] heaven
A gay-pride parade sent to Siberia in shackles

Their chief saint is the head of the KGB [i.e., Putin]
He leads a convoy of protestors to jail
So as not to insult the Holiest One
Woman should bear children and love
Shit, shit, the Lord's shit!
Shit, shit, the Lord's shit!

Virgin birth-giver of God, become a feminist!
Become a feminist, become a feminist!

The Church praises rotten leaders
The march of the cross consists of black limousines
A preacher is on his way to your school
Go to class and give him money!

Patriarch Gundyay [i.e., Kirill] believes in Putin
Would be better, the bastard, if he believed in God!
The Virgin's belt won't replace political gatherings
The eternal Virgin Mary is with us in our protests!

Virgin birth-Giver of God, drive away Putin!
Drive away Putin, drive away Putin!
Wait a minute, this doesn't sound like an outcry against faith. Instead, it sounds like protest against the church's authoritarianism, its traditionalist anti-woman theology, its open and near-sycophantic praise of Putin, and its resulting co-option by the government. The fact that the church and state joined hands to persecute and prosecute these women for their feminist views, their supposed blasphemy, and their public "disturbance" of the Russian "peace" certainly appears to demonstrate with blazing clarity that Pussy Riot's criticisms in this regard were all too valid! All of this crap is the "Lord's shit" that they prayed to the Virgin to deliver Russia from.
Pussy Riot wants their co-citizens to remember that post-Soviet Russia is a secular state and that it must build and strengthen its society accordingly. They see the collusion of church and state to be a retrograde force that keeps Russia from progressing toward reforming deeply entrenched cultural ideas about the inferiority of women, the marginalization of minorities, the acceptability of authoritarianism, and the reduction of freedom of inquiry and expression. This is not anti-church or anti-faith. As one of the members of the group, who remains imprisoned, put it, "We are not enemies of Christianity. We care about the opinion of Orthodox Christians. We want all of them to be on our side—on the side of anti-authoritarian civil society activists. That is why we came to the Cathedral."
Pussy Riot, it seems, does not want to attack the faith. On the contrary, it wants to remind the faithful that, in Soviet times, the state controlled the church, resulting in its evisceration. The church and the state should be more autonomous in order to facilitate the authentic practice of the faith. In addition, Putin clearly grasps the challenge that Pussy Riot and all freethinkers pose to his political power, and he seeks to use all available means for squelching such dissent, including the church. The faithful should resist this, as well. Faith and society both flourish better when church and state are independent of, though not necessarily unrelated to, one another. That is the point that Pussy Riot and its prayer for Russia make. Calling for greater separation of church and state hardly seems like a condemnation of anyone's faith.
A powerful new documentary, "Pussy Riot: A Punk Prayer," which will premiere on HBO on Monday, June 10 (access an earlier HuffPost story about this to view the trailer), documents the continuing story of Pussy Riot's struggle for human rights and freedom of expression in the new Russia. And it presents a number of reasons that Pussy Riot might, in fact, wish to condemn the Russian Orthodox Church. In this otherwise highly nuanced and profoundly insightful and moving film, believers are mostly portrayed as hateful extremists, religious fanatics who characterize Pussy Riot as "possessed" and quite possibly worthy of being burned at the stake. No person of faith is portrayed as reasonable. None seems to understand that Pussy Riot's prayer was for the purity of a faith free of patriarchy and governmental entanglement.
Yet, in their characteristically intelligent, thoughtful, clear-eyed way, the women of Pussy Riot themselves advance a more complex view of faith in the public sphere than the filmmakers. In a post-screening discussion at the Landmark Sunshine Cinema on June 5, two Pussy Riot members, Puck (Shaiba) and Headlight (Fara), disguised for their protection, explained that there were, in fact, many faithful Christian laypeople and lower-level clergy in the Russian Orthodox Church who did understand Pussy Riot's intentions and who do support them in their work.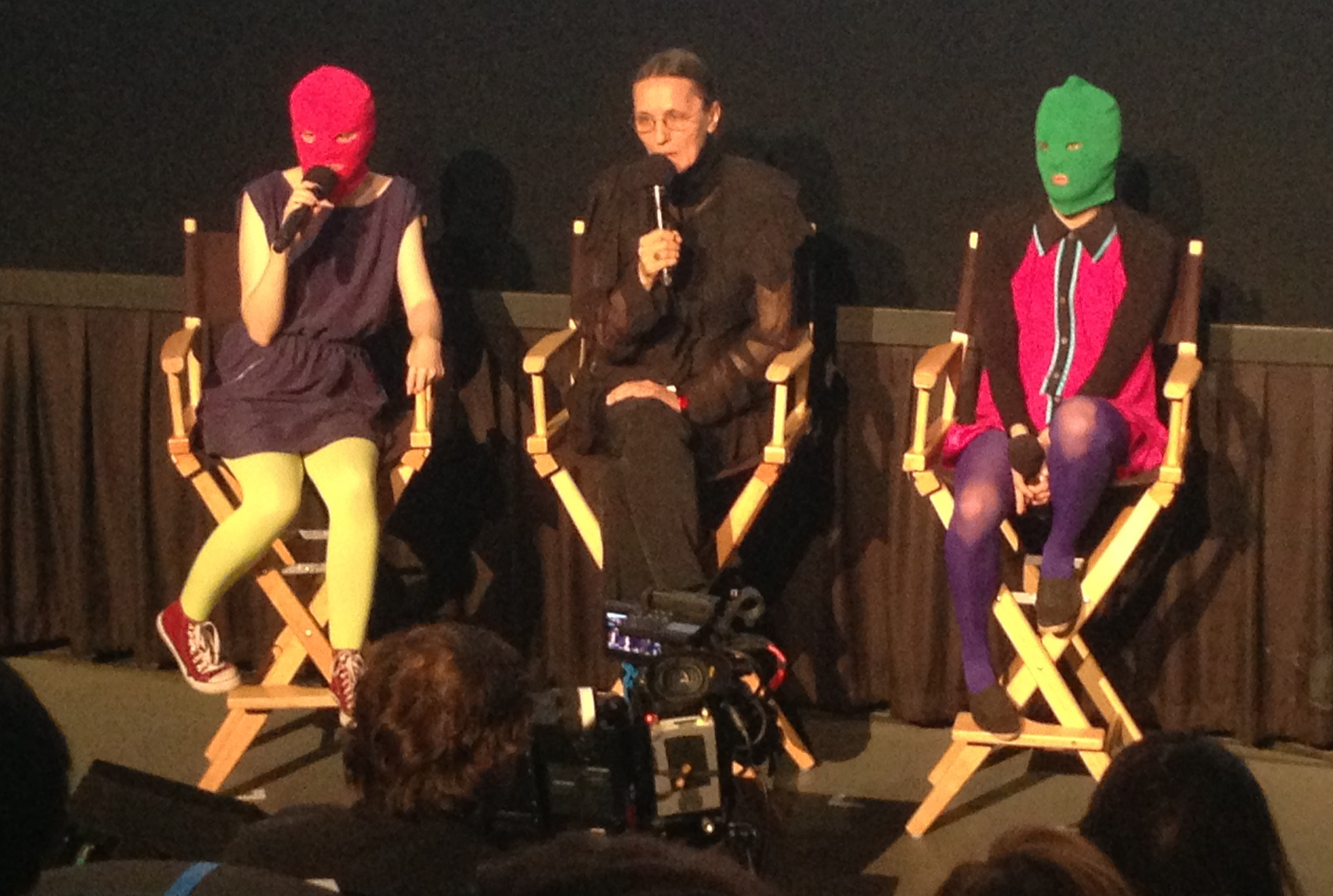 (See here for more on the visit of these courageous women to New York City.) Katya Samutsevich, one of the three women who participated in the prayer, now released from confinement (two remain incarcerated) but not allowed to leave the country, also joined the conversation via Skype.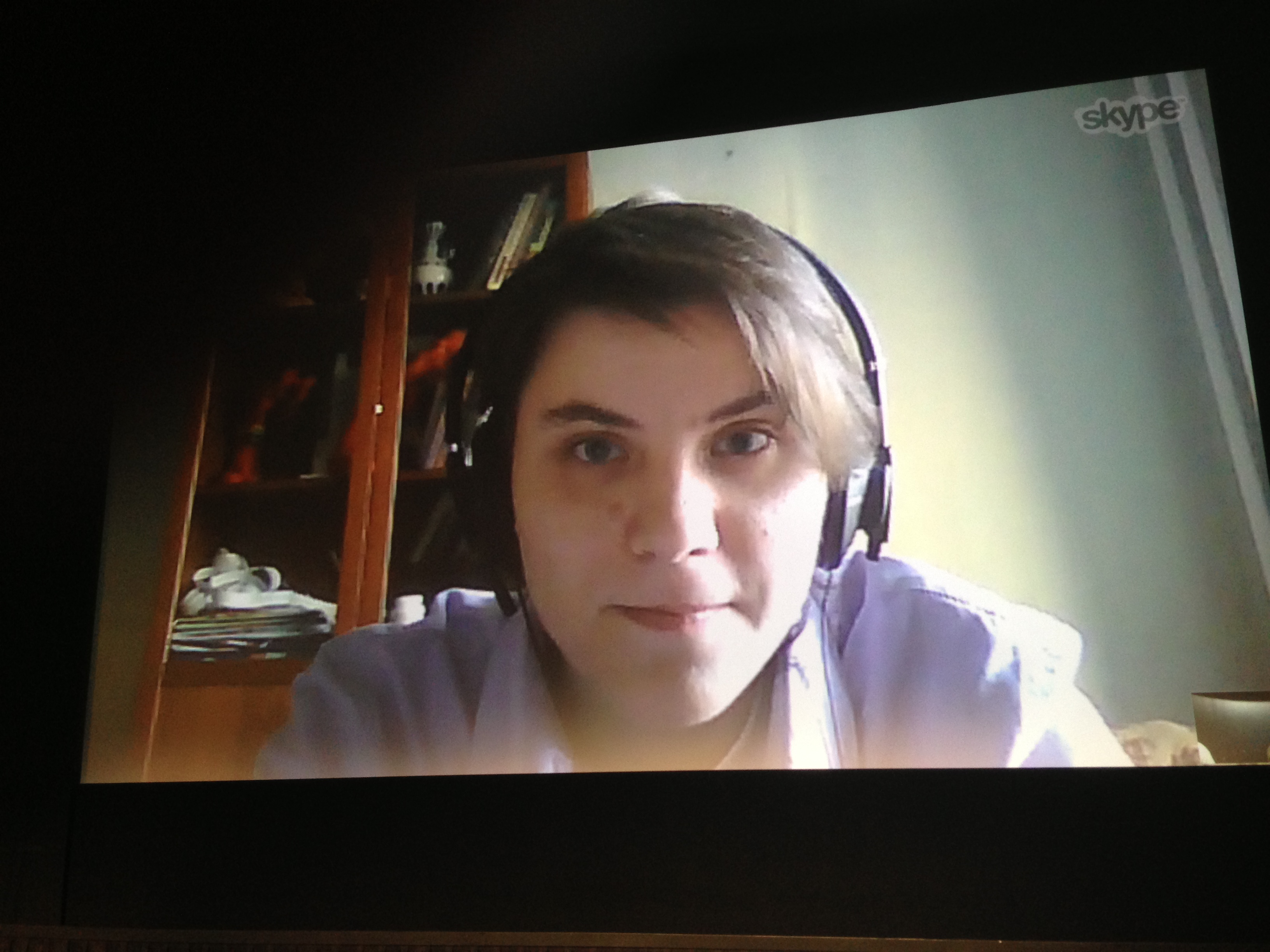 Ms. Samutsevich pointed out that new "blasphemy laws" in Russia have made it even harder to speak out against the mixing of church and state, but noted that the work of raising the importance of greater separation between the two must continue, despite the increased risk of imprisonment, for the health of the society and for the health of the church. For Pussy Riot, the faithful can be allies in building a new future.
So, when it comes to the relationship between Pussy Riot and the Russian Orthodox Church, it might not be true love, but it certainly isn't irreconcilable differences. Instead, it's complicated. Just as most true and meaningful things tend to be.
Photos © Michael Angelo 2013
Popular in the Community