MOSCOW, Sept 7 (Reuters) - Russian opposition punk band Pussy Riot have released a new video in which they set fire to a portrait of President Vladimir Putin in a stunt likely to anger the Kremlin.
Three of the band's members - Nadezhda Tolokonnikova, Maria Alyokhina and Yekaterina Samutsevich - were last month given two-year jail sentences each after storming the altar of Moscow's main cathedral and staging a "punk prayer", calling on the Virgin Mary to rid Russia of Putin.
Their jail sentences - for the crime of hooliganism motivated by religious hatred - drew sharp international criticism with opposition groups saying the case was part of a Kremlin crackdown on dissent.
In August, the all-female collective said that two other band members who had taken part in the same cathedral protest had fled the country - the whereabouts of the roughly dozen other members who did not take part in the stunt is unknown.
In the new video, which was released on the Internet and featured three anonymous band members who were performing on behalf of their jailed friends, women donning balaclavas - the band's trademark - are shown abseiling down the facade of an abandoned or under construction building.
A giant white banner depicting a guitar-wielding woman in a red miniskirt with the caption "Pussy Riot" is unfurled on the building's facade and, beneath it, smaller cardboard portraits of Putin and of Alexander Lukashenko, the president of Belarus, are shown hanging.
"We've been fighting for the right to sing, to think, to criticise. To be musicians and artists, ready to do everything to change our country, no matter the risks. We go on with our musical fight in Russia and our country is dominated by an evil man," female voices, speaking in English, exclaim in turns.
The women are then shown setting off fluorescent flares thanking Madonna, the Red Hot Chili Peppers, and other musicians for speaking out in their cause.
The camera then pans to a shot of the portrait of Putin in flames.
"Start a pussy riot and never stop. The fight for freedom is an endless battle that is bigger than life!" one of the women can be heard shouting.

Tolokonnikova's husband, Pyotr Verzilov, who has often acted as the group's spokesman, told Reuters that the clip was shot in recent days in response to an MTV request ahead of MTV's Video Music Awards in Los Angeles which took place on Thursday.
The video was posted on MTV's website www.mtv.com.
Its release came as Lech Walesa, Poland's Nobel Peace Prize laureate, said he had sent a letter to Putin urging him to release the three band members sentenced last month.
"I'm not familiar with Russian law but I'm calling on President Putin to liberate the girls if the law allows that," Walesa, who served as a president of post-Communist Poland, told Reuters in a telephone interview.
Prior to the sentencing, Putin said that the trio should not be judged too harshly.
In his latest comments on the matter earlier this week, he declined to comment on the ruling, but suggested abuses committed against the Russian Orthodox Church during the Soviet era made Pussy Riot's protest particularly offensive.
On Friday, a Moscow court rejected a lawsuit from a woman who said she had been deeply offended by a video of the band's stunt in the cathedral and had sought 30,000 roubles in moral damages from Pussy Riot.
The judge cited lack of evidence proving the claim.
The Russian government has rejected foreign criticism of the case as politically motivated. Meanwhile, opinion polls show that few Russians sympathise with the jailed women.
Lawyers for the jailed women lodged an appeal on Aug. 27. (Reporting by Gabriela Baczynska; Additional reporting by Dagmara Leszkowicz in Warsaw; Editing by Andrew Osborn)

Before You Go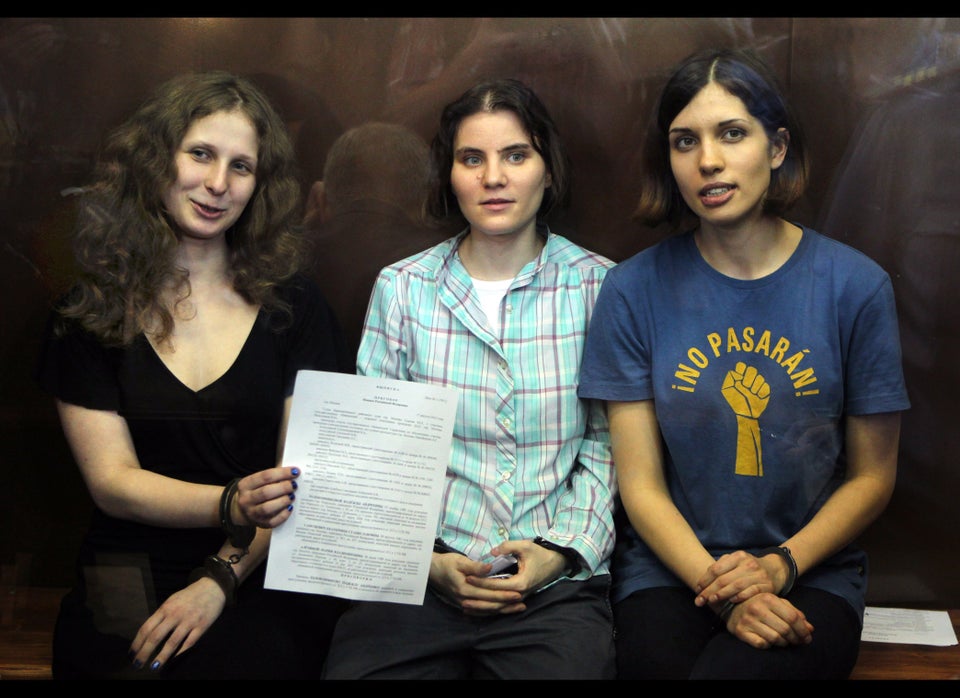 Pussy Riot Appeal Sentence
Popular in the Community