After a fairly tame first 10 days of the Olympic Games -- at least by Russian protest standards -- members of Pussy Riot were briefly detained Tuesday in connection with a theft in their hotel. The highest-profile members of the punk rock collective, Nadezhda Tolokonnikova and Maria Alekhina, were freed along with seven others after questioning by police.
Within 24 hours, however, the anti-Putin protesters staged an impromptu performance. Six band members, including one man, donned their signature ski masks and took to the streets of Sochi. But before the show even began, several Cossack militia members stifled the music, with one appearing to pepper spray Tolokonnikova and another beating several women with a horse whip, according to the Associated Press.
The Cossacks continued their violent attack, throwing Tolokonnikova to the ground, tearing the balaclavas from several women, beating them with whips and ripping the guitarist's instrument from his hands to toss it in the trash. Cossacks have a long history in Russia, helping lead the country's imperial expansion by serving in the cavalry under czarist rule, according to The Washington Post. They have reemerged in southern Russia after nearly disappearing in the communist era.
Alekhina tweeted a photo of a bloodied man who participated in the protest, with a deep cut over his left eye:
She also posted photos of an apparently bruised Tolokonnikova and her own cracked and bloodied fingernail:
A number of media members witnessed the attack, recording video of the violent scrum. Pussy Riot's lawyer, Alexander Popkov, told USA Today Sports that three members of the group were hospitalized to treat their injuries. They had chosen the location to film a music video, Popkov told the American paper.
Pussy Riot came to international prominence in 2012 after staging a protest performance Moscow's main cathedral and performing a "punk prayer" against returning Russian President Vladimir Putin.
Tolokonnikova and Alekhina were arrested and sentenced to two years in prison, but were released in December under a new amnesty bill.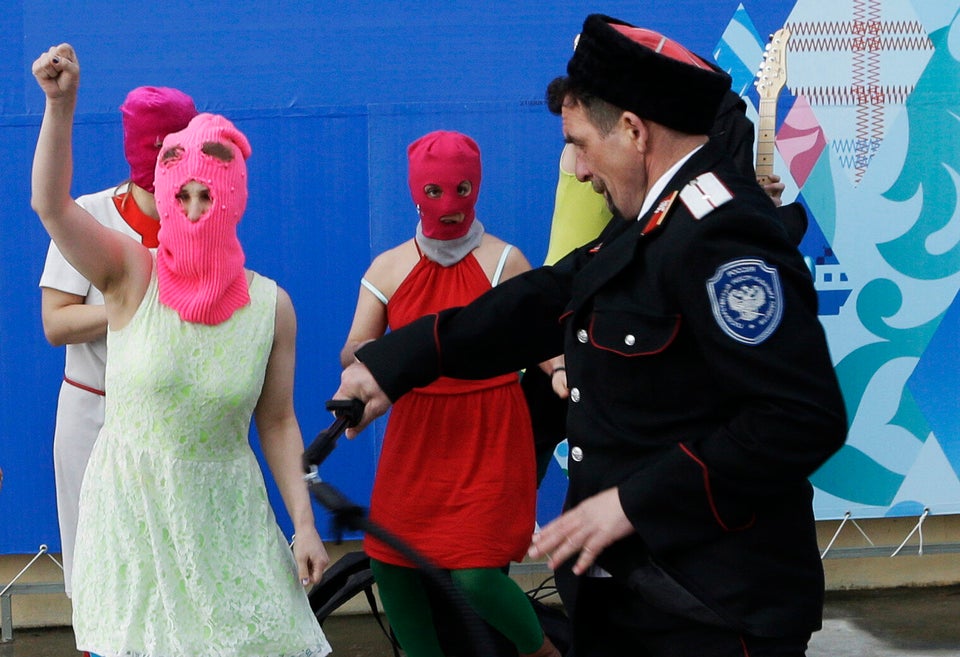 Pussy Riot Attacked In Sochi