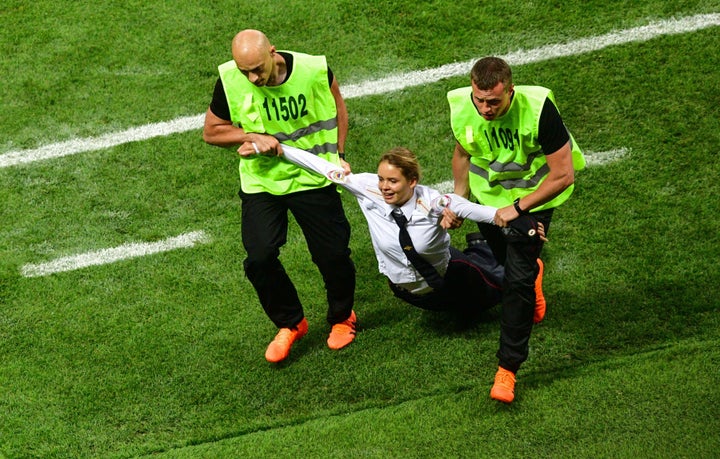 Four members of the Russian protest performance group Pussy Riot will be serving time behind bars for their pitch invasion during the World Cup final in Moscow.
The protesters — Veronika Nikulshina, Olga Pakhtusova, Olga Kurachyova and Pyotr Verzilov — were sentenced to 15 days in prison on Monday, reported the Associated Press. They were also banned from attending sports events for three years.
Play was briefly interrupted early in the second half of Sunday's final between France and Croatia when the protesters, wearing police uniforms, sprinted onto the pitch at Luzhniki Stadium.
Dignitaries including Russian President Vladimir Putin, who has been a target of Pussy Riot's protests in the past; French President Emmanuel Macron; Croatian President Kolinda Grabar-Kitarović; and FIFA President Gianni Infantino were in the audience at the time.
One of the protesters was caught on camera high-fiving French player Kylian Mbappé, a smile on her face. Verzilov, the only man in the group, was seen being shoved by a furious Dejan Lovren, a Croatian defender.
Lovren later told reporters that the stunt had interrupted the game at a critical moment for his team, who would ultimately lose 4-2.
"I really was mad because we'd been playing at that moment in good shape," he said, according to AP. "We'd been playing good football and then some interruption came. I just lost my head and I grabbed the guy and I wished I could throw him away from the stadium."
One of the protesters, Kurachyova, said it was a "pity that we disrupted the sportsmen." She added that the protest had not been aimed at the players, but at FIFA and the Russian government.
"FIFA is involved in unfair games unfortunately," said Kurachyova, according to Reuters. "FIFA is a friend of heads of states who carry out repression, who violate human rights."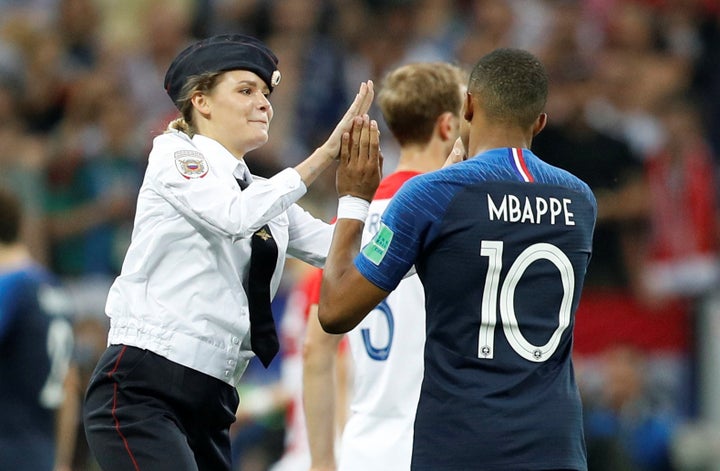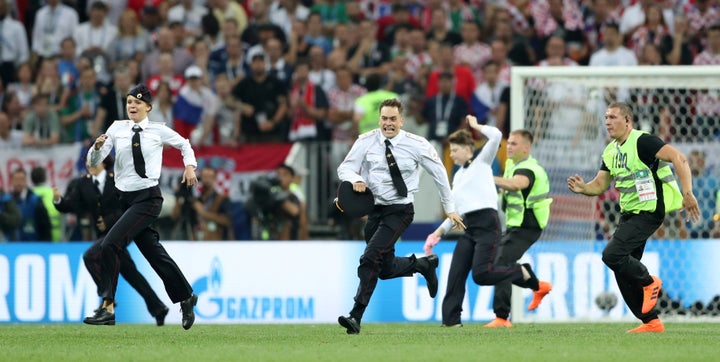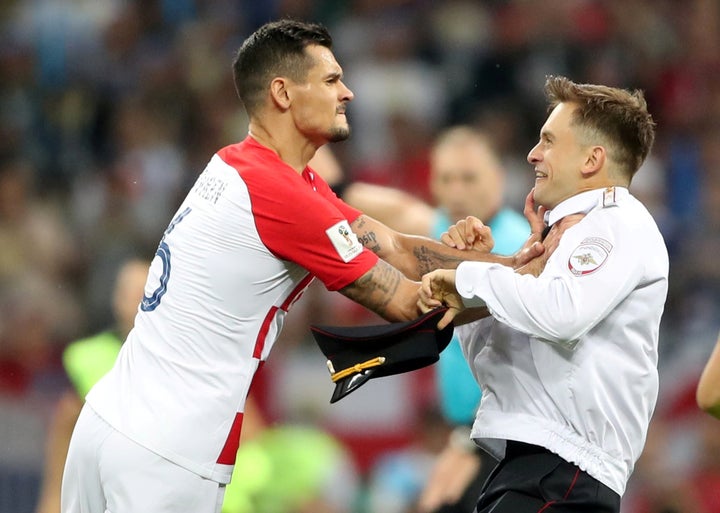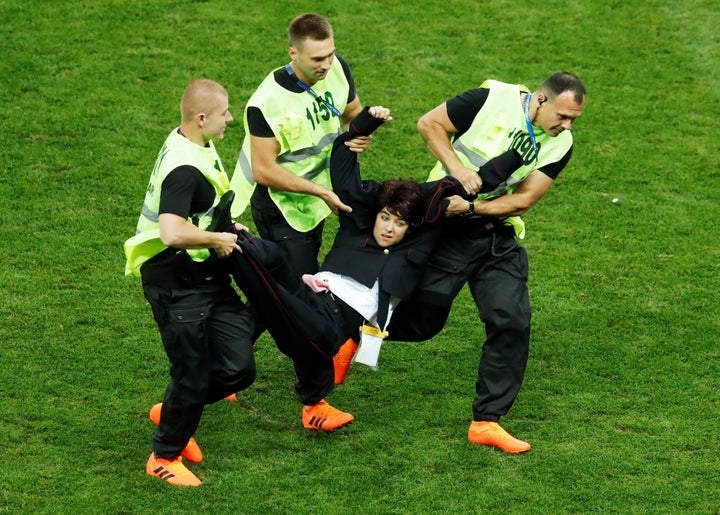 In a statement, Pussy Riot claimed responsibility for the stunt, which they said had been a metaphor for how the state intrudes into people's lives. The group called for the freeing of all political prisoners and the end of illegal detentions at political rallies, among other demands.
In an essay about the protest, Masha Gessen of The New Yorker said Western politicians and media had been largely silent about Putin's repressive regime during the World Cup, held in Russia for the first time in the tournament's history.
"Pussy Riot became the only people to make a meaningful statement about Russian politics during the [event] — and it came on the eve of Vladimir Putin's triumphant meeting with Donald Trump," wrote Gessen, referring to the U.S. president's Monday meeting with the Russian leader in Helsinki.
"They also created, on one of the biggest stages in the world, an image of unjust and arbitrary authority, the sort with which a hundred and forty-five million Russians live day to day," Gessen continued.
Pussy Riot first gained global infamy when a group of the collective's members entered Moscow's largest cathedral in 2012 and performed a "punk prayer" to "drive Putin away." Three participants were arrested and imprisoned for two years for their involvement in the stunt.
One of them, Nadezhda Tolokonnikova, a founding member of Pussy Riot, is reportedly married to Pyotr Verzilov, the man who participated in Sunday's World Cup protest. 
In 2014, Verzilov, who is a citizen of both Russia and Canada, told Toronto Life magazine that he'd been arrested "maybe 50 times" in Russia for his activism. 
"If you live in Russia and do the things I do, you get to a point where you become completely fearless," Verzilov said. "I realize I'm constantly watched by Russia's special forces and my phone is tapped. I see the same plainclothes officers following me around, and they don't even try to hide."
Calling all HuffPost superfans!
Sign up for membership to become a founding member and help shape HuffPost's next chapter
BEFORE YOU GO