This past week I was deeply touched by a million plus acts of kindness that connected women with other women – total strangers. It started when my friend's daughter told me about the handmade pink pussy hats that were given out to women without hats at the DC Women's March. In addition to being able to pick the hat she and her girlfriend wanted, the one her friend selected had a note attached to it.
The note said: "Dear Wearer of this Hat, this hat was made by Delight Satter, tribal member of the Confederated Tribes of Grand Ronde, OR. A woman's issue I care about is Indigenous Rights including the UN Declaration on the Rights of Indigenous People. Please post a pic of yourself to my Facebook page. Be Strong!"
I was inspired by this note and decided to track down Delight Satter and ask her about her hat. Well it turns out that she crocheted seven of them, since that was how much pink yarn she had left in her craft basket. She also made one for herself that she wore at the Atlanta Women's March.
The craft movement that started this venture was the Pussyhat Project. It was launched over Thanksgiving weekend with the goal of "creating a sea of pink hats representing not only those at the march, but also the makers of these pink hats!" Not only did it achieve its goal it also succeeded in joining female strangers with these attached notes that encouraged communication between the wearer and the knitter.
What motivated Delight to take part in this movement? She said that she's originally from the Northwest from a small tribe in Oregon. "It is part of the cultural practices in the Northwest to create small items to give away," she said. So since the call to make 1.7 million hats brought together her native culture with her interest in women's rights, she jumped right in. The sharing of hats touched Delight deeply. She said, "I was able to express traditional values through sharing and giving away items of the heart that I created with my own hands. It's important for people to take action in small ways, it's good for your health and well-being."
And it looks like the making of hats is not about to end with the Women's March. Delight told me another call has gone out to make "brain hats" for an upcoming science march. This group was started by knitting creator Kristen McDonnell of the YouTube channel Studio Knit]. Looks like pink wool will be in great demand over the next four years.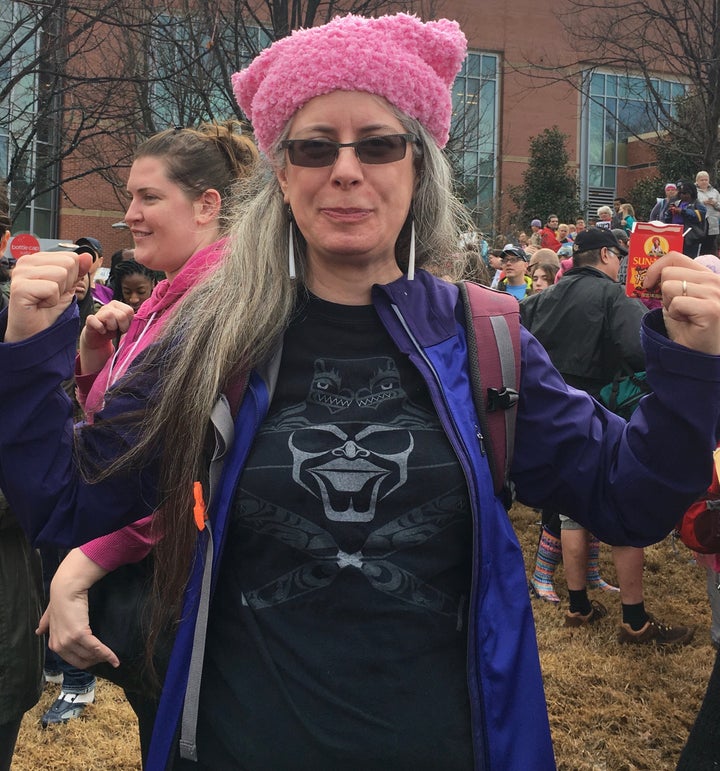 Related
Popular in the Community