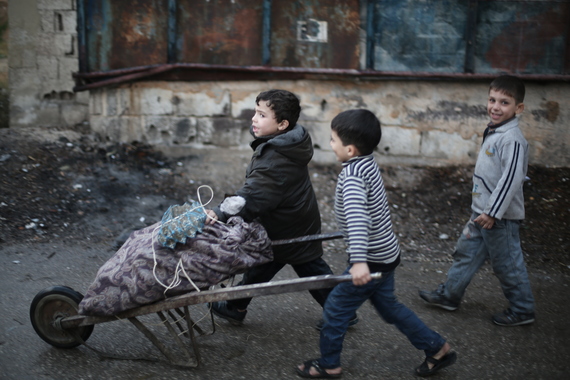 Imagine a place where children are so hungry they eat animal feed or leaves for food, where they frequently die of diseases or injuries that normally are easy to treat and cure, or where families rip apart mattresses and burn plastic bags to stay warm.
Such hardships are typical for families living in besieged towns and cities of Syria where at least a quarter of a million children are living in areas of Syria that have effectively been turned into open-air prisons. Many children who have not been maimed or killed have experienced severe emotional and psychological trauma.
"Fear has taken control," said one mother from Eastern Ghouta, as recounted in Save the Children's new report, Children under Siege. "Children now wait for their turn to be killed. Even adults live only to wait for their turn to die."
Or as a Syrian aid worker noted: "It's the 21st century, but here in Syria it's like hundreds of years ago. This is what it means to live under siege."
Recent developments including the fragile cessation of hostilities and access by UN convoys to a handful of the besieged areas mark a step in the right direction toward providing children and families in these villages the essentials for survival. The real test of success will be whether life for millions of Syrians will now improve as a result of greater engagement by the international community.
After five years of war, siege conditions are more brutal and more widespread than they have ever been. Images of starving children in Madaya captured global media attention in January, but children and families also struggle in 18 other towns and cities that the UN declared to be under siege, and the Syrian American Medical Society has suggested that an additional 38 communities should be considered besieged as well. These sieges are enforced by all parties to the conflict.
Less than 1 percent of those living in besieged areas received food aid in 2015, according to the UN. These communities wait 9-12 months between food deliveries, and when aid finally reaches these areas, the supply is totally inadequate for the magnitude of the need. This means that many families continue to skip meals or survive on bread and water.
Other items, like infant formula for children of malnourished mothers who are unable to breastfeed, have not been allowed in UN convoys by the Syrian government.
While access to food aid is the most basic need, access to medical care and education has also been denied to civilians. Last year, only 3 percent of those living in besieged areas received health assistance. One out of every four schools in the country has closed, and in those that are open, children have a difficult time learning when they are afraid, hungry, sick, and cold.
The horrors endured by so many living in these areas, should compel us to do all we can to step up aid and reduce violence against civilians. Right now, there is a long way to go to guarantee that civilians have their basic needs met and are treated with the dignity that they deserve.
Rather than allow circumstances to plummet to the heartbreaking stories and images that are now coming out of besieged areas, the United Nations Security Council and International Syria Support Group needs to design and implement measures to ensure consistent, safe passage for all humanitarian agencies and Syrian partners capable of delivering aid to hard-to-reach areas and to expand that coverage to all in need across the country. Convoys and food baskets, while welcome, are not the answer to meeting needs in besieged areas--we need to help Syrians rebuild their lives, and can't wait for the fighting to stop to do so.
Clearly, in order to move forward, the current fragile pause in fighting must be sustained and must lead to real progress at the negotiating table. This week, the UN-sponsored negotiations in Geneva represent our best chance in five years to begin the process of resolving what has become the worst humanitarian crisis since World War II.
Calling all HuffPost superfans!
Sign up for membership to become a founding member and help shape HuffPost's next chapter