Most of us are thousands of miles away from the conflict zones of the world. We can't physically see the unprecedented number of hungry war refugees.

Surely if you saw these starving people, you would feed them. Even though you cannot see them, let's not allow them to be out of sight and out of mind.

Think of Iman, a mother in war-torn Iraq. She had to flee the conflict with ISIS, as the terrorist group has attacked cities throughout Iraq. Now Iman and her family lives in Arbat refugee camp.

She gets a monthly food ration from the UN World Food Programme (WFP), the largest hunger relief organization. The parcel contains rice and soup. Iman can even make her children's favorite of maqluba. Iman's family has been traumatized by war, but this food keeps them from being traumatized by hunger.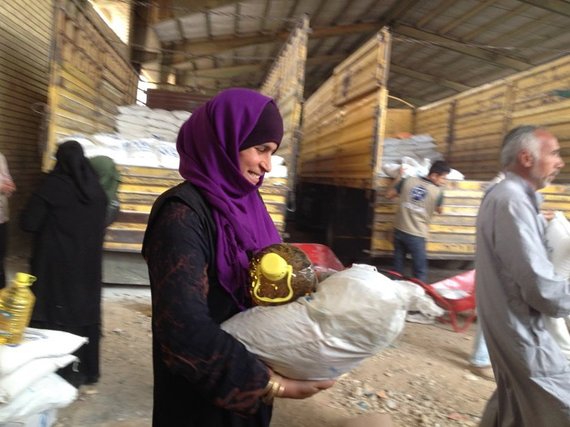 Iman says that WFP food assistance has been a lifeline for her and her children. (WFP/Chloe Cornish)
Iman exclaims, "Thank you very much for this food. God bless the people who supplied it. It's the only help I get."

Think also of a one year old child and her grandmother in South Sudan. An internal conflict forced them to make a dangerous 10-day journey to safety. When asked what they ate along the way, the grandmother replied, "The only food we had was water lilies." Arriving in Nyal, they can receive life-saving food from WFP and other agencies. The child is being treated for malnutrition at a clinic.
The war in South Sudan has caused a massive hunger and malnutrition crisis, which has a devastating impact on children. Small children will suffer lasting physical and mental damage from malnutrition if not treated.
South Sudanese civilians have also fled into neighboring Sudan to escape the war and food shortages. There WFP provides small refugee children with Plumpy'Sup, a peanut paste to prevent malnutrition.
Every day stories of tragedy unfold when it comes to hunger and war. What can make a difference is when humanitarians bring food and hope to the suffering. But that involves even you, thousands of miles away.

The food for these emergency relief missions does not just magically appear in times of distress. Thoughtful planning and consideration is needed to ensure people do not starve, that food will be there in time of need.

Look at the Food for Peace program of the United States. This initiative is the single largest door of aid to WFP and hunger relief around the world. But yet, far less is spent on this program when compared to weapons of war.

So clearly Food for Peace can do a lot more. How can we make this happen? If citizens speak out for Food for Peace and hunger relief that can influence the decisions made by Congress on funding.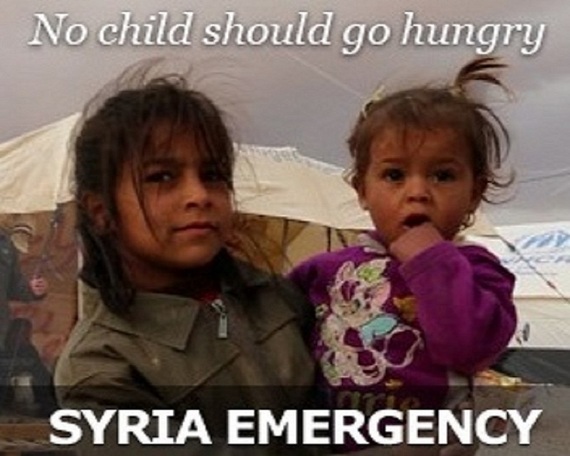 I am encouraged by colleges and universities that are organizing to take action during this time of great need around the world.

At Mount St. Joseph University (MSJ), Texas Tech and Xavier students are planning Charity Miles events to support the World Food Programme. Charity Miles is the free app where runners, walkers and bikers can raise funds for WFP. The donations are paid for by corporate sponsors.

This is a fantastic way to gather donations for WFP, which is dramatically low on funding. WFP has been forced to reduce rations for hungry refugees from the war in Syria, Iraq and elsewhere.
"Right now the world is facing an unprecedented refugee crisis that is rapidly draining humanitarian resources," says Rick Leach, President and CEO of World Food Program USA. "Lifesaving agencies like WFP have the right staff and expertise to address these challenges, what's missing is enough funding to get the job done."
So getting donations to WFP is key. Through these Charity Miles events students and community members can exercise their political power. They can make a statement that hunger relief needs to be a priority all the way to the halls of government. MSJ even has a course training students to be leaders in the campaign to achieve the UN Sustainable Development Goals by 2030.
Congress should do more to improve the Food for Peace Program. It should encourage a tougher fight against hunger by everyone in all countries.

By speaking out you can be that messenger of food and hope for those who are starving. The ultimate goal is a world of zero hunger.

Just recently a mountain climber in Nepal reached the remote village of Kerauja. The climber raised a flag touting the new UN development goal of ending hunger.

This climber would know how important food is. As a child she received school meals from the World Food Programme. Her name is Nimdoma Sherpa, who scaled Mount Everest at the age of 17.
And she is getting the zero hunger mission off to a good start. Before she raised the flag Nimdoma delivered rice to the town, which had suffered food shortages following an earthquake earlier this year.

Now we need others to carry that flag in their thoughts and actions. Keeping in mind always that for the hungry, that food is the only help they get. The food can save and change their life forever.
Update: The WFP, because of low funding, has been forced to reduce rations for the Arabat refugee camp for Iraqi war victims. They now only receive 50 percent of the daily required calories. WFP says it needs requires USD 59.2 million to feed displaced Iraqis. Otherwise more cutbacks will be coming. Similar funding emergencies also continue to occur in Yemen, Syria and other countries where war and hunger are unrelenting.
Popular in the Community