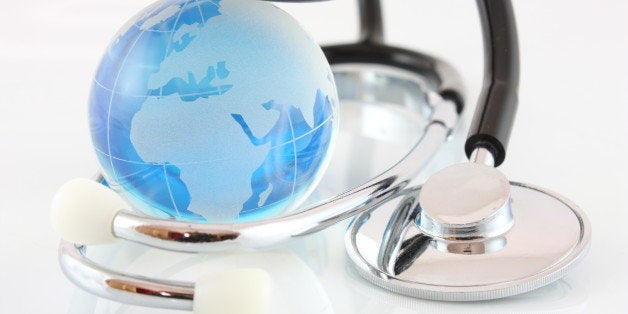 The Council on Foreign Relations (CFR) recently released their first report on a health issue, highlighting the devastation caused by the world's leading killers: non-communicable diseases (NCDs).
These include cardiovascular disease, cancer, diabetes and chronic lung disease.
NCDs profoundly affect our lives in countries like the United States. However, 85 percent of deaths from NCDs occur in developing countries, where they affect people at younger ages and plunge the global poor deeper into poverty and illness.
Despite overwhelming evidence and political commitments made by governments at the United Nations, the global community has been slow to respond to NCDs, largely due to a lack of adequate funding. The United States, a leading funder of global health efforts, only spends about 0.1 percent of its global health budget on NCDs.
As the CFR states, "the time to act is now."
Our global organization, the Young Professionals Chronic Disease Network, applauds the CFR report's call for U.S. leadership to respond to changing global health needs. It is time for the Obama administration to invest in the prevention, diagnosis, and treatment of NCDs.
Yet, something critical is missing in the CFR report: the fact that U.S. trade interests may not enable people living with NCDs in poor countries to access lifesaving and affordable medicines.
While the prevention measures emphasized by the report are essential, populations urgently need better access to care. Efforts to expand access to life-saving treatments must be galvanized.
The CFR Task Force Co-Chair Mitch Daniels Jr. stated at the report launch that, "Systems aren't ready for long-term palliative measures or treatment, in many cases."
Are we forced to consign millions of people in developing countries suffering from cancer or mental illness to early graves because 'systems are not ready'?
In East Africa alone, successes from Rwanda, Tanzania and Kenya animate what is possible. It is possible to treat complex NCDs. It is possible to deliver palliative care. It is possible to fight NCDs as aggressively as the world has done for HIV/AIDS.
Where the CFR report does pay heed to access to medicines, it neglects to wholly address the issue. Attention is drawn to the need for "access to the essential and generally off-patent medicines needed to address NCDs in developing countries."
Most medicines for NCDs are indeed off-patent, cheap and still unavailable in resource-poor settings. However, that does not mean that we can neglect to expand access to life-saving medicines for cancer and other conditions because they are patented and exorbitantly priced.
The report cites competition and voluntary price cuts on anti-retrovirals (ARVs) for HIV/AIDS as factors that enabled millions access to the life-saving treatment they required. ARVs went from over $10,000 per patient per year to just over $100 per patient per year.
This dramatic price drop was no chance event. It was the result of hard-fought battles against strict intellectual property rights, as well as public recognition of the possibility to both prevent and treat AIDS in resource-constrained settings such as sub-Saharan Africa.
The same must be done for NCD medicines and history teaches us that we must fight for the medicines of today, as well as the medicines of tomorrow.
Such progress requires urgent coherence between international trade, health and development policies in the U.S. and other countries.
Take the case of India. Home to 1.2 billion people, 30 percent of whom live below the poverty line, India has been providing some of the world's cheapest medicines for its citizens. It is now known as the 'pharmacy of the developing world', thanks to progressive pharmaceutical patent laws that have supported generic drug production and competition.
Through generic suppliers in India, the leukemia drug imatinib costs $2,500 a year, whereas the brand name version can cost as much as $70,000 a year. Similarly, the price of the kidney cancer drug sorafenib was reduced by 97 percent through generic production, from the original US$5,500 to $175 per patient per month.
But right now, the U.S. government and U.S. pharmaceutical industry are putting intense trade pressure on India to alter its patent laws in ways that would make lifesaving medicines unaffordable for the global poor -- ironically, the very populations that the CFR report aims to help.
As a recent New York Times Op-Ed highlighted, U.S. officials should be challenging corporate trade lobby if they truly seek to lift people out of poverty.
Patient organizations and young health professionals, both in the U.S. and in countries across South Asia and sub-Saharan Africa, are watching. We are asking the U.S. government to release pressure on India to change its patent laws, and for India to continue to place affordable medicines for the people above vested interests. And we are asking the CFR to promote discussion and action on U.S. policy incoherence between trade, development and health, so that the global community can effectively respond to the pressing need for both prevention and treatment for NCDs.
We applaud the CFR report for drawing attention to NCDs in developing nations, but emphasize that, at this critical time, it neglected to address implications of U.S. trade pressures on the fundamental right of all people to access lifesaving medicines.
We must put patients over profits. But our fear is the world's fear: Will U.S. trade interests stand in the way?