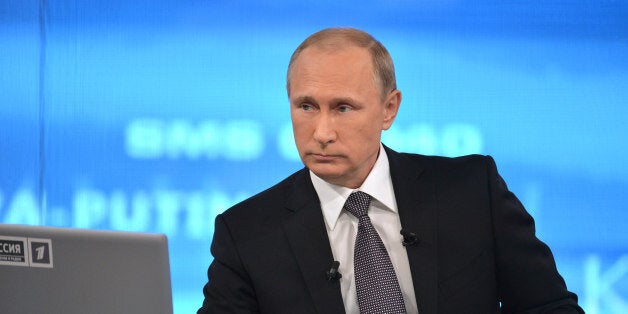 If you had the chance, what would you ask Russian President Vladimir Putin?
On Thursday, Putin spent four hours live on Russian state television answering questions ranging from the serious to decidedly absurd. Some 3 million questions were sent by phone and text to the annual call-in show, which has become a yearly PR highlight for the Kremlin.
The president used "Direct Line with Vladimir Putin" this year to defend his political record, blame poor economic growth on Western sanctions and deny that Russian troops are fighting in Ukraine.
Amid growing tensions with the West, Putin insisted his intentions are peaceful. "We don't see anyone as [an] enemy," he said. Then, he added: "We don't recommend anyone to see us as enemy."
Here are five of the strangest moments during the marathon question-and-answer session, revealing things about Putin that no one ever needed to know:
1. The Sauna Mishap You'd Rather Not Picture
Putin was asked if he had ever taken a foreign leader to a Russian sauna, known as a banya, giving him an opening for an extraordinary tale.
Chuckling, Putin said he took former German Chancellor Gerhard Schröder to a banya, which caught on fire when they were inside. Schröder, a personal friend of Putin and a board member of Russian energy giant Gazprom, insisted on finishing his beer before leaving the burning sauna, Putin recounted.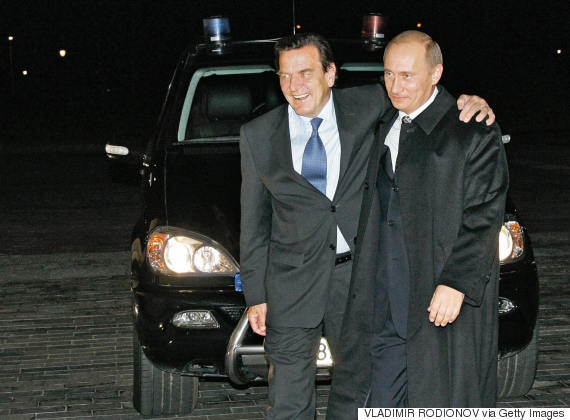 Former German Chancellor Gerhard Schroeder (L) hugs Putin (R) as they walk in St.Petersburg, Oct. 7, 2005. (VLADIMIR RODIONOV/AFP/Getty Images)
2. A Huge Relief
Sighs of relief were almost audible in capitals around the world after Putin was asked whether he'd consider being cloned. His answer: "No. Next question."
3. Marriage Advice A La Putin
One woman asked Putin to convince her friend's husband that the couple should get a dog. Putin, an animal lover and a man who is at one with nature, first suggested the husband might buy his wife a fur coat instead, according to the BBC.
Then, Putin advised the husband to let a furry friend improve the relationship. "Boris, please, be kind. Let your wife buy a dog," he said, according to BuzzFeed. "It's a good deed and will strengthen your family."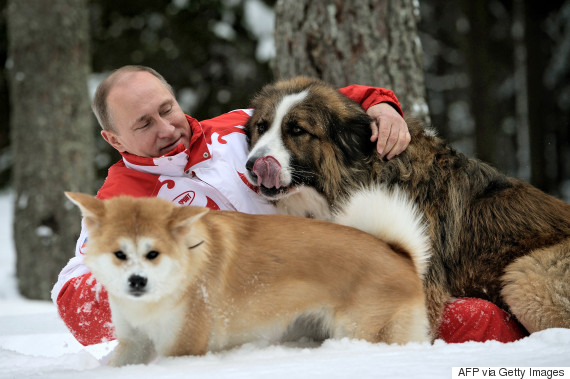 Putin as plays with his dogs "Buffy" (top) and "Yume" at his residence in Novo-Ogariovo, outside Moscow, March 24, 2013. (Alexsey Druginyn/AFP/Getty Images)
4. Putin Recommends A Good Night's Sleep
A 4-year-old boy told Putin he likes to sleep long hours, but was concerned that would stop him from being president one day. Putin reassured the boy that sleep is important. "It's good that you love sleeping, that means you'll make a good president," he said.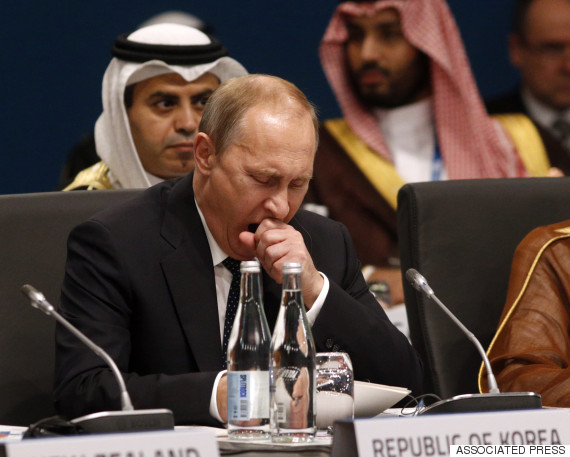 Putin yawns at the start of the plenary session at the G20 Summit in Brisbane, Australia, Nov. 15, 2014. (AP Photo/Kevin Lamarque, Pool)
5. Putin's Policies Are From His Head And His Heart
When former Russian Finance Minister Alexei Kudrin asked Putin about how he will pursue economic growth, Putin acknowledged the country's economic pain but explained he would not impose austerity measures.
"To build economic policy competently, a brain is definitely needed," Putin said, according to Bloomberg News. "But if we want people to trust us, a heart is needed, too."
Russia's economy has taken a battering in the last year, hit both by Western sanctions, imposed over the Kremlin's alleged role in the conflict in Ukraine, and plunging oil prices.
Calling all HuffPost superfans!
Sign up for membership to become a founding member and help shape HuffPost's next chapter
BEFORE YOU GO
PHOTO GALLERY
Putin And The Night Wolves