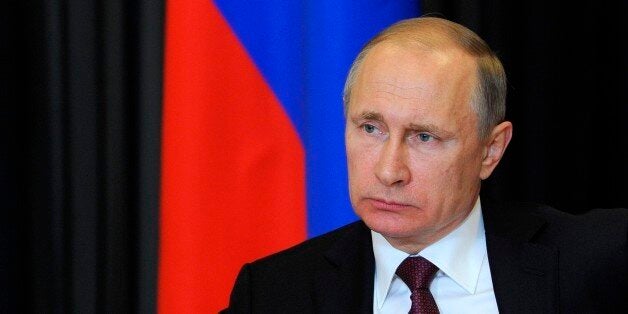 The massacre in Orlando is not just a tragedy for America, but a tragedy for the whole world. Leaders of many countries lamented this murder of innocent civilians. Russia did so as well, and I, being Russian, was quite surprised by this gesture, since the killing took place in a gay nightclub.
Although he didn't directly acknowledge the LGBT identity of many of the victims in his condolences to America, President Putin did declare that he regretted what had happened and "wished a speedy recovery to those injured." This comes from a president whose public image during the last decade has become increasingly socially conservative. This comes from a president of a country, which, during recent years, has seen an uptick in discrimination against the LGBT community. For example, one law in Russia is now essentially preventing LGBT individuals from expressing their identity in public.
And now a considerable part of Russian society thinks that this inequality between people is normal. Reading my Facebook feed, which consists mostly of Russian speakers, for news about the shooting in Orlando in the aftermath of the attack, I saw things like, "Well, that's the moment of payment for American tolerance" and "I could say that 'I am Charlie,' but I can't say 'I am dead gay from Orlando.'" Such reactions are very much the result of government policy towards gays in Russia.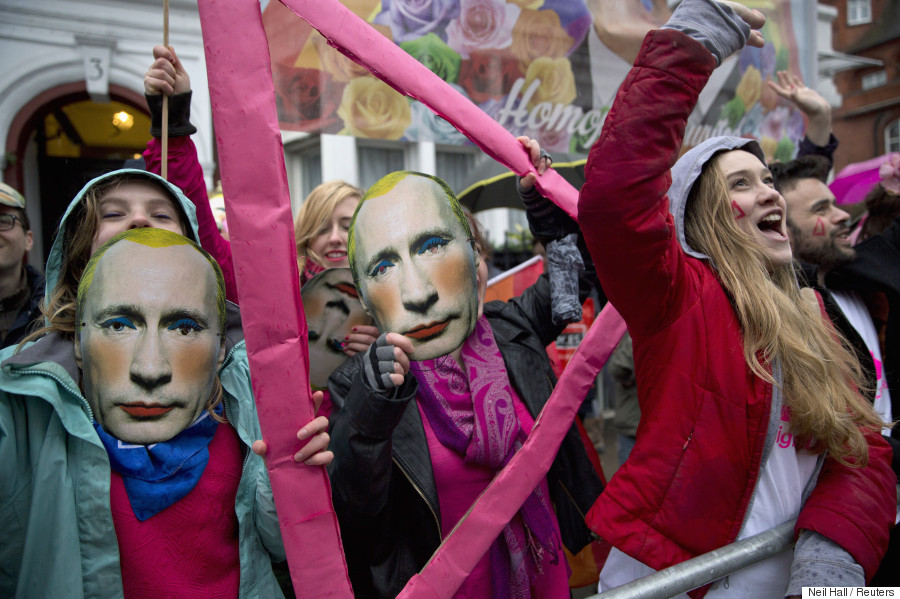 Protesters take part in a demonstration against Russia's 'anti-gay' laws outside the Embassy of the Russian Federation in London. (REUTERS/Neil Hall)
But now this same president, whose government actions seem to be encouraging homophobic views throughout Russian society, says that he feels sorry about what happened to people who largely identify with that community. This suggests that something has changed.
At this moment, Putin's image inside the country has become less important than his image in Europe and America. It is true that this gesture is part of diplomatic protocol and that he made a similar declaration after the 9/11 attacks. Now, Russia's actions in Syria, though successful, have largely been seen by the West in Cold War terms -- as a backing of the anti-democratic president, Bashar Assad, against the stated intentions of the Western alliance and its ideological goals.
But perhaps this reading of Russian foreign policy strategy in terms of Cold War scenarios and ideological conflicts is not quite accurate. For although Russia has inherited many traits of the Soviet Union, there are significant differences between its current way of building international relationships and its previous, ideologically driven, expansionism. A consistent feature of Russian foreign policy in the last decade has been an assertion of military strength in chosen regions of interest surrounding the borders of Russia. The rationale for this behavior is slightly different from an ideological agenda: it aims to assure that Russia should be taken seriously, but it does not seek to promote a particular worldview. Therefore, the relationships that Russia can have with the West may be varied and ambivalent. In certain cases they will clash, and in others they can find a common cause -- or at least some form of pragmatic partnership.
At this moment, Putin's image inside the country has become less important than his image in Europe and America.
The current situation is as follows. As a result of the conflict in Ukraine, Russia lost a major part of its foreign connections. Because of its weak economy -- caused by the drop in the oil price, among other things -- its only means of reestablishing international relations was therefore through military activism, which is, I suggest, the main reason why Russia started fighting terrorism in Syria.
For a brief moment Russia enjoyed the position of Middle East peacekeeper. Yet, because of growing tensions with Turkey and the United Arab Emirates, Russia then had to begin withdrawing from Syria. In this situation it is natural that Russia will seek more opportunities to find common ground with Western countries, and it is likely that it will aim to be part of common military actions in the future. It is also likely that the international fight against terrorism will form the platform for such common actions. When the U.S. and Europe evaluate the actions of Russia on the international stage, they should therefore bear in mind that Russian isolationism, and the continuation of Cold War trench-making, is tempered by Russia's need to also establish relationships with other countries.
It is against this backdrop that we must examine President Putin's gesture of sympathy to the victims of the Orlando shooting. This horrible event provided him with an occasion to address the U.S. not as a rival, an enemy or a critical opponent to be met with defiance, but simply as another country.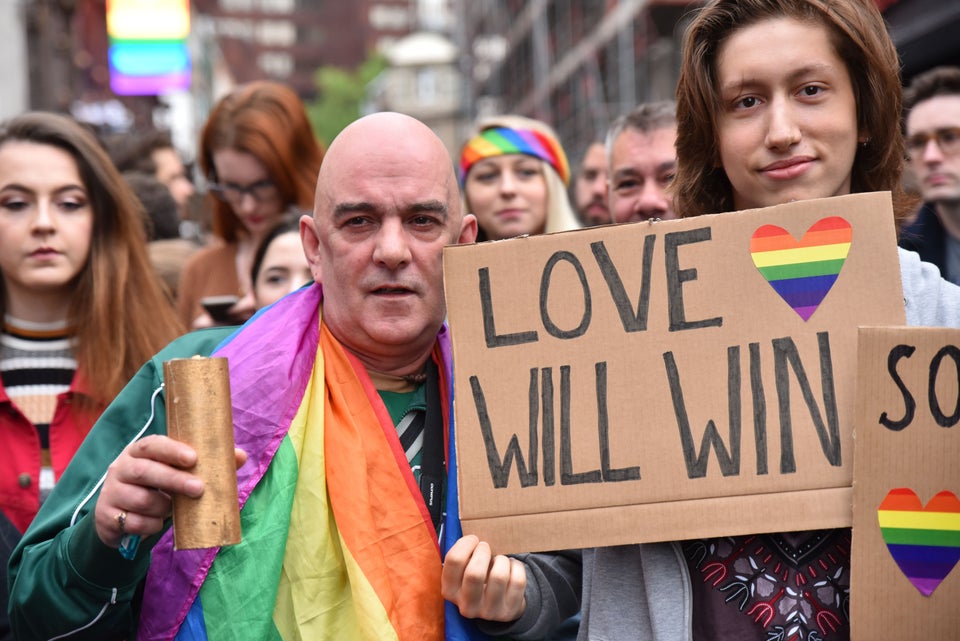 Orlando vigils around the world
Popular in the Community