* Snowden writes letter of thanks to Ecuador
* Says free to make new disclosures
* U.S. Justice Dept spokeswoman says Snowden free to return (Adds Guardian report on Ecuador)
By Andrew Osborn and Alexei Anishchuk
LONDON/MOSCOW, July 1 (Reuters) - Former U.S. spy agency contractor Edward Snowden broke his silence on Monday for the first time since fleeing to Moscow over a week ago, blasting the Obama administration and saying he remained free to make new disclosures about U.S. spying activity.
Snowden, who faces espionage charges in the United States and is believed to be staying in a transit area at Moscow's Sheremetyevo airport, surfaced with a letter to the Ecuadorean government and in a statement released through anti-secrecy group WikiLeaks, which has taken up his cause.
WikiLeaks also released another statement saying Snowden was asking for asylum in several countries, including Russia, China, Brazil, India and Ireland. Ecuadorean President Rafael Correa was quoted in Britain's Guardian newspaper as saying his country could not consider an asylum request unless Snowden was on Ecuadorean territory.
In his WikiLeaks statement, Snowden accused the Obama administration of deception in a campaign to prevent him from finding political asylum and of "leaving me a stateless person" by revoking his U.S. passport.
Snowden, 30, had not been heard from in the eight days since he flew to Moscow from Hong Kong, where he had first taken refuge after fleeing Hawaii.
Snowden has sought asylum in Ecuador and in an undated letter sent to Ecuadorean President Rafael Correa seen by Reuters, said the United States was illegally persecuting him for revealing its electronic surveillance programme, Prism, but made it clear he did not intend to be muzzled.

"I remain free and able to publish information that serves the public interest," Snowden, who had been a contract employee for the U.S. National Security Agency, said in the letter.
"No matter how many more days my life contains, I remain dedicated to the fight for justice in this unequal world. If any of those days ahead realise a contribution to the common good, the world will have the principles of Ecuador to thank."
But in an interview published on the Guardians website on Monday, Correa said giving Snowden a temporary travel pass to fly to Moscow was "a mistake on our part" and that Snowden was now Russia's problem.
"Are we responsible for getting him to Ecuador? It's not logical," he said.
Asked if he would like to meet Snowden, Correa said: "Not particularly. He's a very complicated person. Strictly speaking, Mr. Snowden spied for some time."
Snowden said the U.S. government was persecuting him.
"While the public has cried out support of my shining a light on this secret system of injustice, the Government of the United States of America responded with an extrajudicial man-hunt costing me my family, my freedom to travel, and my right to live peacefully without fear of illegal aggression," Snowden wrote.
In his WikiLeaks statement, Snowden lashed out at President Barack Obama and Vice President Joe Biden for pressing Ecuador to turn him away.
"This kind of deception from a world leader is not justice, and neither is the extralegal penalty of exile," he said.
"Without any judicial order, the administration now seeks to stop me exercising a basic right," Snowden said. "A right that belongs to everybody. The right to seek asylum ... Their purpose is to frighten, not me, but those who would come after me."
U.S. Justice Department spokeswoman Nanda Chitre rejected Snowden's allegation that he was marooned, "since he is still a United States citizen and his country is willing to take him back."
"As the State Department has already said, the U.S. government is prepared to issue individuals wanted on felony charges a one entry travel document to return home," she said.

WikiLeaks disclosed on Monday that Snowden had prepared requests for asylum in countries including Austria, Bolivia, Cuba, Finland, France, Germany, Italy, the Netherlands, Nicaragua, Norway, Poland, Spain, Switzerland and Venezuela. The requests were given to a Russian official at the airport and were to be delivered to the appropriate embassies in Moscow.
Snowden already has sought asylum in Ecuador and Iceland.
Russian Foreign Ministry and Kremlin officials declined immediate comment.
Russian President Vladimir Putin said Snowden could stay in Russia on one condition.
"He must stop his work aimed at harming our American partners, as strange as that sounds coming from my lips," he told reporters after a gas exporters' conference in Moscow.
Putin said he suspected that Snowden would continue leaking information because "he feels himself to be a human rights activist."
"So he must choose a country of destination and go there," he said, speaking before the asylum request to Russia was reported. "Unfortunately, I don't know when this will happen."
Putin said Russia was not working with Snowden and had no intention of handing Snowden over to the United States.
"Russia has never given up anyone to anybody and does not plan to. And nobody ever gave anyone up to us," Putin said.
Shortly after Snowden fled the United States for Hong Kong in May, and long before he arrived in Russia, Putin suggested the surveillance methods he revealed were justified in fighting terrorism, if carried out lawfully.
Although Russia has sometimes exchanged captured spies with the United States, Putin suggested on Monday that this was not on the cards for Snowden. "As for Mr. Snowden, he is not our agent and he is not working with us," Putin said.
Obama, at a news conference in Tanzania, repeated that the United States was working through law enforcement channels to prod Russia to extradite Snowden.
Obama said there had been "high-level discussions with the Russians about trying to find a solution to the problem." (Additional reporting by Lidia Kelly, Alissa de Carbonnel in Moscow, Mark Hosenball, Alina Selyukh and David Ingram in Washington and Jeff Mason in Dar Es Salaam; Writing by Steve Gutterman and Andrew Osborn; Editing by Ralph Boulton, Tim Dobbyn and Bill Trott)

Before You Go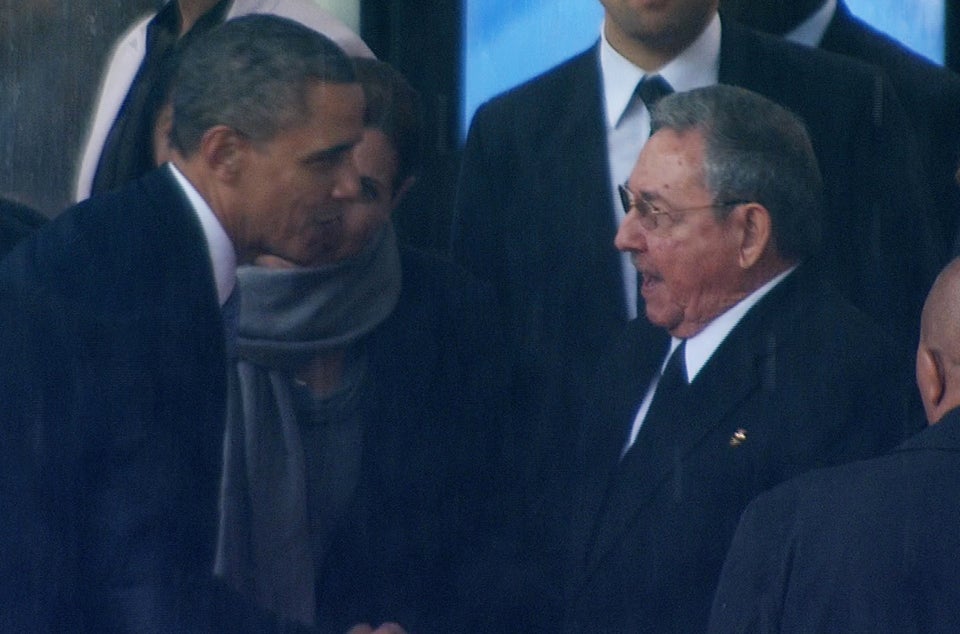 Obama's Handshakes Around The World
Popular in the Community