Topless female demonstrators shouted at Russian President Vladimir Putin as he toured an industrial fair with German Chancellor Angela Merkel Monday, media reported.
Putin and Merkel were taking in a presentation of a new car model at the Volkswagen stand by the company's chief executive, Martin Winterkorn, when the four bare-breasted women started chanting "fuck dictator".
At least one of the women seen on rolling news channel NTV had the same words painted in black ink across her torso.
The protesters were eventually overpowered by security personnel, an NTV correspondent said.
Merkel and Putin were attending the Hanover Messe in northern Germany where Russia is this year's guest country.
At the event's inauguration late Sunday, Merkel urged Putin to "give a chance" to non-governmental organisations which she described as a "motor of innovation" as dozens of demonstrators protested a recent Russian crackdown on the groups outside the convention centre.
Last Thursday topless activists from the Ukrainian women's power group Femen staged rallies in front of mosques and Tunisian embassies across Europe against what they called an Islamist attack on Arab women's rights.
It was not clear whether the women in Hanover were Femen members.
Copyright (2013) AFP. All rights reserved.
Related
Before You Go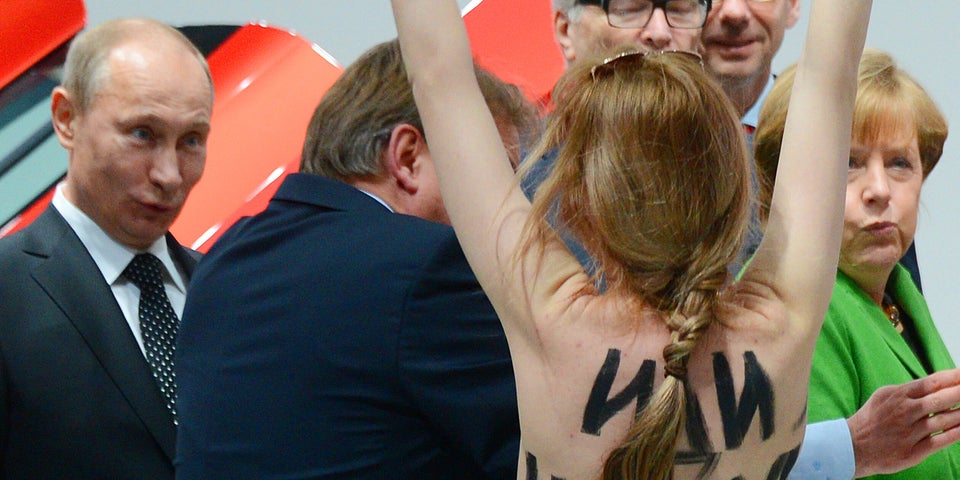 Topless Putin Protest
Popular in the Community