NARVA, Estonia ― On weekdays, Marju Prosin is a dental saleswoman. But this weekend, the 37-year-old left her two children at home, pulled on snow fatigues, grabbed a rifle and headed to the frozen forests of Estonia to train for a guerrilla war.
She joined dozens of other civilians on a snow-covered hillside here for a 36-hour exercise called the Utria Assault, after a historic Estonian victory over Russia. A whistle blew, and she ran up the hill in the darkness, weighed down by a heavy pack of rations and ammunition. Suddenly, machine gun fire rattled out from the tree line, sending her scrambling for cover. This was a test, one of many Prosin faced over this weekend in January.
She is one of 25,000 members of the Estonian Defense League, a reserve force of paramilitary volunteers who are required to keep their rifles oiled and ready. Estonia is on NATO's front line with Russia. The history of the country, which has just 1.3 million citizens, is one of repeated invasion and occupation by larger and more powerful neighbors. It won its independence in 1991 as the Soviet Union collapsed. Now, with Donald Trump ― who has praised Russian President Vladimir Putin and called NATO "obsolete" ― as U.S. president, there is a sense of a shift in the world order that has underpinned the security of Estonia and its fellow Baltic stats, Latvia and Lithuania.
Prosin was among a rush of volunteers who signed up for the EDL after Russia annexed Crimea from Ukraine in 2014. The size of the league ballooned the following year. There have been similar trends in other former Soviet states: Lithuania has reintroduced conscription, while Poland is forming a volunteer defense force it hopes will number in the tens of thousands in a couple years. For Estonia and its neighbors, Russia's aggression in Ukraine is the latest and most worrying sign that the Kremlin is flexing its muscles beyond its borders.
"We have to be ready for who wants to come and take our little country," Prosin said to The WorldPost. She stood under light snowfall in a stretch of wilderness 10 miles from the Russian border, with an AK-4 slung over her shoulder. "We all feel this."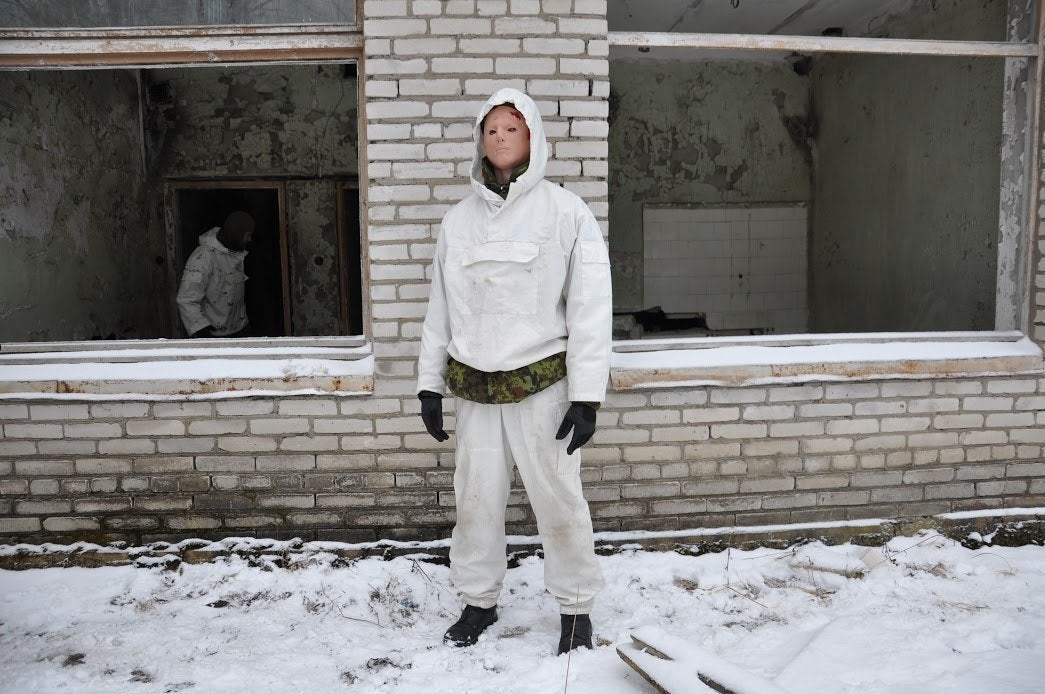 The civilian volunteer force is part of Estonia's "porcupine strategy" to make it as indigestible as possible. With memories of Soviet occupation still fresh, Estonians are fiercely dedicated to contributing to the country's defense. A cyber unit of tech-minded volunteers protects Estonian online infrastructure, which was targeted in 2007 by a massive and sophisticated wave of attacks that the Estonian government accused the Kremlin of coordinating. There are corresponding corps for women, who learn basic military training, field catering and first aid, as well as patriotic scouting organizations for children.
The Utria Assault exercise brought teams of Estonians, Germans, Poles and Finns together in a competition to test their survival skills on the freezing Russian border. They faced challenges including building improved explosive devices, spotting enemy weaponry and simply surviving the freezing night. It was all designed to prepare them for the worst.
"'We have to be ready for who wants to come and take our little country.'"
This area, where the European Union meets Russia, has been churned by centuries of war: Swedes against Russians; Germans against Russians; Estonians against Russians. It is a geographical choke point, bordered by the sea to the north and marshes to the south.
The landscape still shows the scars of the 20th century. On the outskirts of towns stand the abandoned remains of Soviet industry. In the fields and forests, farmers still dig up rusted weapons that are the recognizable predecessors of the guns carried by the volunteers today. Bodies come up too ― the bones of soldiers who never made it home.
"My grandparents were in war and their forefathers and so on, so this is kind of in the blood. It's something like inevitable," said Tonis Otstavel, a 28-year-old instructor in the EDL. "Bad things happen, and we have to be prepared for that."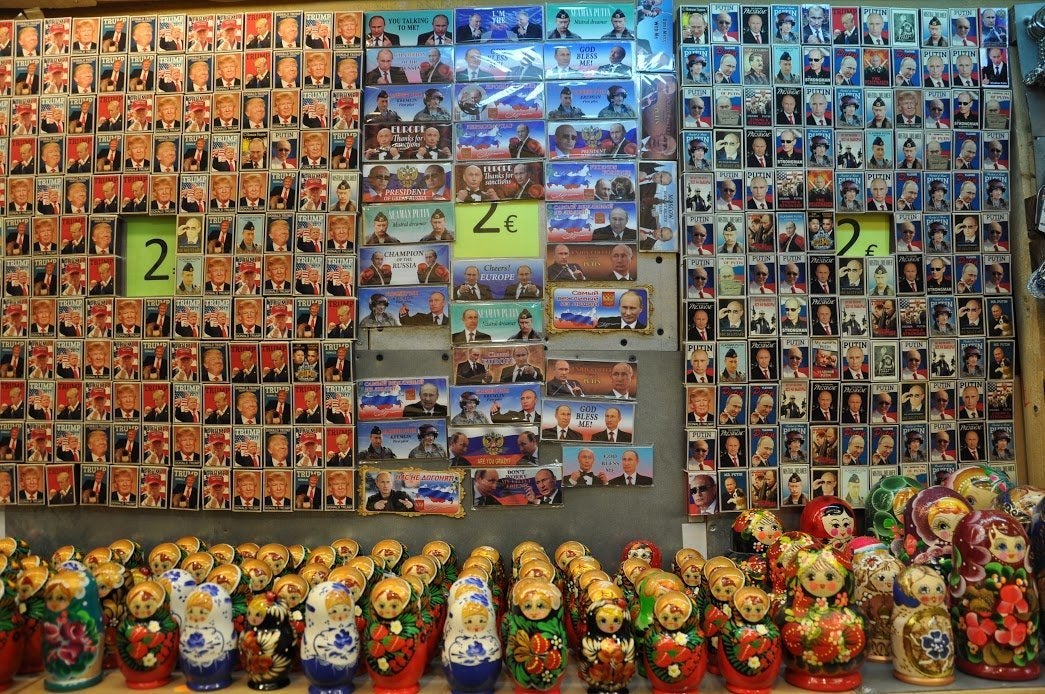 Whether Russia would, in fact, invade Estonia is far from certain. Estonians themselves often react with disdain to any suggestion that Russian troops might come thundering over the border at any moment.
"We are not threatened," said Marko Mihkelson, the chairman of the Estonian Parliament's foreign affairs committee. "If you are afraid, you have already lost." Still, Mihkelson is ready. He is a volunteer in the EDL and is ready to report to barracks should the signal arrive.
In a July interview, reporters from The New York Times questioned Trump about whether the U.S. would come to the aid of the Baltic states if Russia attacked them. "Have they fulfilled their obligations to us?" Trump replied. "If they fulfill their obligations to us, the answer is yes."
It's not clear what Trump meant by "obligations," but his equivocation caused alarm. Estonia's then President Toomas Hendrik Ilves responded with a tweet saying that Estonia was one of only five members of NATO to meet its guidelines of spending at least 2 percent of gross domestic product on defense. He also noted that Estonia had "fought, with no caveats" as part of NATO forces in the U.S.-led war in Afghanistan.
Since then, Trump has named Rex Tillerson, who is seen as friendly toward Russia, to be secretary of state. Trump also doubled down on his NATO skepticism by calling it "obsolete" in his first interview to European media following his election.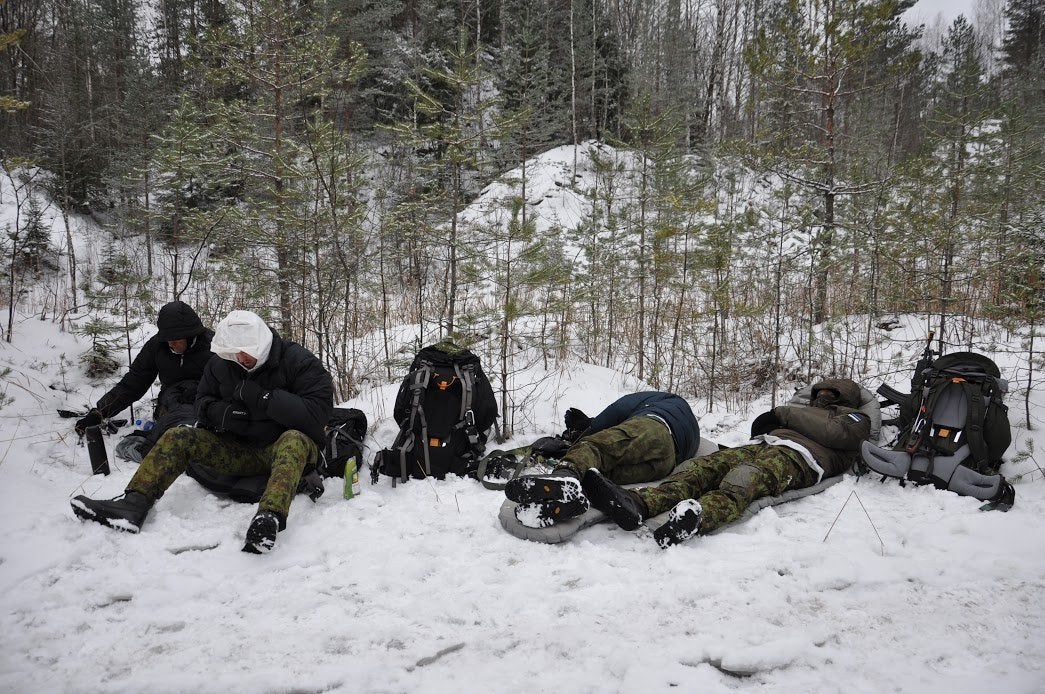 On the record, Estonian officials are dismissive, even nonchalant, about whether Trump's statements have undermined Estonia's security. Part of deterrence, after all, is verbal. "Estonia and the U.S. have had a long-lasting and fruitful defense cooperation for years," Defense Minister Margus Tsahkna said. "I do not foresee any change in that policy."
Yet privately, officials told The WorldPost that the government had been rattled. If the Trump administration lifts sanctions imposed on Russia, two officials said, it would be a signal to Putin that he can break international law with impunity.
And in a world order unbound by international law, the Estonian foreign ministry said, small countries are the most vulnerable. "In international relations, we have to have principles. We have to have rules. We have to abide by international law," said Paul Teesalu, the foreign ministry's acting undersecretary of political affairs. "This is what is at stake. Particularly for smaller countries, like us. The big countries can do whatever they wish."
Estonian defense analysts describe small Russian aggressions, such as flying close to NATO airspace, as part of a strategy to test NATO's resolve and probe for weaknesses. The principal concern is that Moscow might see Estonia as a tool to undermine the alliance.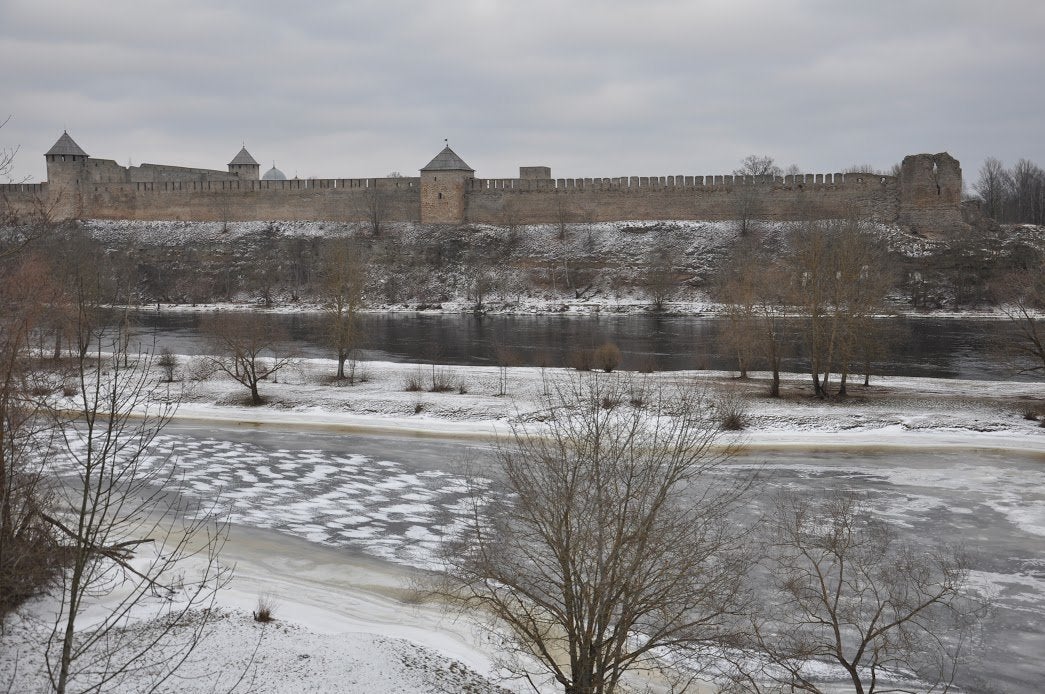 About a quarter of Estonia's population are ethnic Russians. They are far from a cohesive group, with differing opinions, family backgrounds and levels of affection for Estonia. But they often watch Russian television, rather than Estonian, and listen to Russian news. This means, as one analyst described it, that Estonia's Russians live in different "information spaces."
Estonians and Russians also have different interpretations of history. They diverge on whether Soviet forces in World War II are heroes who defeated the Nazis or invaders who began an occupation of Estonia that would last almost five decades.
Such differences have been a source of unrest in the past. In 2007, outraged ethnic Russians rioted over a decision to move a Soviet war memorial in the capital Tallinn known as the Bronze Soldier ― a symbol of World War II heroism to them and of occupation to Estonians. One man was killed, scores injured and hundreds arrested in the chaos. Amid the unrest, a wave of debilitating cyberattacks targeted Estonian banks, government institutions and news organizations.
Estonia considers this to have been an early test of what are often called Russia's "hybrid war" techniques, including disinformation campaigns, funding for sympathetic political movements and cyberattacks. Long before Russia was accused of using these methods to interfere in the U.S. presidential election, it was putting them to use in Estonia and other former Soviet states.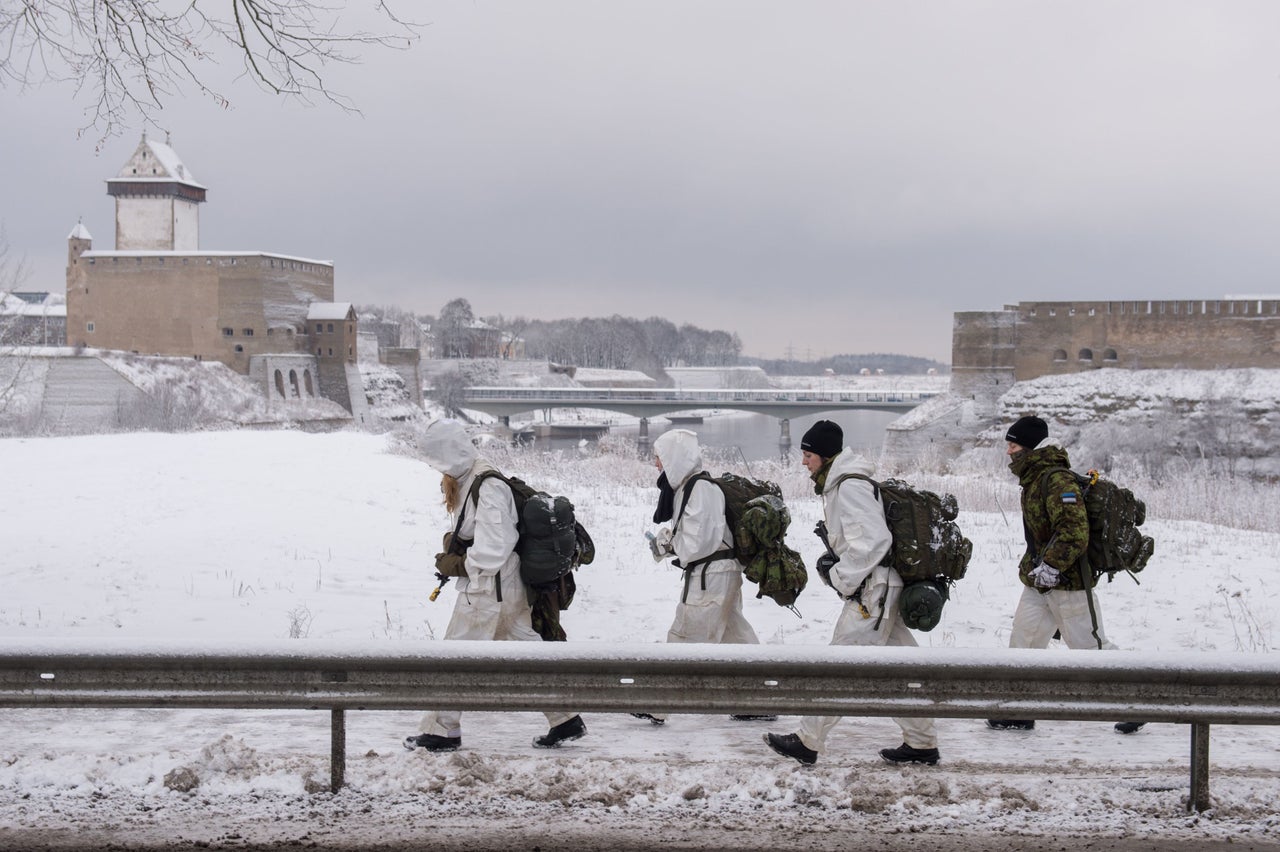 For the finale of the Utria Assault, the Estonian Defense League mounted a machine gun on the battlement of a castle, loaded it with blanks and fired it off toward Russia. The Narva River, NATO's semi-frozen border with Russia, was just a few yards away. From each shore, ancient stone castles face each other. The Russian tricolor hung over the one on the eastern bank, and Estonia's blue, black and white flew over the one on the west. Visually, the scene was a mirror image of events from World War II, when German and Russian soldiers faced off across the river.
"It shows our neighbors that we are here and that we are doing something," said Karri Kaas, the editor of the EDL's magazine, as he watched Utria Assault participants scale the castle walls as their final challenge. "It is also for the local people of Narva, to show that we are present here, and we care about it." As he spoke, some locals looked on, askance.
Narva is perhaps the closest the EU has to a Russian city. Over 90 percent of its inhabitants are native Russian speakers. The WorldPost spoke to locals who, though happy to chat in English, admitted their Estonian was rusty. Less than half of Narva's population of 58,000 has Estonian citizenship. Many, who fell through the cracks when the border was drawn, have so-called grey passports, meaning they are stateless and cannot vote.
Here, it is common to have family on both sides. When the border was drawn, many felt cut off. The crossing is physically obtrusive: large metal barriers in the center of town. Sanctions have hit Narva's trade with its biggest urban and economic hub, St. Petersburg, which is 100 miles away and has almost four times the population of the whole of Estonia. The vast Kreenholm textile factory, which now stands empty, once helped Narva become a hub of Soviet manufacturing. With the decline of the town's once-mighty industry, Soviet times have taken on the glow of nostalgia for some.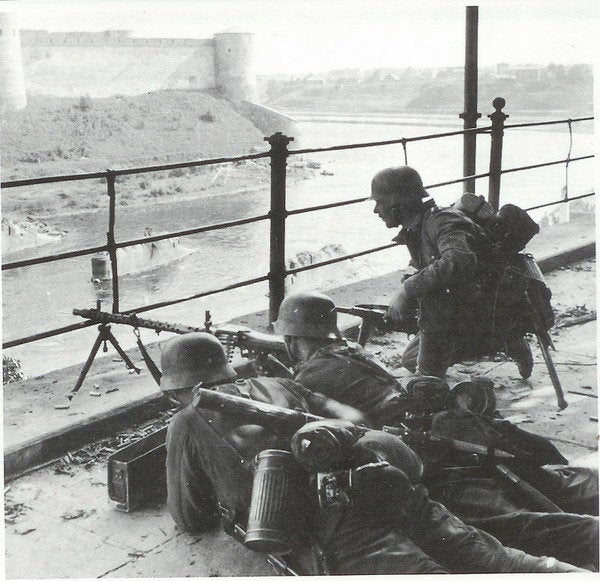 When it comes to escalating tensions in the region, both NATO and Russia blame each other. NATO accuses Russia of a "destabilizing pattern of military activities and aggressive rhetoric," pointing to large-scale military exercises by Russia on its border and to the 300,000 troops it estimates Moscow keeps in its Western Military District. Moscow has long seen NATO as a fundamentally threatening alliance. The Kremlin described the few thousand U.S. troops deployed in January to Poland and the Baltic states, in a final gesture by President Barack Obama's outgoing administration, as "a threat to our interests and security."
Narva is a place where the Russian viewpoint holds sway. It is not hard to find ardent fans of Putin. "Putin is the greatest leader," Igor Lobin, the 48-year-old owner of a Narva car shop, said to The WorldPost. He added that he was prepared to defend the Russian leader if necessary.
"'For me, World War II is not over yet.'"
Boris Abramov, a 51-year-old businessman who, like his father before him, served in the Soviet Army, expressed exasperation at what he described as NATO fueling tensions by placing U.S. soldiers and multinational air force units on Estonian soil. "I just want them to leave," Abramov said. His voice grew impassioned as he spoke of the scale of Soviet losses in World War II. "I don't know how to explain it, but for me, the war is not over yet," he said.
Narva used to be the sister city of Donetsk in Ukraine. The relationship was put on ice in 2014 when pro-Russian separatists declared that Donetsk was breaking away from Kiev. Soon after, some flags of the newly proclaimed Donetsk People's Republic were flying in solidarity in Narva, according to the city's vice mayor, Vyacheslav Konovalov.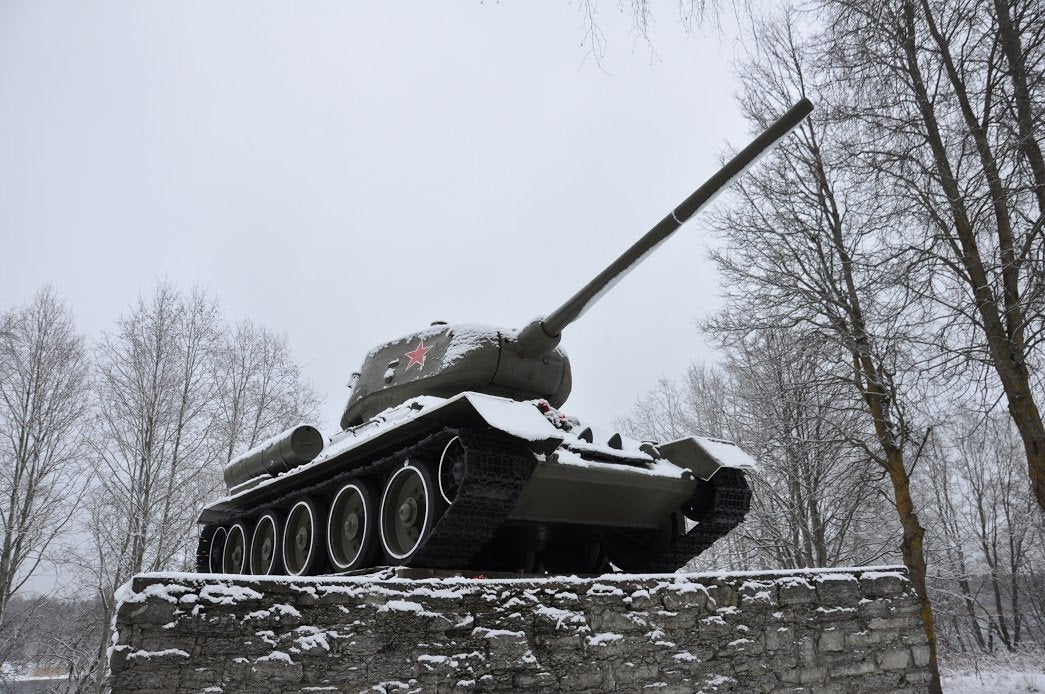 That was also the year that Stanislav Maksimov decided he had to paint the tank. It stood on the outskirts of town, on the edge of the river. It was an old piece of Soviet weaponry that had been erected as a monument. In recent years, the tank had rusted, and the ground around it became overgrown. For Maksimov, a 38-year-old ethnic Russian who is between jobs, the decline of the tank was a symbol. He felt the Russian side of history, his history, was being written over.
"For us, it's an undividable part of our history. People have to remember what happened and why it happened. People looking at the tank have to remember how big the sacrifice was," he said.
Maksimov banded together with other volunteers and restored the tank and a series of other monuments along the river. As they dug roots from the ground, they discovered six bodies. "Probably Germans," Maskimov said. The local authority took the remains away.
Some of Narva's residents are old enough to remember the war that put the bodies in the ground. This weekend, the sound of machine guns had returned to the city, even if they were only firing blanks. The exhausted teams reached Narva at the end of their trek through frozen forests and wilderness along Estonia's border. They jogged through a city park with their rifles and supply packs to reach the finish line. Three of the 27 teams had dropped out, defeated by the test of endurance. Watched over by an imposing Soviet statue of Lenin, they packed up their belongings and prepared to return to ordinary lives and office jobs in towns and cities across Estonia. They would take the experience and skills of the Utria Assault with them. Prosin said if the day came, she would be ready.