WASHINGTON -- Russia's move to sanction U.S. officials over the Crimea conflict landed in Washington on Thursday with a thud. It quickly became the list Americans were proudest to be on since the infamous Nixon enemies' list.
The latter list consisted of five senators, including Senate Majority Leader Harry Reid (D-Nev.); House Speaker John Boehner (R-Ohio); and three Obama administration officials. Several of the individuals reacted quickly, wearing the Russian rebuke as a badge of honor.
"The Speaker is proud to be included on a list of those willing to stand against Putin's aggression," Boehner spokesman Michael Steel said.
Sen. John McCain (R-Ariz.) said in a statement, "I guess this means my spring break in Siberia is off, my Gazprom stock is lost, and my secret bank account in Moscow is frozen. Nonetheless, I will never cease my efforts on behalf of the freedom, independence, and territorial integrity of Ukraine, including Crimea."
Sen. Bob Menendez (D-N.J.) chairs the Senate Foreign Relations Committee and co-authored pending legislation to provide aid to Ukraine and sanctions against Russia. He, too, accepted the honor of Putin's wrath.
"President Putin's military invasion and annexation of Crimea is brutal, totally unacceptable, and sadly returns us to a period of Cold War aggression and hostility," Menendez said in a statement. "It doesn't have to be this way, but if standing up for the Ukrainian people, their freedom, their hard earned democracy, and sovereignty means I'm sanctioned by Putin, so be it."
Sen. Dan Coats (R-Ind.) quipped that he was canceling his summer vacation in Siberia.
Reid warned Putin that sanctioning Sen. Mary Landrieu (D-La.) was a bad idea.
Landrieu released a statement of her own: "Being sanctioned by President Putin is a badge of honor. It will not stop me from using my power as chair of the Energy Committee to promote America as an energy superpower and help increase energy exports around the world. We must minimize Russia's influence over Europe, the former Soviet states -- especially Ukraine that has fought so long for freedom -- and our allies. And it most certainly will not stop me from advocating for orphans in Russia and around the world."
The White House was more diplomatic in its response to the sanctions against Caroline Atkinson, deputy assistant on national security; Ben Rhodes, deputy national security adviser; and Dan Pfeiffer, senior adviser.
"We've seen the reports and don't have a particular comment," National Security Council spokeswoman Caitlin Hayden told The Huffington Post.
In addition to its own list, the Russian Foreign Ministry also responded to the American sanctions with a strongly worded statement.
"Treating our country in such way, as Washington could have already ascertained, is inappropriate and counterproductive," the statement said. "Nevertheless, it looks like the American side continues to blindly believe in the effectiveness of such methods, taken from the arsenal of the past, and does not want to face the obvious: the people of Crimea, in a democratic way in full accordance with international law and UN regulations, voted to join Russia, which respects and accepts this choice. You may like this decision or not, but we are talking about a reality, which needs to be taken into consideration."
This story has been updated with comment from Sen. Mary Landrieu.
Before You Go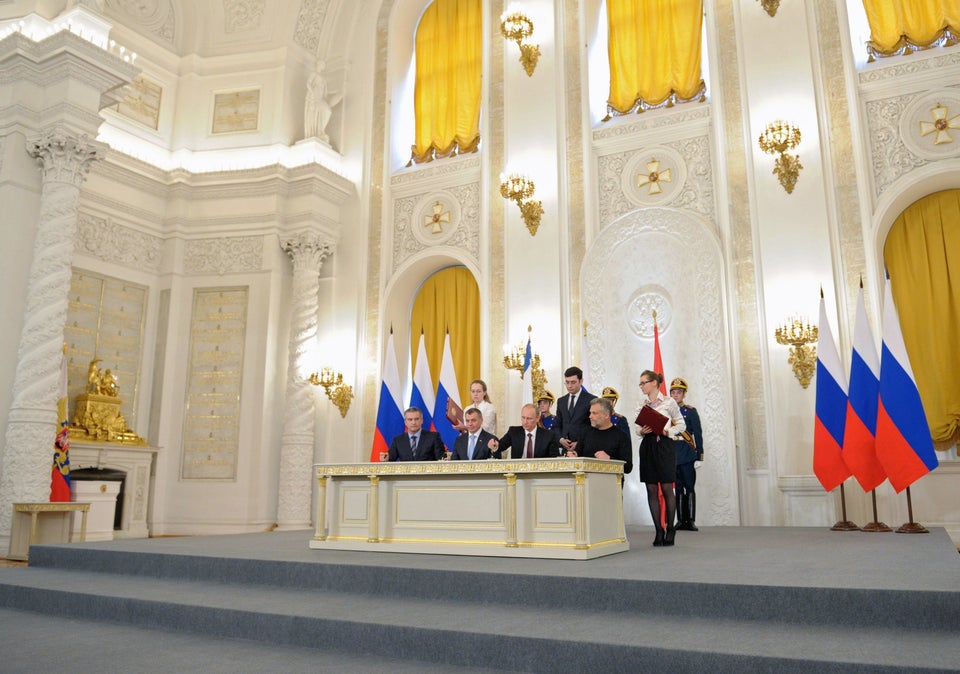 Crimea
Popular in the Community