 VLADIVOSTOK, Russia, Sept 9 (Reuters) - Days after flying with migrating cranes, Russian President Vladimir Putin likened his opponents on Sunday to weak birds that are unable to follow their leader.
Putin put on a baggy white jumpsuit, helmet and goggles on Wednesday for two flights in a light aircraft with young cranes born in captivity. The aim was to help introduce them to the wild and teach them how to follow a leader.
His flight has provoked mockery by his critics, including talk show host Ksenia Sobchak, who likened his adventure to the presidential election in March at which he won nearly two-thirds - but not all - of the votes.
Asked about the comment at a news conference after a weekend summit, Putin said with an ironic smile: "Yes, its true, not all the cranes followed right away. Only the weak cranes did not follow at the first attempt. At the second attempt all of them followed."
"Of course, there are some birds who do not like to fly in a flock, and prefer to nest individually. But what can we do? Even if they are not in our flock, they are still members of our breeding population and should be treated with care," he said.
Putin has largely cut out the publicity stunts, such as tracking a Siberian tiger and posing with a polar bear, that once won him popularity but are now mocked by his critics.
But this did not deter him from flying with the cranes in the Yamal peninsula before the summit of Asia-Pacific leaders in the port city of Vladivostok.
Even U.S. Secretary of State Hillary Clinton could not help commenting on the flight.
In video footage shown by CNN television, Clinton told the Sultan of Brunei Hassanal Bolkiah about Putin's adventure when she visited the Southeast Asian state before the summit.
"Did you see the story today about Putin dressing up like a bird, in a hang glider?" Clinton, who looks astonished, is seen telling the sultan.
Putin seemed unconcerned by the attention.
"Why don't they all try to fly themselves?" he asked at the news conference. (Reporting by Gleb Bryanski; Editing by Alison Williams)

Before You Go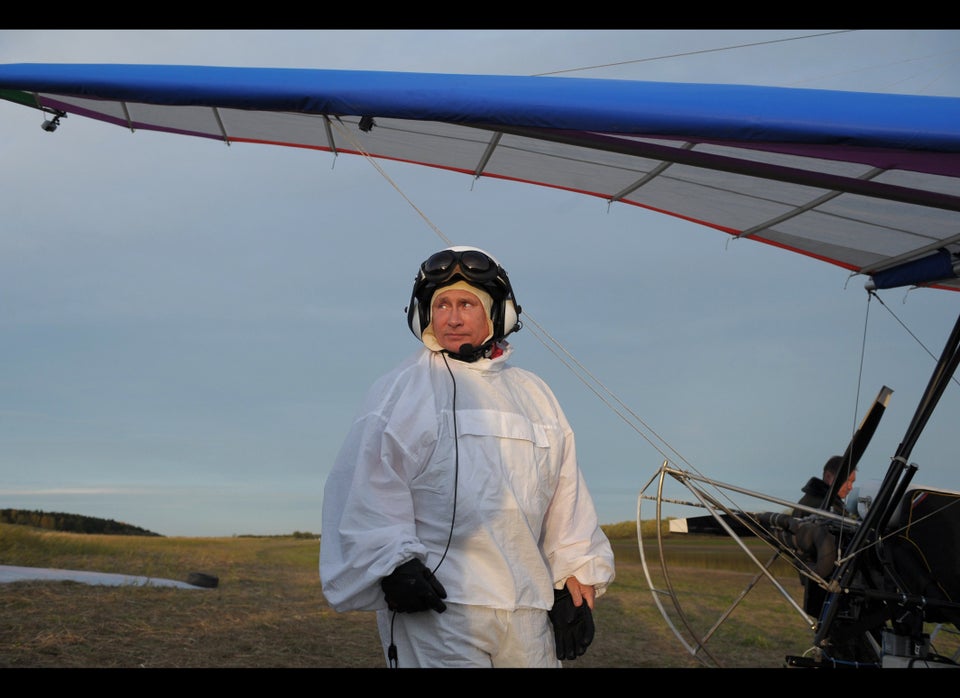 Putin Flies Hang-Glider
Popular in the Community