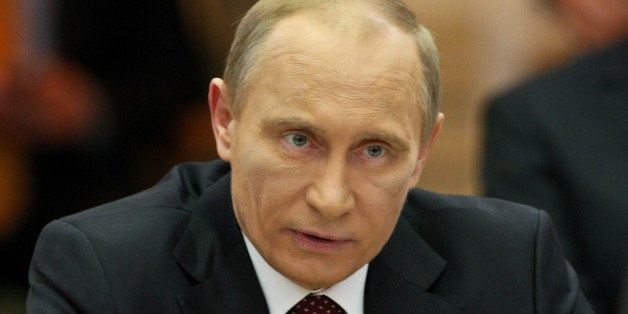 Pastors thrown in jail. Religious texts criminalized. Evangelism outlawed.
These are all events that Religious Right activists--inaccurately--predicted would happen during President Obama's time in office. But sadly, these are acts that are all too common around the world.
Most recently, Russian President Vladimir Putin has stepped up his attacks on Christians who belong to denominations other than the Russian Orthodox Church, particularly Protestants, Mormons and Jehovah's Witnesses.
But none of this has stopped Putin's American fans from singing his praises, even while they claim that President Obama has made the U.S. dangerous for Christians.
Donald Trump and Mike Pence have enthusiastically praised Putin as a brilliant and mighty trailblazer while at the same time accusing President Obama of hounding Christians at home. In fact, Trump has claimed that the U.S. government is specifically targeting him with a tax audit because he's "a strong Christian."
In reality, Putin's government has done the very thing that right-wing activists falsely accuse President Obama of doing: arresting Christians, threatening churches and permitting Sharia law in majority-Muslim areas.
But it is Obama they falsely charge with being an enemy of religious liberty, and Putin they shower with praise in spite of his well-documented attacks on freedom.
The admiration for Putin from this segment of the Religious Right reveals an ugly reality behind their claims of religious oppression at the hands of the LGBT rights movement. For these activists, it seems, the persecution of LGBT people is actually more important than preserving true religious freedom, even when the welfare and freedoms of other Christians are at stake.
Support HuffPost
Every Voice Matters
Popular in the Community