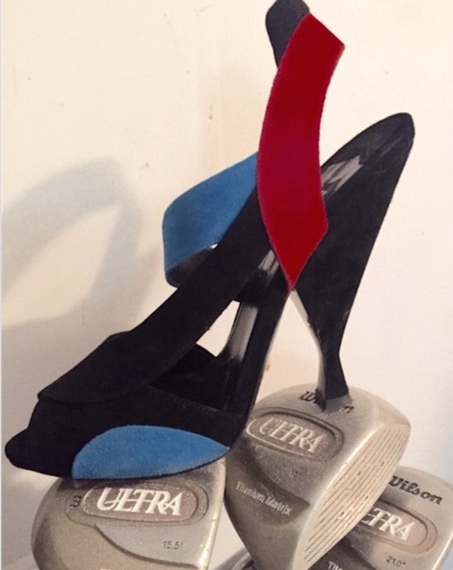 On fashion: Allow me to get this one out of the way. Pooling fashion with mini golf I beg to differ up one side and down the other. From sociological/historical relevance and reflection to artistic validity, wearables are key products/artworks of man and worthy of ongoing exhibits, study/critique and observance/appreciation. Check stats (start with The Met) on attendance. Undeniable. Fashion collections and display are nothing less than restorative golden tickets for today's museums -- and they all need all the help they can get. I'm still waiting/hoping for the IMA, with its fashion and textiles arts collection and Hoosier legacy connectivity to notable designers, to conclude that fashion of its own accord should be a permanent, rotating array in its Gerald and Dorit Paul galleries.
On Putt Putt (my brand-based vernacular -- it's like scotch tape): Being an Indianapolis resident and member of the IMA (disclosure), I am inclined to question and support what's going on. At this moment, Indiana could stand a little media-based balancing out as regards something -- anything -- that leans to the smart, the cool, the welcoming, the enlightened. But trust me, "we" also have the good, the cool, the enlightened in droves -- old traditions and events (our sports, our racing, the city itself, a land-planned descendant of Paris and DC) as well as new and edge-reliant undertakings like GenCon (previous HP post) and the Kurt Vonnegut Museum & Library (ditto), a fledgling institution on whose board I have a blast serving (disclosure) that, even though it only now is trying to raise funds for permanent digs, has garnered international press and destination status. Today's 24/7 tech + media stream make sure the negative press travels on supersonic wings -- and we in this State are keenly aware of the monkeys on our backs. Goes with a media-fed territory that at a glance invokes the likes of Woody Harrelson's endearing buffoon, Woody Boyd, on the TV series Cheers.
In the Arts, "Shock n Awe" and its close cousin, low hanging fruit, are as old as they are effective in eliciting both response and attendance. To list examples would take volumes. From Bosch's Garden of Earthly Delights to pooh-embellished Madonnas, the raised eyebrows work. From bawdy, comedic 18th c operas to Russell Crowe cast as Javert, the masses enticed spur the sales. Putt Putt at the IMA is in keeping with the latter. Had I ever been asked, I would've voted for a different ez + fun lure than Putt Putt. But as an Arts advocate, I must honor my commitment and break it down: It leads me to say that anything -- anything at all -- that can bring warm bodies to a culturally relevant destination and foster harmless connectivity between humans who might not otherwise have gone there, cannot be a totally bad thing. Ditto on that which spurs these very conversations. Fascinating fodder, for in the exchanges, we can learn.
Photo by kimann, shoes & clubs property of the author
Related
Popular in the Community