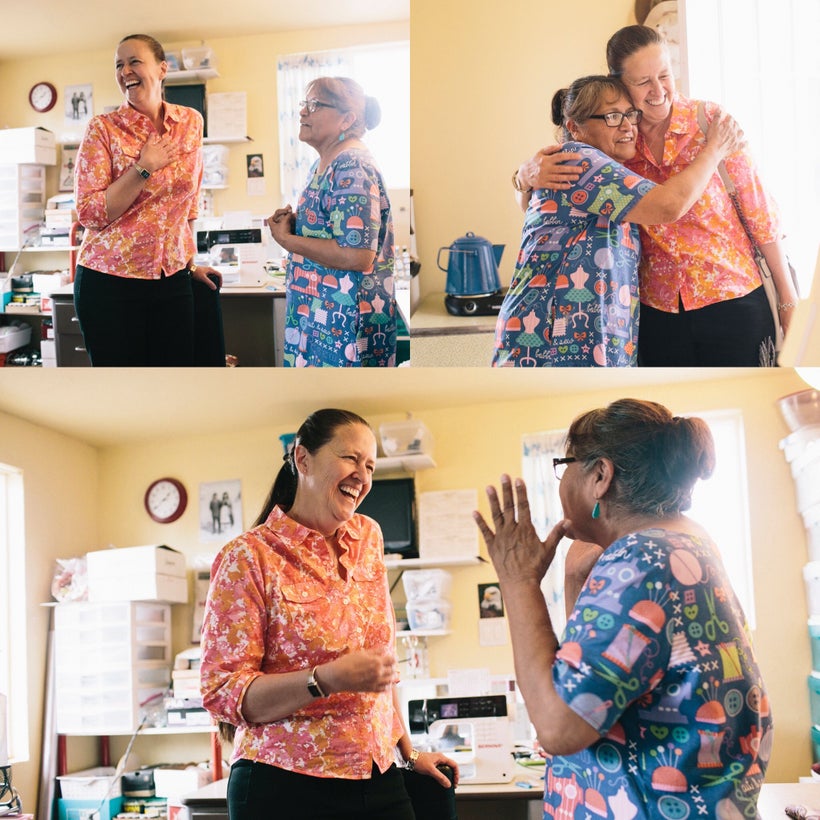 Anne Haines is an inclusive visionary who has pioneered in the field of low-income entrepreneurship with one of the best track records known in the space.  Now, she has a new bold goal and we are proud to have her as a featured speakers and partner with  GlobalMindED's community next June 9-11 in Denver.  Here is a snapshot of her vision and how she will change the world for low-income entrepreneurs with her company, Accion, serving Arizona, Colorado, Nevada, New Mexico and Texas, with partners like GlobalMindED, Kauffman Foundation, Gary Community Investments and others dedicated to opening doors through entrepreneurship.
As one of the founders of Accion in the U.S. and your impressive two decades + track record, what motivated you to fund and launch low-income entrepreneurs when you began?
As a child, I saw first-hand what loss of income and financial security could do to a family, not just the financial impact, but the emotional one. For my mother, a single mom, dignity and fulfillment came in part from being able to provide for our family and participate in our community. This is what happens when people get to work, and even more so when they get to start a business and give this same gift to others.
How did you come up with the Moonshot idea and how did you gather your key stakeholders?
The moonshot, of course, is a term that comes from President Kennedy and the goal set in 1961 of reaching the moon within the decade.  At the time, going to the moon seemed unfathomable to many but, at the same time, very American in its boldness. And then, with much determination and innovation, we did it! We got to the moon. Today, we need to tackle another seemingly unfathomable goal: conquering growing financial inequality and dwindling rates of entrepreneurship so everyone who dreams of it has a chance to participate in the economy as a business owner. This grand challenge is the moonshot. Let's mobilize $1 trillion into the hands of underserved entrepreneurs over the next 10 years so they can start businesses, and in so doing change their lives and the economic resilience of our country.  Along with the Kauffman Foundation, we've convened a growing group of dynamic doers—including entrepreneurs, executives, philanthropists, and financiers—to mount this moonshot.
In your experience, what are the pain points and difficulties that low-income entrepreneurs go through and how can we best plan for their success?
They may lack confidence, a support network, experience with or exposure to people who have ventured down this path before them.  These forms of social capital are vital ingredients in an entrepreneur's success.  And, they too often aren't able to access financial capital. Accion provides the loans, but we also provide relationships that can support, sustain, and inspire them.
Accion has a long track record of 97% success rate with people you fund.  What is your secret when the national numbers are such a departure from your results?
It's all about personalizing the process. Our borrowers want to succeed. They want to pay us back, build their business, and realize their dreams. They are not just a number to us, and we are not just an "institution" to them. From a foundation of mutual accountability, we are their friends, mentors and confidants.  Many of our clients also go on to become donors to Accion, wanting to use their own success as a platform from which to help other entrepreneurs realize their dreams.
Who are your critical partners in the achieving the moonshot?
Ultimately, to reach the $1 trillion goal and expand economic opportunity through investing in people to start businesses and transform our communities, we will need every sector of society to be on board. It will become a well-understood solution to a problem that has long vexed us, inter-generational, systemic poverty. As we set the stage for the moonshot, we will need innovative business leaders, philanthropists, investors, and policymakers to embrace this solution, this "theory of change." And, of course, we need millions of people who want to turn a dream of business ownership into a reality. These are the people who will help ignite the moonshot.
How will you measure impact and success once the money has been allocated and the entrepreneurs are off and running?  How can we work with them now to prepare them?
At present, the rate of business closures is out-pacing that of start-ups. We want to reverse that. We want to see new enterprises establish themselves and begin to create and sustain employment. On the individual level, loan repayment and improved credit scores are key metrics, and ones where we have a strong track record. The most powerful thing we can do now to prepare and position entrepreneurs for success is to connect them—to knowledge resources, commercial and community sources of business capital, fellow entrepreneurs, mentors, and the broader community.
What can the rest of the business world learn about inclusive leadership and access for all through your efforts and attaining the moonshot? How might they apply that to their own inclusive goals and determine their own respective moonshots in their industries?  I'm thinking technology and health, in particular.
The core aspects of a moonshot include expansive vision, embrace of diverse ideas, a committed and inclusive team, constant adjustment and improvement, seeking out unexpected partnerships, and a fundamental belief in the ability to achieve the seemingly impossible.
You've obviously had a lifelong mission of service and helping others achieve self-sufficiency.  When the 60 trillion dollars of wealth transferring in the next few decades to millennials and women, what do you most want those in possession of the wealth to consider to have impact beyond their own interests and family members?   What would the world look like if everyone in the 1% of wealth globally were as committed as you are to creating opportunity for others?  Should we have a leadership and impact moonshot?!
I love that idea. Yes, yes, yes. We should indeed have a leadership and impact moonshot.  Some people come to this mission and this moonshot because they love the transformative power of the entrepreneurial spirit, others may join because it's good for their own business, and others may value engaging as a way to honor entrepreneurs in their own family who may be passing on the wealth they built. It's exciting that so many of these inheritors are in the millennial category.  They, and their Gen-Z counterparts, often see the world differently than those who came before. They expect companies to be socially responsible. They expect philanthropic giving to make a measurable impact. They expect that individual actions can have global impact. We will tap into all that energy to move the moonshot forward working with GlobalMindED and other partners who will help this become reality.
GlobalMindED is proud to work with leaders like Anne Haines who are working to bring access and equity to underserved populations. Join us at the 2018 GlobalMindED Conference June 9-11 to hear similar success stories. Do you have a story to share with fellow thougth leaders? If so, submit your idea to our Call for Proposals and discover other ways to get involved!
Calling all HuffPost superfans!
Sign up for membership to become a founding member and help shape HuffPost's next chapter
This post was published on the now-closed HuffPost Contributor platform. Contributors control their own work and posted freely to our site. If you need to flag this entry as abusive,
send us an email
.