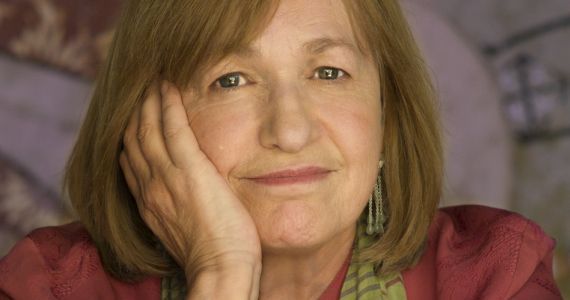 In Guangdong Province, the officials and caregivers at the Lianjiang Social Welfare Institution knew they needed help caring for the orphaned children at their facility. They had taken trainings with Half the Sky, a non-profit organization dedicated to enriching the lives of orphaned children in China. They learned how important it is for children to bond with a consistent caregiver, but with 30 babies and toddlers packed into one room and only two women taking care of them in shifts, they couldn't figure out how to feed them one by one.
Instead, they fastened the infants' hands to their milk bottles so they could feed themselves. Toddlers gathered around a single spoon and the caregiver filled each little mouth as fast as she could. For the rest of the day, the children simply languished. The director and caregivers wanted to do more for their children, but lacked resources.
Then they learned about Half the Sky's new Seed Initiative - a plan to help smaller, poorer Chinese towns build their own successful programs and inspire local governments to increase their support for orphaned children. Lianjiang applied for and received financial help and intensive hands-on training.
Today there are nannies and preschool teachers, children's paintings on the walls, books and toys and fast-moving goldfish that delight the children. As for the babies, they no longer have to wait to be fed and cared for. When three-month-old Qingzhen starts to cry, her beloved nanny picks her up, holds her in her arms and whispers: "Mama's here. Don't cry."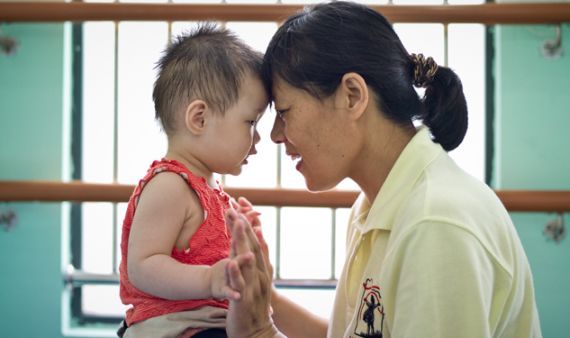 Seed, launched in 2014, is the newest component of the Rainbow Program, Half the Sky's multi-faceted partnership with government that aspires to help China reimagine its entire child welfare system. Before Half the Sky, China's state-run welfare institutions were understaffed and overwhelmed with abandoned children. The caretakers were assigned positions for which they had no training and often, little interest. As a result, virtually all children who were institutionalized suffered from pervasive neglect. Now thanks to the Rainbow Program, 5,800 caregivers at 435 institutions across China have been trained in the last four years.
Through the Rainbow Program, Half the Sky has also permanently placed child development experts in model children's centers and training bases, supported nine new Seed sites and developed 1JiaRen, an online learning community that brings caregivers and administrators from across China together to learn about best-practice childcare, share stories, view an extensive video resource library, and grow in their careers through custom-designed e-learning courses.
After 16 successful years in China, Half the Sky is very much on course. Few now doubt that we will one day fulfill our mission to put a caring adult in the life of every orphaned child.
Today in Lianjiang, it's clear that Half the Sky has made a difference in the lives of both orphaned children and their caregivers. At first, new nanny Gao Xiaomin worried that she wouldn't be able to bond with the children at the institution in Lianjiang, especially with one-year-old Rutang, who cried and cried no matter how hard she tried to soothe him. But after only a few days on the job, she has a new worry. Sounding like every mom who has ever loved a child, she says: "It pains me to think about my Rutang leaving when if one day he is adopted."
REAL LIFE. REAL NEWS. REAL VOICES.
Help us tell more of the stories that matter from voices that too often remain unheard.