His eyes caught my attention...playful, innocent, and curious about this group of strangers in his neighbourhood. I was immediately drawn to this young boy, who smiled shyly and nodded ever so slightly when I asked if I could take his picture.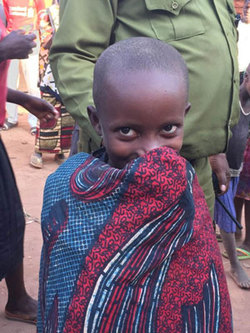 When I showed him the image of his face on the screen of my phone, he giggled, which made me laugh too, and I reached out to gently touch his head. In hindsight, I believe I was searching for a connection to this beautiful boy, to his community, and to the thousands of refugees we had seen over the past few days in the Nyarugusu, Mtendeli and Nduta camps operated by UNHCR in Tanzania. I wanted them all to know that despite the fact that the numbers are staggering -- 65 million displaced people in the world today -- and despite the fact that many of them had been forced to flee conflict decades ago, that we had not forgotten them. That we, the international community, are working hard to improve their lives and to push for solutions to the protracted crises that have driven them from their homes.
I work on humanitarian issues with UN agencies and NGOs on a daily basis, but I traveled to Tanzania a few weeks ago to meet with refugees and see firsthand the challenges they face and the magnitude and complexity of the operational response to meeting their needs. The Government of Tanzania has been a generous host to approximately 60,000 Congolese and 190,000 Burundian refugees for many years. However, the 2015 election in Burundi has spurred a new crisis, causing a new influx of more than 150,000 Burundians since April of last year. Most of these refugees were forced to leave jobs, schools, family members and their possessions behind, and are likely faced with many years of extremely challenging living conditions.
Strength in the Face of Uncertainty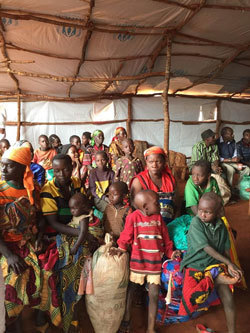 As we entered Mtendeli Camp, a new busload of refugees had just come from the border. I was struck by how courageous they seemed in the face of such uncertainty, but I could see in their faces the countless unanswered questions that filled their minds. There was one lone 15-year-old girl, slightly younger than my own daughter, who sat patiently while names were called and, one after another, families filed through the blue-vested UN workers for registration. Unlike the others, her name was not on the manifest, and she waited in fear, not knowing until the end of the day whether she would be welcomed or turned away. As I watched, I wondered what atrocities she had encountered during her journey to safety, and what had happened to her family, resulting in her being completely alone.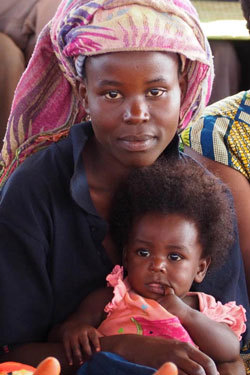 Unfortunately, her story is not unique, and I couldn't help but think about the Future She Deserves, the signature gender initiative that I launched last year to protect and empower women and girls. I was aware that many Burundi women and girls suffered abuse during their long walk to Tanzania, including horrific acts of rape and molestation. And that in the camps, women face continued threats during daily forays to gather firewood, and from abusive male family members, often under the influence of alcohol because they have no other pastime or activity to occupy their time. Through this initiative, we've been working hard to mobilize the international community in Geneva around issues of gender-based violence. So I was particularly interested in meeting with these women to discuss GBV programs and support services that are available to them in the camps. And after hearing about their experiences, it was obvious that we all have to do more.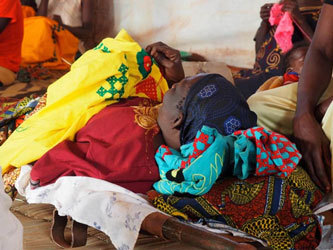 Everywhere we went, refugee women spoke about the prevalence of gender-based violence and we discussed efforts being made to provide increased protection and support -- such as better lighting, safe gathering spaces, education and training for both men and women, more female police, and comprehensive counseling services. We visited a large tent that served as a women's center in the Nyarugusu camp, where women young and old gather for social interaction, counseling and support. There, we met an old woman laying on a stretcher who had to be carried into the center everyday. She proudly showed us her needlework, and told us the time she spent with other women was what kept her going.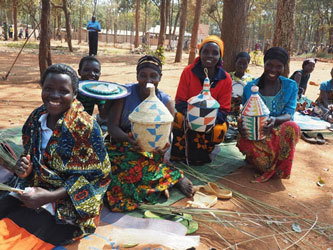 In addition to the social benefits, women come together to produce handicrafts, including beautiful, colorful woven baskets that are sold to visitors and in the small marketplace. I was impressed by these strong, resilient women who had built a wonderful community for themselves, and vowed to work harder to identify ways to empower these women and to provide them with better opportunities for safety and fulfillment. Many had suffered abuse, but they refused to be defined as victims. Instead, they yearn to be productive and are committed to building a better future for themselves and their children.
In Nduta camp, I saw hope in the eyes of the children. We visited a "child-friendly space," where children enjoy group activities between school hours.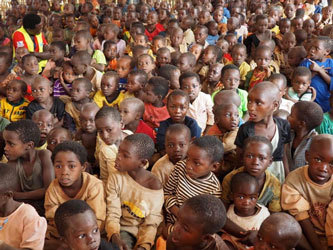 Burundi women have one of the highest fertility rates in the world, and all around us the crowds of children were enormous. We were welcomed by approximately 400 smiling faces in a simple wood-frame and reed structure which served as a temporary classroom. Despite being packed shoulder to shoulder in the dust and heat, these young children were engaged and eager to learn. Nearby, a group of adolescent girls and boys were learning tailoring skills, which they hoped would provide them with opportunities to earn their own income in the future.
In general, classes are overcrowded, schools are operating in shifts to accommodate more classes per day, and far too many children remain in informal schools or receive no education at all.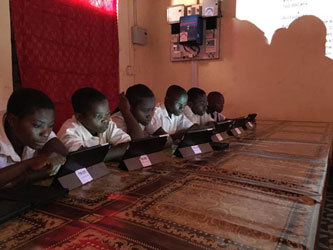 Access to secondary school and vocational training is limited, which makes for an abundance of idle youth -- an increasing number of them unaccompanied males. On a more positive note, private sector partners have launched 'connectivity projects' that enable some refugee students to access learning materials over the internet using solar-powered devices, vastly broadening their awareness of the world around them. Watching their young minds absorbing information from various websites, it was apparent that we must push harder for innovative ways to scale such partnerships so that more refugee children can have access to these 21st century learning opportunities.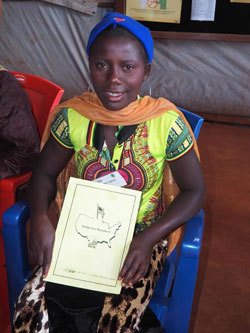 At the same time camps were welcoming new arrivals from the border, some refugees were preparing to depart after many years of asylum. Beginning in 2012, the United States has prioritized the resettlement of Congolese refugees as a durable solution for this protracted refugee population. Before relocating, these refugees attend cultural orientation classes, receiving training and practical advice to help them prepare for life in America. The refugees we met in class were joyous; many having dreamt of this opportunity for years. Some of the younger refugees appeared nervous, having known no other life outside of camp. But a few words of encouragement from the instructors brought back their smiles and they were ready to face whatever challenges await them in their new homes.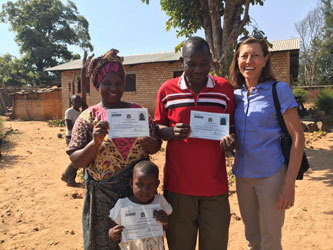 Our final stop in Katavi Province assured me that there is hope for refugees. The Government of Tanzania has naturalized more than 160,000 former Burundi refugees who came to Tanzania in 1972. Tanzanian citizenship has brought a sense of pride and certainty to refugees who lived in limbo for decades despite substantial economic and social integration with the local host community. I was impressed by a newly naturalized English teacher who told us his story of coming to Tanzania as a two year old. He and his wife are raising seven children, and they are all in school. Their life is not easy - this is an underdeveloped, poor region - but they now have rights, they work hard, they contribute to their community, and with this new beginning they have access to a better life.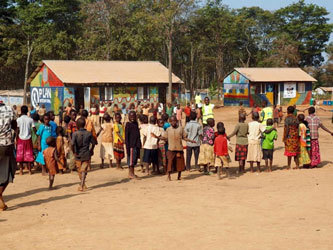 I left Tanzania with newfound respect for the UN and NGO partners working tirelessly to protect refugees, for the governments which grant them asylum, and without a doubt, for the refugees themselves. Their courage, strength and resilience in the face of such adversity is truly remarkable. I also left with renewed pride in the work the United States does to share the responsibility through sustained, robust support and the largest third-country resettlement program in the world. President Obama will host a Leaders' Summit on Refugees on September 20th in New York to highlight the efforts of those countries which have made new commitments to support humanitarian efforts through significant new financial contributions,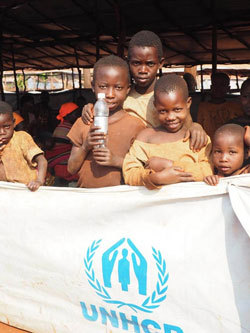 increases in the number of resettlement spaces, and better education and work opportunities for refugees around the world. Tomorrow is World Humanitarian Day. Clearly there is no simple solution to an issue as complex and of such magnitude as the global refugee crisis we're facing today. But I believe that together, through increased commitment and support, we can provide millions of refugee men, women and children with greater hope for the brighter future they deserve.
Popular in the Community