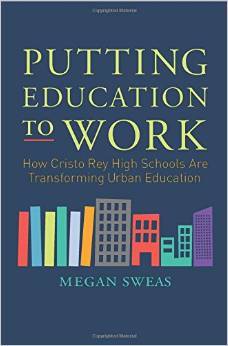 It's hard to say which conundrum unleashes others, including poverty, family disruption, community violence, criminal conduct, educational failure, and social unrest.
As with all really tough problems, there is no one answer. When we throw about everything we have (in systematic, persistent, and informed ways) at these misfortunes we stand a chance of uprooting even generations of deeply rooted dysfunction. Education is one of the proven remedies that needs to be applied.
As a gift for speaking at a meeting on work-life balance (not that I am a good example) held by the Harlem Cristo Rey High School, just before the semester started in September, I was given this book about the Cristo Rey High Schools, now 28 strong and growing throughout the United States. I knew about Cristo Rey, had visited its Harlem school, and long admired the work of its president, Joseph Parkes, SJ, a Jesuit priest and educator. But it was this book's pages that revealed that the success I saw at the gathering of faculty and staff was no accident, and that it could be replicated with discipline and "grit."
The Catholic essence of a Cristo Rey school is unqualified: Their mission embodies following the teachings of Christ. But just as a person need not be a Buddhist to follow his teachings, a student (faculty or staff) at a Cristo Rey school need not be a Catholic. A student, however, must come from a "disadvantaged" (read: living in poverty) family, be already behind in school, and uncertain about his or her future. Cristo Rey schools are about giving youth a chance to exit from a life that is short on opportunities to break the chain of misfortune they were born into. The teachings of Jesus the schools promote, by the way, are wonderfully catholic -- that is, universal. There is an unwavering faith in each person, no one is beyond reach (but not everyone can succeed); a loving God, not a punitive one, who urges caring for thy neighbor; and a palpable sense of duty, of giving to others and giving back when you can.
The first Cristo Rey high school was begun in Chicago in 1996. There are now 9,100 Cristo Rey students in 28 schools with a plan to grow to 20 schools by 2020. Of those currently enrolled, 96 percent are youth of color, with a little over half Hispanic and one-third African-American.
Ten principles serve as the credo for all Cristo Rey schools. These include that the school: is Catholic and "enjoys" Church approval; serves only disadvantaged students of various faiths and cultures; is involved with families and its community; prepares all students to enter (and graduate) college and requires they participate in the work-study program; is financially sound and at full enrollment; and is a responsible organization in a variety of basic ways.
Every one of their schools has a "corporate work program," which is integral to its financial and educational objectives. Up to 50 percent of a school's budget derives from the pay that students earn from day jobs at 2,000 companies, small and large, across this country. Teams of four students are hired to fulfill the duties, largely office work, of a full-time employee who would be paid $28,000 (including benefits) annually to do the work. Each student is on the job one day a week and they rotate Fridays. It appears that employers are satisfied since the vast predominance of them sign on for years. I would call the model "learning and earning." But this is no free ride. If a student does not shape up, he or she has a second chance. If "fired" twice the student is dismissed from the school. This is charitable work but is not a charity without expectations.
Educational experts, including Angela Duckworth and Paul Tough, have written that work study and environments of demand (with support) produce in youth the "soft skills" of teamwork, accuracy, and persistence. Students develop what has been called "grit" -- a good measure of which will stand us all well.
One hundred percent of Cristo Rey students are accepted into college. Far fewer graduate, a metric not lost upon those guiding the future of the schools. The schools are citadels of high expectations -- academically and for the character they intend to install. This is no mere slogan, from what I have seen. The students, teachers, leaders, and all others involved come early, work late, help each other, and create a community that serves and honors them all. The irony of the talk I gave was that those assembled were trying to balance what else was good in their lives with the work that gave them purpose and reward.
At this pre-school year gathering that I was privileged to attend, Father Parkes (who has been national coordinator of the Cristo Rey Network of High Schools) remarked that he often is asked how does he find the caliber of teachers, leaders, and administrators who work at Cristo Rey? He said, "they (including those assembled) find us." What a fine testimonial to how good people seek out opportunity and mission, even when it calls for sacrifice.
As this book's title suggests, the Cristo Rey schools are more than secondary education sites. They are a type of movement, a front that is advancing upon the bulwark of urban education. That's such a good thing, since what's at stake is the future of disadvantaged, aspiring youth whose destiny can be redirected in ways that celebrates them while serving their families and communities.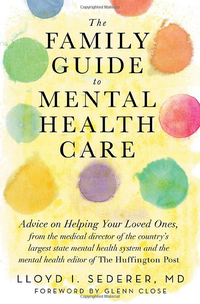 Dr. Sederer's new book for families who have a member with a mental illness is The Family Guide to Mental Health Care (Foreword by Glenn Close).
Dr. Sederer is a psychiatrist and public health physician. The views expressed here are entirely his own. He takes no support from any pharmaceutical or device company.
Support HuffPost
The Stakes Have Never Been Higher
Related
Popular in the Community