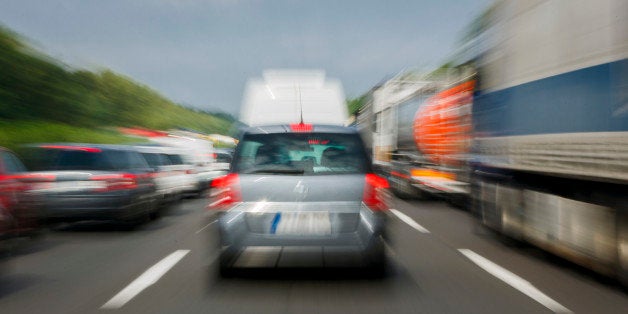 More than 1.2 million people are killed in traffic crashes every year. Ninety percent of these deaths are in low- and middle-income countries, where cities are growing rapidly along with the number of cars on the road. Unless we act quickly, traffic crashes will rise from the world's ninth-leading cause of death today to the seventh-leading cause by 2030 -- which could claim as many as 1.8 million lives each year.
This is a serious and preventable problem that hasn't gotten nearly enough attention. Thankfully, that's starting to change: This year, for the first time, substantially reducing traffic deaths is one of the targets of the UN's proposed Sustainable Development Goals, Goal 11, which aims to "make cities inclusive, safe, resilient and sustainable."
There is no reason why we can't achieve that target, because in recent years, we've learned exactly what it takes to improve road safety: safer road infrastructure, smarter traffic rules, and stronger enforcement.
Since 2007, Bloomberg Philanthropies has been helping cities and countries adopt effective road-safety measures, such as reducing drunk driving, increasing seatbelt use, investing in public transportation, and making improvements to roads where there are frequent crashes.
We've seen a lot of very encouraging progress. Since 2010, nearly two billion people have been covered by stronger laws and better infrastructure in the countries where we've worked. For instance: Vietnam passed a law requiring motorcycle helmets. As a result, the number of people wearing helmets soared from 40 percent to 95 percent. In the city of Thika, Kenya, public-awareness campaigns and better enforcement helped reduce the number of drivers speeding from nearly 70 percent to about two percent. We've also helped Rio de Janeiro plan more than 150 miles of new safe bus rapid-transit routes, which helps take cars off the road.
Improving road safety not only saves lives, it improves them in numerous important ways. For instance, investments in mass transit help attract private investment and create jobs. Accessible public transportation makes it easier and more affordable to travel between work and home -- which is particularly important for growing cities in developing countries, where the poor often live in outlying neighborhoods cut off from jobs in city centers.
Investments in road safety will also be critical to meeting the challenge of climate change, which poses another kind of serious risk to cities, especially the 90 percent of cities that lie on coastal lands. In most cities, transportation accounts for a large proportion of the carbon emissions that are warming our planet. In some cities, it is the single-largest contributor. We can't effectively confront climate change without expanding access to public transit and encouraging transit-centered development to reduce the number of cars on the road, which helps drive down carbon emissions as well as traffic fatalities.
To tackle these challenges, Bloomberg Philanthropies invited large cities around the world to submit proposals for improving roads and public transit. We selected 10 of the best proposals and will work with those cities over the next five years: Accra, Ghana; Addis Ababa, Ethiopia; Bandung, Indonesia; Bangkok, Thailand; Bogota, Colombia; Fortaleza, Brazil; Ho Chi Minh, Vietnam; Mumbai, India; São Paulo, Brazil; and Shanghai, China.
In addition to helping these cities adopt proven strategies, we're also providing a forum for them to share ideas. Cities face many common challenges, and the more opportunities they have to work together, the faster they can make progress. That's true for road safety, and for all of the work cities are doing to become safer, stronger, and more sustainable.
Millions of people have lost loved ones in traffic crashes: children and parents whose lives have been cut short, leaving grieving families behind. Each death is a tragedy. Incorporating road safety into the United Nations' Sustainable Development Goals will help focus more public attention and resources on a deadly -- but preventable -- problem.
This post is part of a series produced by The Huffington Post, "What's Working: Sustainable Development Goals," in conjunction with the United Nations' Sustainable Development Goals (SDGs). The proposed set of milestones will be the subject of discussion at the UN General Assembly meeting on Sept. 25-27, 2015 in New York. The goals, which will replace the UN's Millennium Development Goals (2000-2015), cover 17 key areas of development -- including poverty, hunger, health, education, and gender equality, among many others. As part of The Huffington Post's commitment to solutions-oriented journalism, this What's Working SDG blog series will focus on one goal every weekday in September. This post addresses Goal 11.
Related
Popular in the Community