Amazing people keep coming into my life as a result of my disclosure of my HIV status: a graduate school friend who lost a brother to AIDS; Wendell Potter, a nationally known health care advocate who was instrumental in connecting me with The Huffington Post; my public relations friend in D.C. who continues to donate all this time as he lost a brother to AIDS; Mark King, who provided me with the opportunity to publicly disclose my status; my web consultant; my graphic designer. These are key people, but there are many more. Believe me: This crusade to educate and change attitudes and behaviors can be very lonely. One needs support. Unlike feeling like you are alone when you come out, you can really be alone when you come out as HIV-positive, because so few people openly discuss being HIV-positive.
Now, for me, this still presents a challenge. Wearing a bright-red T-shirt emblazoned with "HIV-POSITIVE" and walking next to Mark King at the front of the Atlanta Pride parade, minimizing the weight of my status by being out about it, was a stretch.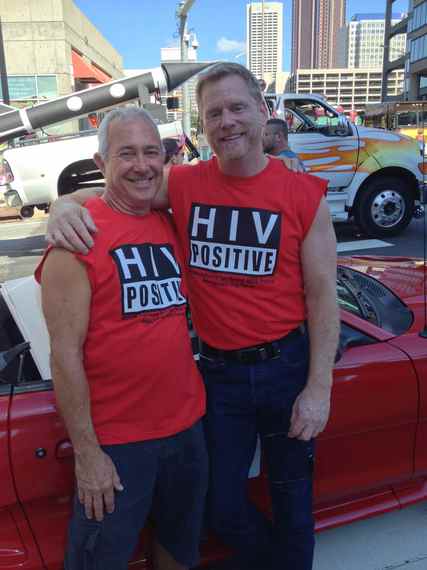 I am used to being at Pride with my swim team in D.C., wearing a fun but innocuous DCAC T-shirt and Speedo, so just walking to the Porta Potties alone while wearing my "HIV-POSITIVE" shirt was a bit of a challenge -- but no one made a disparaging remark.
There was something at Pride that disappointed me: There were just seven of us in Mark's entourage. Out of the maybe 20,000 (perhaps thousands more) individuals who were watching and participating, I estimate that possibly 5,000 of them were HIV-positive. How amazing would it have been if they had joined us rather than just cheering Mark's antics? But I like to think that some of them may have felt empowered as a result of our appearing so comfortable.
HIV is as big as you want to make it. It can be all-consuming and depressing or just a minor part of your life, dealt with a few pills a day.
Much of what I have read on disclosure says, "Be careful. Know your audience." I suggest that there is no way to know the reaction of even your best friends. You will never know if by disclosing you will build a bridge or a wall. But the risk of constantly evaluating and fearing to disclose is holding in all this energy and missing out on an opportunity to meet some wonderful individuals. Perhaps those who reject you were really not the individuals you thought they were.
None of this is meant to trivialize HIV like those pharmaceutical ads in the gay rags that shout, "I am doing fine on 1 to 2 pills a day!" The truth is that HIV is a challenge to manage. Living with HIV, especially in the rural U.S. or in certain ethic groups, can be devastating.
We are given one chance to live the life we have. If you are HIV-positive, I suggest that you embrace it with all its challenges and take a chance on disclosure. The pent-up stress released by living, having a smile on your face and moving forward is worth no longer hiding -- and it can't hurt your T cell count.
In the 1970s and 1980s, gay men and women moved from small towns to affirming communities. Small-town U.S.A. can be wonderful, or it can be repressive and dangerous. Find a community that is supportive, and go there. Find resources. Put HIV in its proper place, live your life and contribute your talents, energy, and abilities to making the world a better place.
P.S. Since I wrote "Putting HIV in Its Place (Part 1)," someone read it and shared his story. This is the positive side of letting the world know that you are comfortable with being HIV-positive.
I started my first website, LivingHealthyPositively.com, with the goal of writing a book, Living Together Positively. Unfortunately, bridging the gap between HIV-negative and HIV-positive individuals is not that easy, so that book is probably two years away. My upcoming blog post, "Why Bears Have More Fun!" might provide insights into how this book might come together.
Calling all HuffPost superfans!
Sign up for membership to become a founding member and help shape HuffPost's next chapter