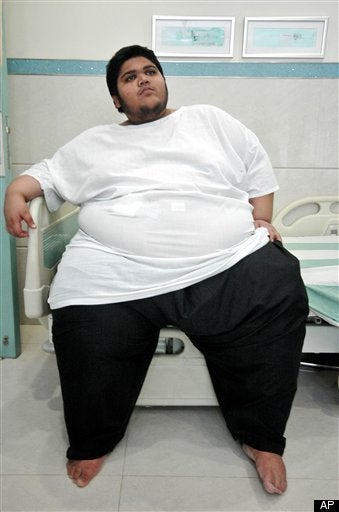 At this time of year, it's hard to miss the annual appeal to our weight loss resolutions. They blast out of our radios, flash across our TV screens, and take over our magazine pages. From fitness programs to gym membership deals, they all promise a new version of our selves. Some acknowledge that there is work involved while others outline a no-hassle makeover, but they all assure us that come January, our slates are clean and we can achieve anything - especially flatter stomachs and trimmer thighs.
Over the years, this trend has shown us a lot about our health conversation: instead of focusing on our wellbeing, we emphasize our physical appearance; rather than consider fitness as a sustained part of healthy lifestyle, we look at it as a means to an end.
But the more compelling revelation is that any conversation about our health is considered one for the grown-ups. This is a serious misconception at a time when childhood obesity threatens our children's health.
The data are staggering. According to Centers for Disease Control and Prevention, the prevalence of childhood obesity has risen in each youth and adolescent age group from 1976-1980 though 2003-2006. For those aged 2-5 years, the rate of incidence has gone from 5 percent to 12.4 percent; for those aged 6-11 years, the rate has increased from 6.5 percent to 17 percent; and for those aged 12-19 years, from 5 percent to 17.6 percent.
The threat does not end there. Overweight and obese children are at a higher risk for other conditions like high blood pressure and cholesterol, Type 2 diabetes, and asthma. When you consider that obese individuals are more likely to become obese adults, these consequences seem more likely than not.
As a health care professional, I know the benefits of wholesome foods and routine physical exercise. As parents, we all recognize that energy, activity and most importantly, lifestyle, sustain our children and set a foundation for their healthy future.
Still, in my neighborhood and throughout my travels across New York, I see kids who are overweight or obese. I read the statistics and know that we need to act now.
I am not suggesting that New Year's fitness fads - or any improper diet program - market to our kids. That's not the solution. That will not help our children. We need to engage our kids in a real conversation about our health.
Before my husband become Governor, I created an initiative for my Harlem community that balanced facts about food and exercise with fun. Children would be given points for eating healthy foods and physical activity, competing to gain the most points and win a prize.
When I became First Lady, childhood obesity remained my focus. I expanded on that program to develop Healthy Steps to Albany: First Lady's Challenge. The 6-week competition encourages students in 6th, 7th, and 8th grades to eat right and increase their physical activity. Aside from just consuming good foods, students learn about fruits, vegetables and other wholesome foods. More than administering an exercise program, kids are encouraged to consider how to incorporate activity into their daily routines - using the stairs instead of the escalator; walking and biking; playing outside instead of with video games.
Their activities are logged and converted into "steps," and students mark their progress on a map that tours New York State. Classrooms work as teams to achieve the most "steps" and the winners are treated to a healthy lunch with the Governor and First Lady, and a trip to a local farm. Last spring, we administered the program upstate in Buffalo, Rochester, Syracuse, Albany and Yonkers.
On March 1, we'll launch the Challenge in New York City, Long Island, and Westchester and Rockland counties. Schools throughout these areas are invited to participate and can learn more, including how to sign up, here: http://www.healthystepstoalbany.ny.gov/.
I'll be writing about our preparation for the program here and invite you to join me as we take the opportunity to teach our children to take ownership of their bodies and direct responsibility for their health, now and for the rest of their lives.
Calling all HuffPost superfans!
Sign up for membership to become a founding member and help shape HuffPost's next chapter