I spend a lot of time telling my patients to "Be Fearless, Be Full." Whether it's getting my anorexic clients to normalize their eating or my diabetic patients to take on the ups-and-downs of insulin issues, I am always pushing them to take on new challenges and face situations that scare them. Some of my patients push back and say, "You don't understand my situation because you don't have anything that scares you." Well, this spring I faced something quite scary—I was asked to donate bone marrow for a pediatric cancer patient that I never had never and may never meet.
So, let me start at the beginning. When I was attending New York University (NYU), I was on a tight budget and always headed to the group meetings that offered a complimentary lunch. One day, I noticed that some campus group were working with Be The Match Registry screening for bone marrow donors and, yes, supplying a free lunch. It was just a quick mouth swab (that's all you need to be added to the donor registry--no needles, no blood) and I had my hands on a juicy roast beef sandwich with arugula—NYU always has the best lunches. Little did I know, a decade later, they would come calling, and that roast beef sandwich could cost me some of my marrow. Now that's a bit of a stretch because I was only asked and not forced to donate bone marrow. However, I was informed that my genetic markers were a very close match and the kid needed it—so I said, "Yes."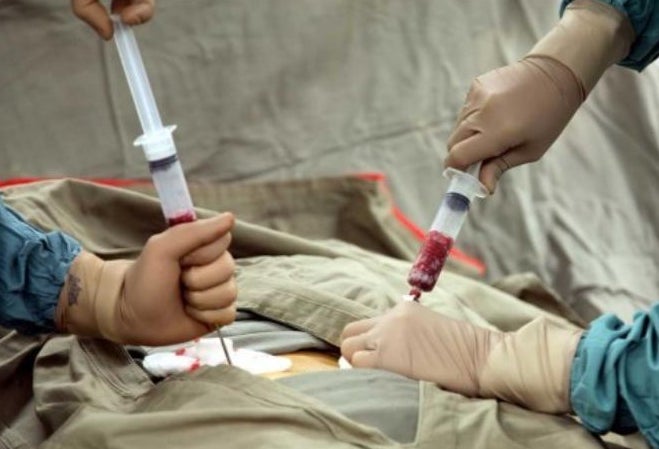 As the day of surgery approached I started feeling a little freaked out. I mean, we did screening after screening and, damn it, I'm healthy enough to go through with this thing. But the thought of a couple of 10-inch needles probing my back started to get me thinking this is real surgery. Also, I'm a very annoying patient, I only wanted local anesthesia—I wanted to be fully aware of what they were doing. That's right, I was going to be awake for this. Well, as the fear washed over me like a tidal wave I thought to myself, "Just listen to yourself. What are you always ranting about in your sessions? Be fearless." So below are three things that got me over my fear and on the way to motioning in the surgeons to slice, dice and suck out that precious marrow:
Embrace Power. You're more powerful than you know. It doesn't matter if you are contemplating giving up on weight-loss and hitting the doughnut shop on your way home or struggling to eat something for breakfast. Life is about choices and when you realize that you are in charge of making the choices in your life it puts you in a position of power. Yes, I was in a hospital gown, and there was a child's life on the line, but the truth is I could have walked away at any time. Now, of course, I didn't, but there is a power in understanding that my decisions matter and I am the one making them. I am not powerless over my desire for food nor fear—I can make choices big or small but regardless of the consequences I am in charge of my body and soul. And so are you.
Take Action. Being who you want to be takes action, not just ideas. Yes, thinking about making this the year you take on high cholesterol or coronary artery disease (CAD) sounds good, but it's not good enough. Ideas and concepts mean very little unless they are followed up on. Taking one small step toward doing something, the key word being DOING, is when your wellness journey has really begun; not the idea, the action. Most journeys begin with a single step but in this case a single bite.
Understanding Your Edge. I like to think that we (humans) are all part of a giant pizza pie. You may see yourself as an independent slice whether you are topped with anchovies or packed with pepperoni, but the truth is, in this world, there is no single slice—you have to order the entire pie. If you live in NYC, you know what that means. Yeah, I am looking at you Grimaldi's! Whether you like it or not, you are connected to the other slices. The way you live your life affects others. If you resolve to make healthy choices, the people around you, from co-workers or family members, will take notice and your choices will inspire them.
If you're struggling with your wellness journey, I hope I have inspired your other slices to Be Fearless, Be Full.
P.S. I'm personally a mushroom slice and if you would like to get on the bone marrow list, just go to Be The Match and sign-up; they send you an at home kit.
Related
Popular in the Community