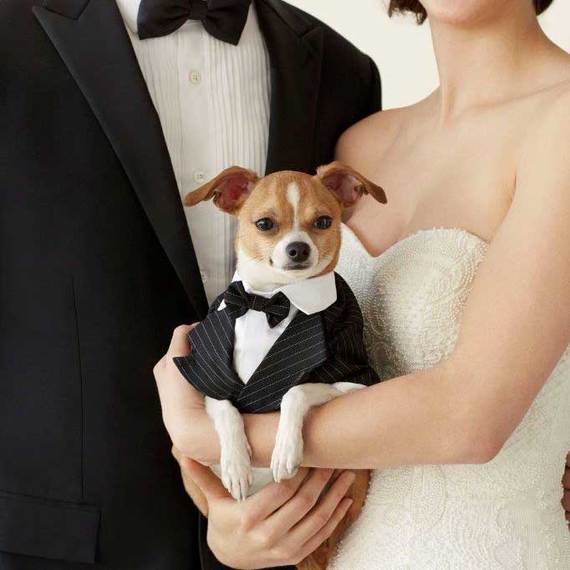 Ah, wedding season is upon us. Beautiful, flowing white dresses, blossoming bouquets of flowers and easily accessible pooper scoopers. Yes, for those who want to include pets on their big day, food bowls and squeeze toys are just as important as the playlist for the string quartet and choosing between the steak or fish for the main course.
As if planning a wedding wasn't overwhelming enough, adding your pet to the mix may just be the thing that turns you into a Bridezilla. But don't fret, we've got you covered. Here are the seven things you need to know to get your pet prepped:
Your Pet's Roles and Responsibilities
If dad is walking you in, your cute cousin is the flower girl and your maid of honor is speaking at the reception, what is left for your pet pal? Think ahead about how you want your fur baby to participate in the fun. They could be a member of the wedding party or ring bearer, for example. Be sure to run your pet through a rehearsal. And if you decide your cat or dog is the perfect flower girl or boy, choose pet-safe flowers.
Not Just Pet-Friendly, But Pet-Safe
Whether you're tying the knot in your parents' backyard or on a hotel rooftop, if your pets are welcome, make sure they'll also be safe. Be sure the venue and wedding planners know that pets are part of the plan so they can avoid freshly-fertilized lawns and plants that can be toxic to pets. Ask about the dos and don'ts of when Fido can run free and when he must be on a leash. Also, it's a good idea to let your furry friend get acquainted with the venue and maybe even leave their mark on the place (if it's outdoors, of course).
And if pets have to RSVP "no" because the venue isn't pet-friendly or Grandma Dorothy is allergic, don't worry. We think there are lots of great ways to get creative and include them, from posing with your pets during engagement photos to sending home a doggie bag filled with treats for their furry friends. And we love the idea of offering up donations to a local shelter or PetSmart Charities as a wedding gift option for guests.
Don't Necessarily "Say Yes to the Dress"
You wouldn't wear a dress too tight, or shoes that are painful, 'cause comfort is important on your big day and the same goes for your pet. Let your pet go through a "dress rehearsal" to make sure they stay comfortable. Martha Stewart Pets wedding line carries a variety of adorable options to keep your fur baby comfortable and fashionable while walking down the aisle.
Hair and Makeup For You, Grooming For Your Pet
Your dog or cat needs to look just as primped as you. Make sure you send your pet to the groomer, and splurge! From lush oxygen-infused baths to haircuts fit for a show dog, nail trims to non-toxic chalking and decorative stenciling, there are lots of options to make sure your furry friend feels fantastic.
Cater To Your pet
You explicitly spelled out to your caterer that cocktail hour will include passed hors d'oeuvres and champagne, but what about food and drink for your dog or cat? Make sure you pick out the right pet food for the occasion, bring a portable food and water bowl, along with some tasty treats. While you are sipping on champagne, make sure there is enough fresh water for your pet.
Party Like a Rockstar
If you plan on having your pet be a part of the party, make sure they are up for it. Think about your pet's personality: Are they comfortable with commotion, loud music and crowds? It's a good idea to send your pet to a training class or two so they can practice their best behavior as all of your invitees come up to say hello.
Put Someone on the Pet Detail
This can be one of the assistants to the wedding planner, a staff member, or even a family member. This person will be responsible for your fur kid, armed with a pooper scooper and pick up bags, plenty of food and treats, along with a quiet place for a crate, bed, favorite toys, security blanket and more to keep your pet comfortable if the partying becomes too much.
If this isn't enough for you, check out PetSmart's wedding guide for more tips and a complete checklist on including your fur baby in your wedding. For even more inspiration, head over to PetSmart's Pet Weddings Pinterest board.
Good luck with planning your big day!