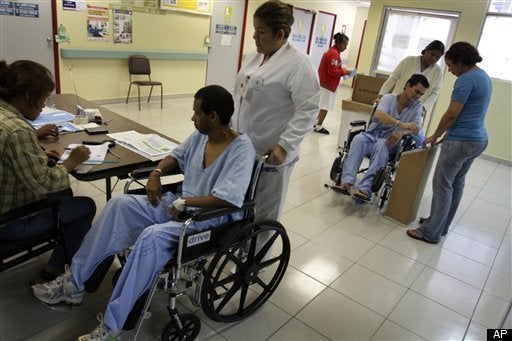 By Susan J. Blumenthal, M.D., Chrystan Skefos, Josh Oppenheimer, and Alissa Clarke*
Over a century ago, Thomas Edison suggested that "the doctor of the future will give no medicine but will interest his patients in the care of the human frame, in diet and in the cause and prevention of disease." Edison made this projection at a time when average life expectancy was just 48 years, and Americans died from infectious diseases including tuberculosis and diphtheria, smallpox and influenza, complications of childbirth, and other hazards that we have largely eradicated in the United States through the power of public health interventions. With the triumph of public health interventions over the past hundred years including vaccines, clean water, and improved sanitation, life expectancy nearly doubled over the 20th century and quality of life improved. Now, the major causes of death and disability in America are chronic diseases including heart disease, cancer, stroke and diabetes affecting the lives of 40% of people in our country today and resulting in dramatically rising health care costs.
Although the illnesses that rob Americans of their lives and health have changed over the past century, critical components of the prescription for a healthier future remain the same: disease prevention and health promotion. Today's health care reform efforts must re-establish public health and prevention as priorities - transforming our country from a "sick" care system to a health care system.
Here's why: today, preventable risk factors including smoking, poor diet, lack of physical activity, and alcohol use account for approximately 38% of all deaths in the United States. And yet, 1 in 5 Americans continue to smoke and nearly 2 out of 3 American adults are obese or overweight. Alarmingly, obesity rates for six to eleven year olds have tripled over the past two decades. If this trend continues, 86% of Americans are projected to be overweight or obese in 2030. As a result, this generation of children may not be as healthy or live as long as their parents.
Failing to adequately address chronic disease risk factors not only limits progress toward achieving health for all Americans, but also jeopardizes our nation's economic security. The U.S. spent nearly twice as much as any other country - 18% of GDP - on health care in 2009. Seventy five percent of health care costs in America are attributable to chronic conditions, many of which are preventable. Yet only 2-3% of the U.S. government's health care budget is invested in prevention, a percentage unchanged since 1934.
With half of chronic illnesses in America linked to lifestyle and environmental factors, health reform efforts must emphasize prevention and public health interventions. A National Prevention Strategy is needed that mobilizes all agencies of government, provides grants for innovative community programs, incentivizes prevention in clinical practice and strengthens the public health infrastructure and workforce. Components of this national strategy should encourage physical activity through funding bicycle paths and sidewalks in communities, help people make more informed health choices by providing nutritional information and food labeling in grocery stores and restaurants, encourage the consumption of fruits and vegetables, and discourage tobacco use through regulating nicotine-containing products.
Edison envisioned doctors of the future focusing on prevention, but this focus cannot be the purview of physicians alone. The American people also have personal responsibility for their health choices. All sectors of society - including families, businesses, health care providers, foundations, the media and government - must work together in partnership. A multi-faceted, innovative and integrative approach that invests in prevention and public health uniting the public and private sectors is essential.
As Hippocrates said more than 2000 years ago, "prevention is preferable to cure." For thousands of years, people have spoken about the power of prevention. Now is the time to put prevention into practice to ensure a healthier and more prosperous future for us all.

The following chart presents detailed information about prevention programs included in major U.S. health care reform legislation and proposals currently under consideration. While all of the proposals analyzed include prevention initiatives, they emphasize different mechanisms and provide varied levels of investment. Please note that subsequent to publication, the chart may not reflect changes that are made to the proposals as the legislative process evolves. Information is taken from the legislation itself, as well as from summaries of the plans posted online and on healthreform.gov.

Click on the thumbnail chart for a full PDF.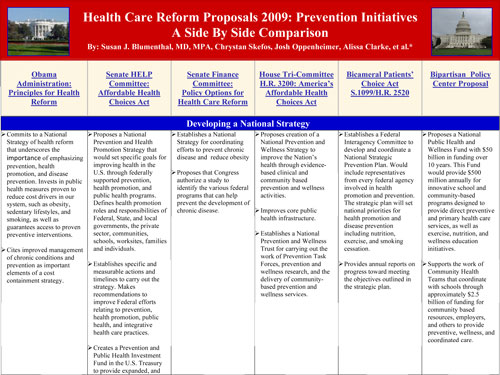 * Rear Admiral Susan Blumenthal, M.D. (ret.) is the Director of the Health and Medicine Program at the Center for the Study of the Presidency and Congress in Washington, D.C., a Clinical Professor at Georgetown and Tufts University Schools of Medicine, and Chair of the Global Health Program at the Meridian International Center. She served for more than 20 years in health leadership positions in the Federal government, including as Assistant Surgeon General of the United States, the first Deputy Assistant Secretary of Women's Health, as a White House Advisor on Health, and as Chief of the Behavioral Medicine and Basic Prevention Research Branch at the National Institutes of Health. Dr. Blumenthal has received numerous awards including honorary doctorates and has been decorated with the highest medals of the US Public Health Service for her pioneering leadership and significant contributions to advancing health in the United States and worldwide. She is the recipient of the 2009 Health Leader of the Year Award from the Commissioned Officers Association.
Chrystan Skefos, a medical student at Baylor College of Medicine and recent graduate of Rice University, is a Health Policy Fellow at the Center for the Study of the Presidency and Congress.
Josh Oppenheimer, a junior at Princeton University who will attend Mount Sinai School of Medicine through its Humanities and Medicine Program, is a Health Policy Intern at the Center for the Study of the Presidency and Congress.
Alissa Clarke, a recent graduate of Harvard University, is the Special Assistant to Dr. Blumenthal and a Research Associate at the Center for the Study of the Presidency and Congress.
Related