Africa's food and beverage market has the potential to reach $1 trillion by 2030. Exploding urban populations across the African continent are demanding access to varied, processed foods. This is creating a unique opportunity for entrepreneurs in the food industry.
Yet these entrepreneurs have a responsibility to ensure that the new food products that feed Africa's future mega-cities are both affordable and nutritious. Sub-Saharan Africa is still home to an estimated 217 million undernourished people, according to the FAO. In Swaziland, 25 per cent of children under 5 years are stunted. Research has shown that malnutrition has an adverse effect on the child's educational development, ultimately affecting the country's economic growth.
The fight against this malnutrition epidemic is one issue behind 2016 being declared the International Year of Pulses. Members of the pulse family, such as beans, chickpeas and lentils, have tremendous nutritional value. Beans, for example, which are a major staple crop in many African countries, are high in protein, iron, zinc and other minerals.
The most common way to consume beans in Africa is to boil them. In Swaziland, the most widely eaten bean based dishes are bean stew and umgcushu. If new, more exciting ways to eat beans were developed, I believe their consumption could be increased. This would have a domino effect on the health and nutrition levels of our communities. That is why I entered the LovePulses Product Showcase, a global competition to discover the most innovative recipes featuring pulses as their core ingredient. I developed a recipe for Bean Jam - a sweet and smooth spread that is full of key nutrients. Unlike traditional jam, my product has two full cups of beans in one jar, giving a much-needed injection of protein and minerals to those who eat it.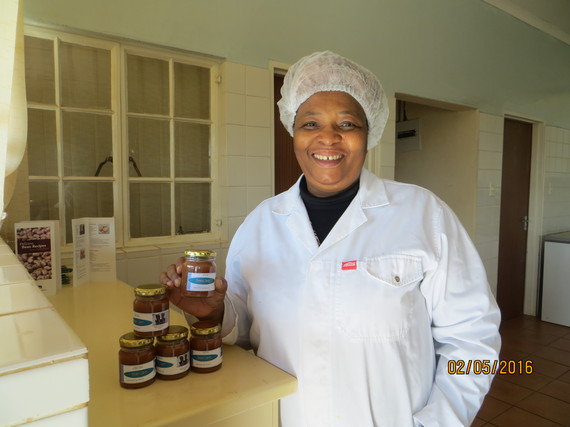 One of the most exciting prospects of my Bean Jam is that its main ingredient can be sourced locally, as beans are a second most widely grown crop after maize in Swaziland. The vast majority of our 1.2 million strong population relies on farming. By developing food products that use raw ingredients grown in our own region, we are creating a ready market for these farmers, especially in the poorest regions of the country. This has the potential to increase their income, therefore bringing poverty levels in the region down.
Food entrepreneurs are going to need much support, if our potential to catalyse change for our fellow citizens is to be met. Access to finance to invest in equipment, as well as access to electricity and better technology are key areas for investment. In Swaziland, a bean based processing plant for development of a sustainable bean value chain would be greatly beneficial for women, smallholder farmers and the youth. It would contribute to food security, job creation and improved nutritional status of the population.
Young people in particular, have much to gain from a boom in food processing job and market opportunities. Jobs in product development, processing and marketing could be a lucrative way for Africa's millions of youth to get involved in the food sector, without having to work on the farm. Many young Africans are discouraged from getting into agribusiness, due to the many risks and hard labour. Yet the high levels of unemployment among young people could be brought down if they were inspired to get involved in these off-farm opportunities in the agribusiness sector.
This will require significant investment in training for women and young people in this area, so they may become accomplished in areas such as business development and marketing.
This week, I will take Bean Jam to the Institute of Food Technologists Expo in Chicago, to showcase it to potential investors and retailers. I hope my success can inspire a new generation of food entrepreneurs in Africa.
Watch this space. More recipes are coming!
Related