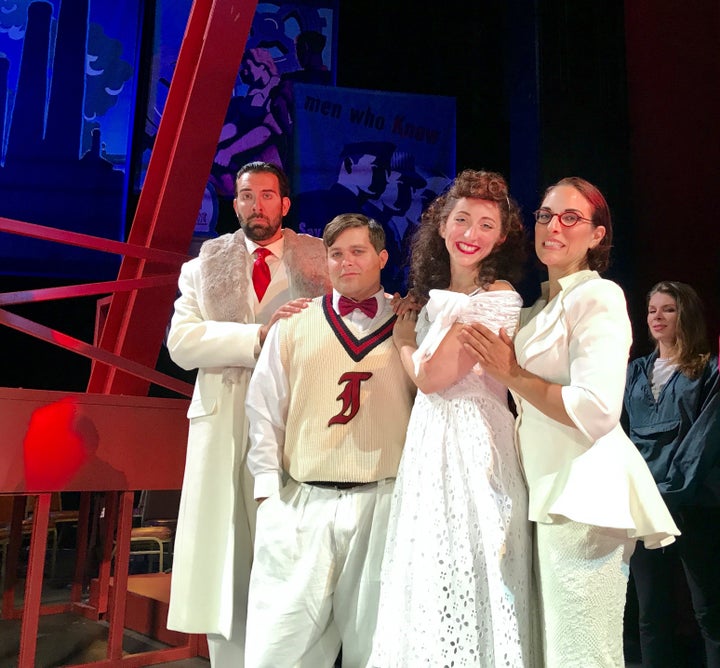 It may come as a surprise that Marc Blitzstein was the composer of ten musical dramas, three ballets, incidental music to ten plays, seven film scores, and various concert works and art songs. He is best known in America as the translator of Kurt Weill's The Threepenny Opera (1954), and to a lesser extent, the composer of the operas Regina (1949), based on Lillian Hellman's The Little Foxes, and The Cradle will Rock (1937). But even these last two works are only occasionally heard, which is our loss. He also was part of a circle of legendary American artists like Leonard Bernstein, Aaron Copland, John Houseman, and Orson Welles. And, when Kurt Weill died in 1950, the only American composer to attend the interment was Marc Blitzstein. At the time of Blitzstein's death in 1964, he was working on a new opera for the Metropolitan Opera House. In short, Marc Blitzstein was in the middle of great things in those heady days of American creativity and political passion. He was regarded by his fellow geniuses as their equal and, in many ways as a leader in the movement to find a comprehensible (and an American) voice in musical theater and link it with political action, something that he felt was required of an artist, much in the line of a Giuseppe Verdi and a Kurt Weill.
The Cradle Will Rock remains Blitzstein's most famous work. The problem, however, is no one has ever seen it the way it was intended, mostly due to what happened at its planned opening in 1937— the NYPD shut it down on orders from the federal government for fear that it would cause a riot. (Imagine if the French police had shut down the Ballet Russe's Rite of Spring in 1913, where would we be?) What is generally well known among theater and musical enthusiasts is the response by the producer (John Houseman) which was to invite the audience to a different theater, rent a piano, steal one copy of the piano/vocal score (all the sets, costumes, and even the music, were the property of the US government because the theater was operating under the WPA) and give a performance with the composer onstage and the actors in the audience. Dramatic. Historic. Terrific. Except, no one saw the show.
The conditions of the premiere were so extraordinary that it swamped the work itself. People forgot that Orson Welles, John Houseman, Howard Da Silva, and Marc Blitzstein—the genius behind the words and the music and Welles' principal composer for his Mercury Theater (along with Bernard Herrmann)—had written a fully realized musical play. Over the years performing it with piano accompaniment became the way Cradle was seen and heard, even though Leonard Bernstein brought the orchestrated work in concert form to New York's City Center in 1947, and then to Broadway later that year, where, semi-staged, Bernstein again conducted the opening performances of what would be a total run of a mere 34 performances. That cast included Alfred Drake as Larry Forman, and Vivian Vance (yes, Ethel Mertz) as Mrs. Mister. The orchestra was seated onstage, with the cast seated in front, and with minimal staging by Howard da Silva—ironically Drake's nemesis in the original 1943 production of Oklahoma!, when Da Silva was Judd to Drake's Curly. A Playbill from the era gives one a good idea of how minimal the production was. The eight production credits start with "Miss Vance's hat by Harold Green." It took until February 11, 1960 for the work to be performed with its songs and ensembles, a slightly cut text, Blitzstein's orchestrations, scenery, and costumes—once again directed by Da Silva—to be experienced for the first time anywhere. And those five performances by the New York City Opera were the last time this work has been experienced in its totality: a few thousand people, most of whom are no longer with us, who cheered, laughed, and were reminded of the power of politically active musical theater fifty-seven years ago.
In addition to the five performances of Cradle (including the extra one that was added due to popular demand), the mini-series included Carlisle Floyd's Susannah (the next day with Phyllis Curtin, Richard Cassilly, Norman Triegle, and Chester Ludgin), followed by Kurt Weill's Street Scene, Douglas Moore's The Ballad of Baby Doe (with Francis Bible, Walter Cassel, and Beverly Sills), and Gian Carlo Menotti's The Consul (with Patricia Neway and Chester Ludgin, and staged by the composer). That was the greatness of the New York City Opera in 1960 under the direction of Julius Rudell and John White.
In 2013, New York City Center's Encores! – Off Center opened its inaugural season with a semi-staged Cradle. Directed by Sam Gold, it was sort-of Cradle, because the director chose to double one actor (Anika Noni Rose) as both the Moll and her opposite, the arrogant and dumb-as-a-post Mrs. Mister. He cast a woman (Judy Kaye) as Editor Daily, making all her music an octave higher than intended – not to mention changing the gender of the character she played. And, on top of that, he cast a ten-year-old boy as the cop. If anyone could follow that Cradle, I was not one of them. In addition, a new orchestration was played. So, if New Yorkers think they experienced Marc Blitzstein's The Cradle Will Rock, I leave it to you to decide what constitutes a performance and what is something else.
The Cradle Will Rock is one of the seminal works of the American musical theater, and yet eighty years after its creation by a team of legendary artists, it has not been seen anywhere in a fully-staged, Blitzstein-orchestrated production until now, where Opera Saratoga, under the direction of its General Director, Lawrence Edelson, is mounting it for a mere four performances beginning on July 9. The music drama, which includes a series of brilliantly constructed scenes that were clearly honed by Welles, Houseman, and Blitzstein in a long rehearsal process in 1937, is a parable of capitalistic greed and moral compromise in which every aspect of society—the church, the press, the rich, academia, the police, small business owners, artists, and the medical profession—are skewered, while honest working people, including immigrants following a vision of the American Dream, are rallied to stand up for their human rights.
The Cradle Will Rock is emerging during our rehearsals as a brilliant and wonderfully entertaining parable of corruption. It is also a warning. The word, "warning" is in fact the word that is hurled at the audience at the conclusion of Blitzstein's Airborne Symphony (1946), and more than anything else, it seems to be at the core of this big hearted and emotional man. For all the cynicism in his portrayals of everybody-else, only someone who cared as much for you and me could have written The Cradle Will Rock. In 1938, he wrote, "Unions, unionism as a subject, are used as a symbol of something in the way of a solution of the plight of the middleclass. I mean the intellectuals, professional, small shopkeepers, 'little businessmen' in America today. What can they do … with big business, which is ready to engulf them, buy and sell them out exactly as it does labor, exploit and discard them at will, as a sort of useful but inferior commodity?" And there you have it: Weill and Brecht wrote an opera for beggars in 1928—The Threepenny Opera—and Blitzstein wrote an opera (dedicated to Brecht and embracing the musical world of Weill) for and about the middle class. Remember the middle class? With songs and ensembles that stick in your ear for days on end, Blitzstein reaches deeply into the conscience of his audience and his warning is as true today as it was in the 1930s.
The current plight of everyday Americans, all of which echo within the heart and soul of Cradle, can be found in our 24-hour news cycle, including the pending Supreme Court ruling on unions, the demise of steel towns, the denigration and suspicion of immigrants, the arrogance of people in power, the manipulation of facts, and the power of one rich man to charm, threaten, and destroy all in his path. It makes The Cradle Will Rock as important today as it was in 1937. Significantly, in that same season, director Orson Welles produced Shakespeare's Julius Caesar in New York with the title character portrayed as Mussolini. The composer of the incidental music was Marc Blitzstein.
New York City is currently experiencing a politically provocative Julius Caesar in Central Park. It is also presenting a staging of George Orwell's 1984. The Cradle Will Rock is the third leg of the stool. It represents an apex of politically active American musical theater that had started in 1927 with Show Boat and Strike Up the Band. It also is the cauldron that brought us Blitzstein's mentee, Leonard Bernstein, Bertolt Brecht (to whom Cradle is dedicated), Kurt Weill (newly arrived immigrant-refugee to New York), and the Group Theatre—a principal source of America's greatest dramatic and musical works. It is worth remembering that Marc Blitzstein's enormously successful English translation of Brecht's words to Weill's Threepenny Opera was premiered in concert by Leonard Bernstein.
The Cradle Will Rock has been seen in many compromised and diminished versions. It's time to experience it as the composer intended. That is what is happening in Saratoga with a cast of brilliant young American singing actors and in a production that is funny, honest, entertaining, and deeply moving. It should be brought to New York for a run. More important, it should be brought to the cities that once depended on steel mills – Pittsburgh, Allentown. And maybe it would make the most wonderful musical film. I have already begun casting it in my head. We just need to find a Mike Nichols to direct it. Any takers?
Popular in the Community