When I was growing up, Sunday dinners were somewhat of a ritual around our house. My grandmother had comfort down to a science. Formalities were nowhere to be found in her kitchen, and there was always a hearty meal on the stove ready for us to help ourselves. The food tasted as good on the first time around as the second (or third).
The last few dinner parties that I've thrown have been more on the conventional side -- cocktails and hors d'houvres, then a sit-down dinner, dessert and after-dinner drinks. A couple of weeks ago, I started planning a Sunday night get-together that started as a few friends and migrated into a full-on party of 17. I knew with that many people it was time to forget the prim and proper and take a page from my grandmother's casual style of entertaining.
I decided to make the night as relaxed as possible and create a very comfortable, cozy environment. I lit a fire, softened the lighting, and decorated the house with autumnal flowers and bouquets of rosemary. Some of my guests were coming at different times throughout the evening, so instead of serving dinner at a specified time, I made two big pots of chili, one beef and one vegetable, and two batches of cornbread, one sweet and one spicy. I left the chili to simmer on the stove and created a toppings-bar of pickled jalapenos, cilantro, sour cream, cheese, and green onions, allowing my guests to serve themselves whenever they felt like eating. I also made a buffet of pimento cheese spread paninis, deviled eggs, spinach-artichoke dip, and guacamole and set up a self-service bar of various Spanish wines and filled a cooler with bottled beers and sodas.
After everyone had eaten their chili, it was time for dessert. Earlier in the day, I had stopped at one of my favorite spots, the City Bakery, and picked up some over-sized chocolate chip cookies and brownies. My girlfriend Gail brought chocolate-covered Oreos and marshmallows from Li-Lac, one of New York's best chocolatiers. In addition to all of those yummy treats, I made chocolate and brie paninis, a recipe of one of my party guests, Giada de Laurentiis. The unusual combination of chocolate and cheese was so rich and decadent, and proved to be the highlight of the night. (Find the recipe here).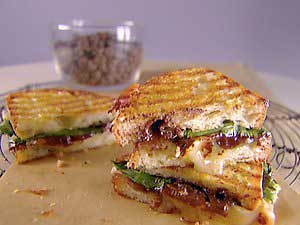 Chocolate and cheese panini, From TheFoodNetwork.com
We often get caught up in the idea that holiday parties must be a fancy festivity, but with the pressures of shopping for gifts, end-of-year work, and a busy social calendar, an extravagant affair can be out of the question. Instead of burdening yourself with the anxiety of throwing an elaborate bash, celebrate with a laid-back, stress-free gathering like my chili party.
My Chili
Ingredients:
2 tablespoons olive oil
1 large onion, chopped (about 2 cups)
5 garlic cloves, minced
1 serrano pepper, minced
1 green bell pepper, finely chopped
1 pound ground sirloin
1/2 pound ground pork
1 chipotle pepper in adobo sauce, minced
1 packet taco seasoning
1 tablespoon chili powder
1 tablespoon ground cumin
1/8 teaspoon cinnamon
1 Heineken
1 bay leaf
1 10-ounce bag of frozen corn, thawed
1 can kidney beans, drained and rinsed
2 28-ounce cans whole peeled tomatoes with juice, tomatoes chopped
3 tablespoons tomato paste
2 teaspoons salt
1 teaspoon freshly ground black pepper

Heat olive oil in a Dutch oven over medium heat. Add the onion, garlic, Serrano, and green pepper. Cook until the onion is translucent, about 10 minutes. Add the sirloin and pork and cook until browned, about 7 to 10 minutes. Add the chipotle, taco seasoning, chili powder, cumin, and cinnamon. Stir until blended. Add the Heineken and bay leaf and cook until the beer has evaporated, about 10 minutes. Add the corn, kidney beans, and tomatoes. Reduce heat to a simmer. Cover and simmer for an hour. Stir in tomato paste, salt and pepper. Simmer, uncovered, for another 20 minutes. Transfer to individual serving bowls and serve with desired garnishes.

Suggested garnishes: pickled jalapenos, sour cream, cilantro, and cheddar cheese.
Come back every other Thursday for more entertaining and eating tips from Katie Lee Joel.
Calling all HuffPost superfans!
Sign up for membership to become a founding member and help shape HuffPost's next chapter