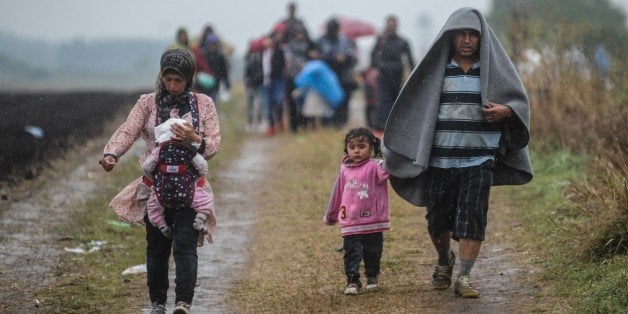 By now everyone knows Europe is facing an incomparable crisis of mass migration.
It's true that the European Union is currently facing an unprecedented influx of refugees fleeing from fighting and devastation particularly in Syria, Iraq, and Afghanistan and that the EU recently announced that they will now find safe haven for an additional 120,000 asylum seekers across EU countries (a total of 160,000). Germany stepped up even farther promising to take in 500,000 a year for several years.
But while the hand-wringing of European leaders dominates the headlines, there is a much bigger story here that is not being told in terms of who is really coming to the rescue of these desperate people. The 160,000 people allowed into Europe are a mere 0.11 percent of the EU population. Since the start of the Syrian war, the United States has only accepted 1,500 refugees -- most of them just this year. This is just 0.00047 percent of the U.S. population (4.7 ten-thousandths of a percent). Compare this to Lebanon, which has now opened its country, communities and social services to more than 1 million refugees, half of whom are children. These refugees, largely from neighboring Syria now make up 25 percent of the population of Lebanon.
Or compare it to Turkey. Since the onset of the conflict, Turkey has invested $6 billion in Syrian refugees who have come across its borders. This is the largest single investment in the Syria crisis and is greater than the entire $5.5 billion requested budget for 2015 for all five countries hosting Syrian refugees under the Regional Refugee and Resilience Plan (Lebanon, Turkey, Jordan, Iraq, and Egypt). Turkey also hosts the largest number of refugees worldwide.
This situation which is increasingly putting EU leaders (and more recently the U.S.) under public scrutiny is something that Lebanon, Turkey, Jordan and other countries in the region have been wrestling with for years. These countries have been generous with their resources and quick to see the common humanity in the plight of other peoples. But with no end to the crisis in Syria in sight, these countries cannot continue to bear this disproportionately large share of the burden without greater support.
This is not to minimize the significant and complex challenge that Europe faces, but to put it in perspective in order to understand the dual opportunity. Greater efforts must be made to provide both safe haven within borders as well to address why people are fleeing and provide targeted long-term support before people reach such immense desperation.
Lebanon for example, is working to not only provide basic protection and services to children but has been working to get all refugee children back in school to make them less vulnerable to exploitation by traffickers and extremists and provide the skills to rebuild their lives, communities and ultimately their home country.
Across the region with the support of aid agencies and humanitarian relief, great work has been done, but at least 1 million more refugee children could be in school -- could have a safe place to play, learn and grow -- if donors stepped up. Today United Nations Special Envoy for Global Education Gordon Brown backed a plan to get these 1 million Syrian refugee children off the streets and into classrooms. In Lebanon 200,000 more students could start school by the end of September, if a $30 million funding gap is addressed.
It's time for leaders to put the burden of migration in its full context and take on the opportunity to provide hope and opportunity before families are without options and forced into dangerous and desperate attempts to migrate. Education and the hope and opportunity it brings to individuals and families as well as to those countries already struggling to serve their neighbors is a critical part of this strategy.
We must do more immediately both at home and abroad.
Calling all HuffPost superfans!
Sign up for membership to become a founding member and help shape HuffPost's next chapter