Kerby Jean-Raymond is a rare breed -- he is a fashion designer that is dedicated to serving up his expertly executed designs for the label Pyer Moss with a side of in-your-face social commentary.
On Saturday afternoon, during the presentation of his fall 2016 collection, titled "Double Bind," the 28-year-old designer turned his attention to yet another pressing issue: depression. To be sure, mental illness is certainly a universal condition, but it is largely (and sadly) seen as taboo within the black community.
"All my collections are based on something I like or something I'm dealing with. They are always deeply personal," Jean-Raymond told The Huffington Post, adding that he suffered from a period of depression following his Black Lives Matter show.
And while the New York City-based designer admits the discussion surrounding depression is usually "swept under the rug" in black culture, the topic was on full display at his show, which was styled by Grammy Award-winning singer and doyenne of cool Erykah Badu.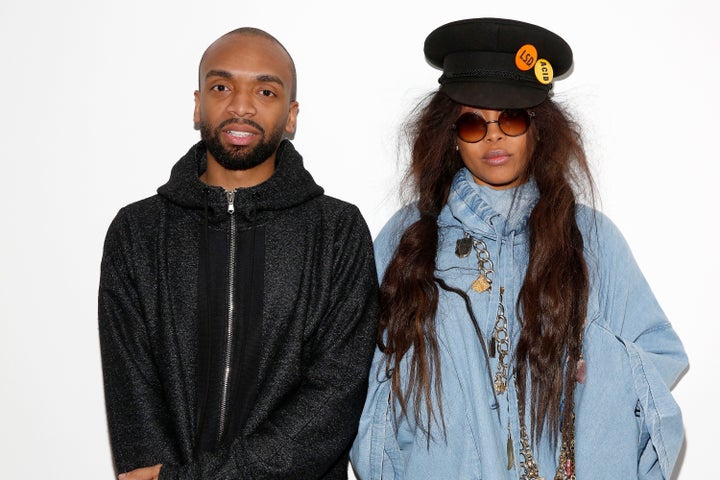 Before even a stitch of clothing was sent down the runway, the tone was set by the show's music.
The presentation, under the creative direction of Dario Calmese, was soundtracked by a live, all-black choir composed of classically trained opera singers. Dressed in white hospital gowns -- a distinct nod to the topic of mental illness -- the vocalists performed operatic renditions of Future's "Trap N****as" and Fetty Wap's "RGF Island" (it was "traopera," or trap music-meets-opera), as well as the black national anthem, "Lift Every Voice and Sing."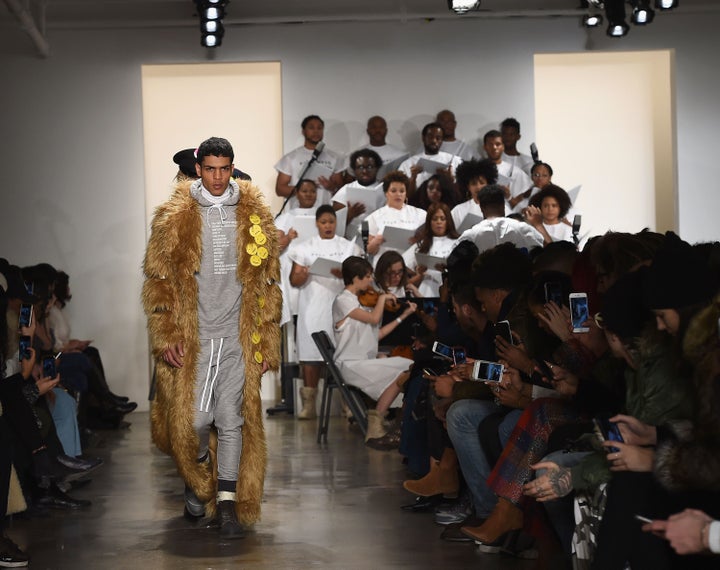 Once models started filing down the runway, the theme crystallized with designs printed with phrases like "I have no friends in LA" and "Why so blue," as well as pins reading the names of various drugs and substances often used to medicate mental illness -- including Prozac, Zoloft, Molly, booze and LSD.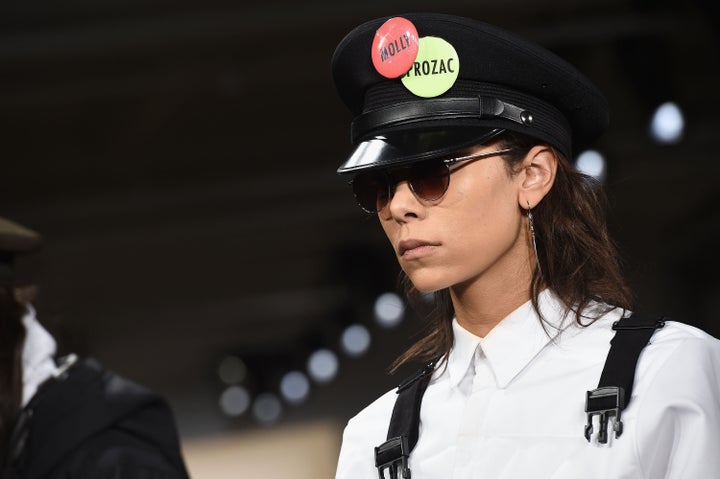 The messaging was consistent until the very end, when the last model walked out holding a sign that read: "My demons won today. I'm sorry." The message was the last Facebook status shared by MarShawn M. McCarrel II, a Black Lives Matter activist and founder of Pursuing Our Dreams, who killed himself outside the Ohio Statehouse on Monday.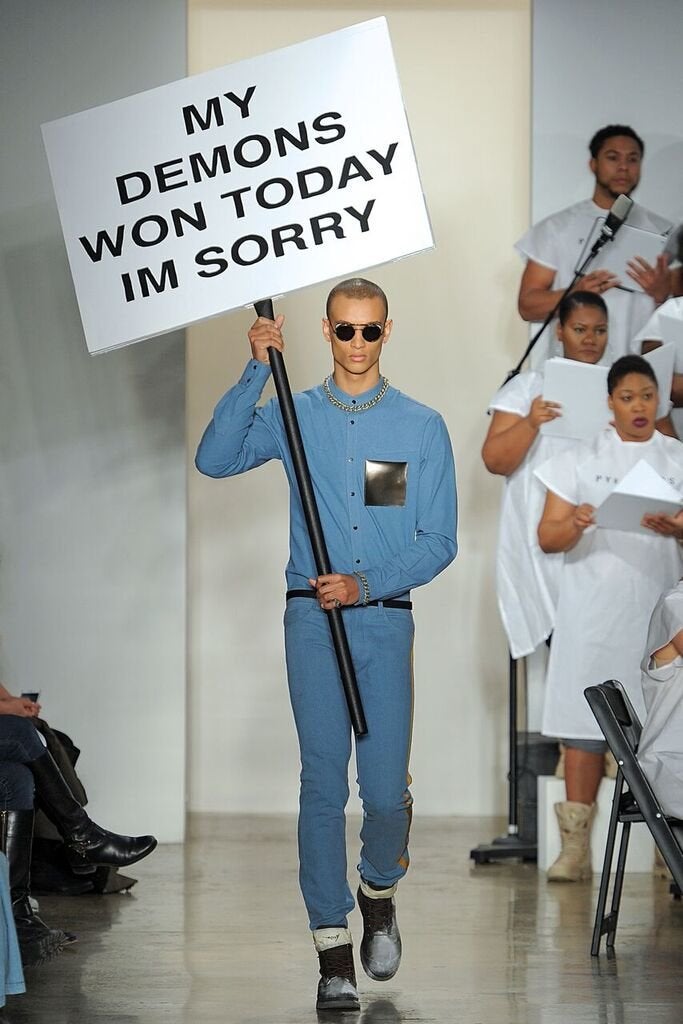 "I think the whole world is depressed," Badu told HuffPost, but noted that she hasn't personally suffered from any type of clinical depression. "We mask it in different ways -- technology is one of the ways we've found as a group to mask it. Normal bouts of depression are very common -- for all of us -- and we don't really discuss it and talk about it, we just kind of numb it some kind of way."
Jean-Raymond says that Badu was "very hands on" throughout the whole process of pulling the collection together. "She was up until 2 o'clock in the morning making those buttons and sewing all the hats," he said.
Speaking of hats, those used in the show -- styled after hats used by chauffeurs and other working-class professionals -- were also on theme.
"Kerby wanted to communicate that working-class people deal with depression every day," Badu said. "The deeper conversation needed to be had and I think through this performance art and fashion show it was discussed. And hopefully creates a little dialogue about it -- a little more than usual."
While direct messages about depression were literally printed on some of the designs, the collection was actually uplifting.
Jean-Raymond's sweet spot has always been sportswear. While his latest effort won't alienate fans of that signature elevated athleisure, this is his "most mature collection aesthetically," according to the designer. And, we'd also add, his most wearable.
The mens- and womenswear collection offered up sophisticated overcoats, cozy shearling outerwear, tailored drawstring trousers -- and there was even a tuxedo in the mix. In addition, Jean-Raymond developed luxe fabrics, including a rose gold-hued leather and silk-and-cashmere blended denim.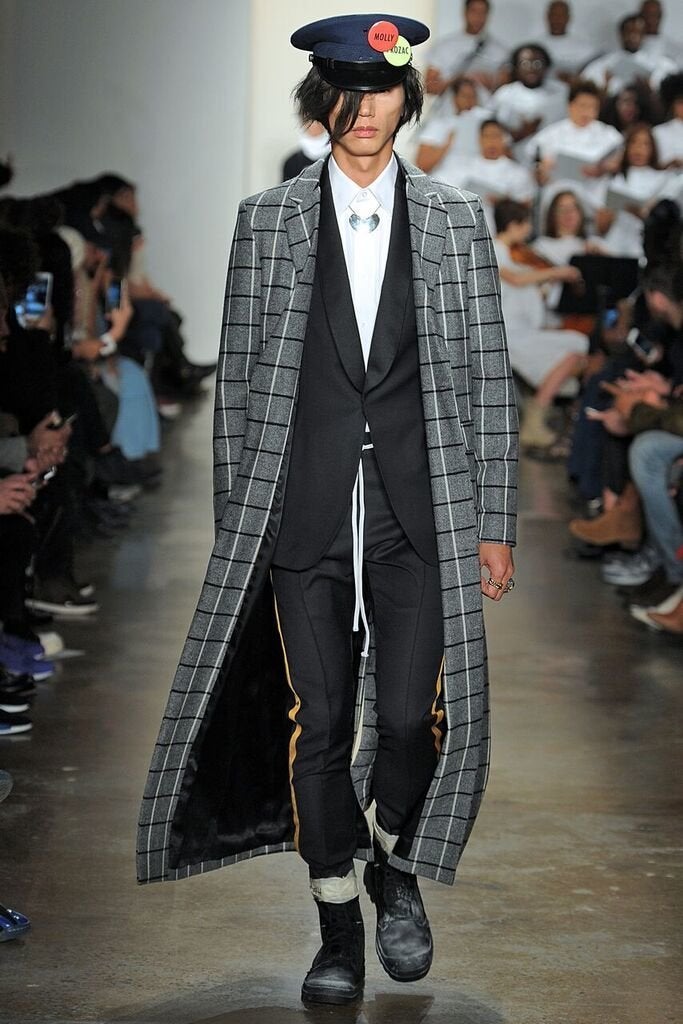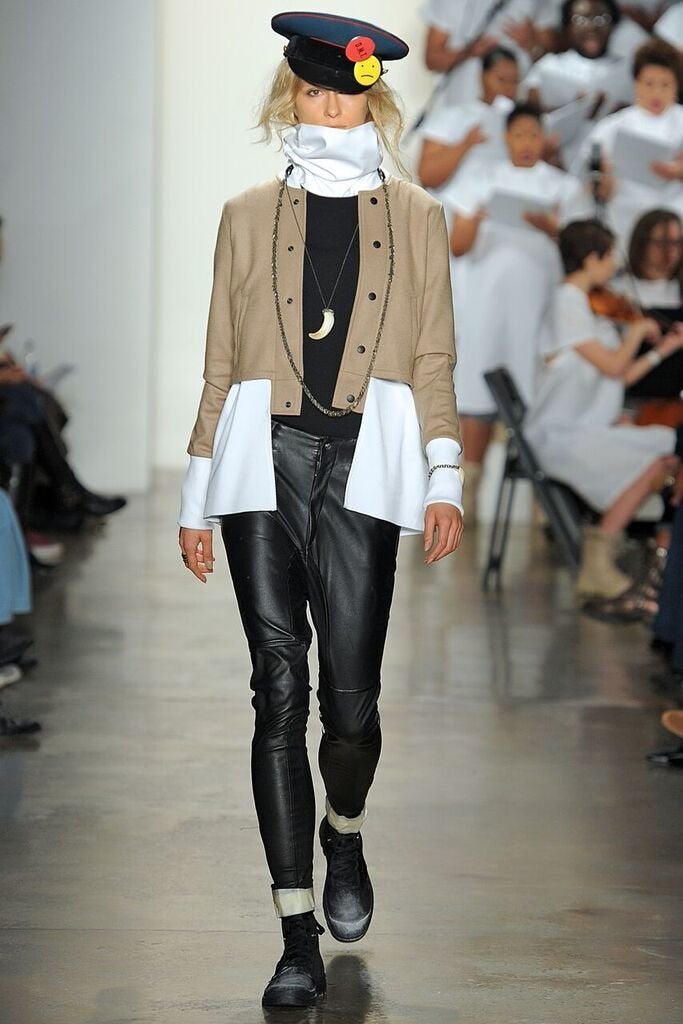 A quick Google search of the collection's title, "Double Bind," yields this definition: "a situation in which a person is confronted with two irreconcilable demands or a choice between two undesirable courses of action." That may have been the premise of Jean-Raymond's inspiration for the collection, but there were no mixed messages in terms of his designs.
It's crystal clear that his provocative point of view on clothing and the world we live in is needed -- and that makes us very, very happy.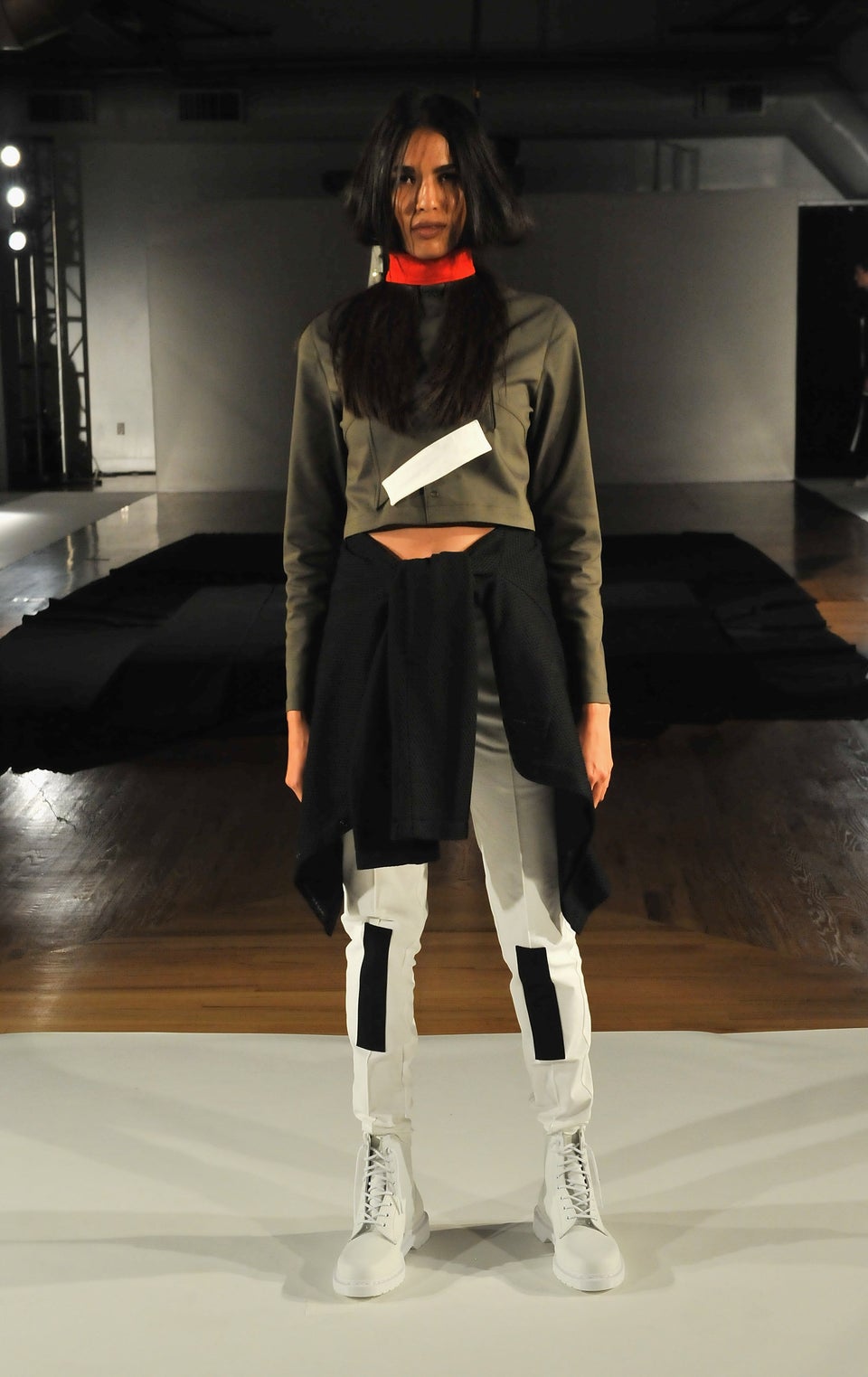 Pyer Moss Spring 2016
Related