It's the second day of New York Fashion Week and we've already seen the most powerful show of the season. Thursday night Kerby Jean-Raymond, the founder and head designer of Pyer Moss, executed a presentation that few will ever forget.
Before a stitch of clothing went down the runway, the audience was presented with a short film about the horrific cases of police brutality on black men and women that have filled headlines -- and several that flew under the radar.
The fifteen-minute video (see clip below) was a barrage to the senses. Several gasps were heard as we watched footage from no less than 16 cases of police brutality, including Eric Garner's fatal chokehold and Marlan Brown being run over by a police car, resulting in his death.
"For as long as I have this platform and for as long as people are going to listen to me -- I'm going to take a stand on something and this is something that is important to me," Jean-Raymond told The Huffington Post, who also made waves after creating the "They Have Names" t-shirt in January.
The jarring images in the video were accompanied by interviews with those closely effected by these senseless acts. Emerald Garner, the daughter of the late Eric Garner, and Nicole Bell, the fiance of the late Sean Bell were among some of the family members interviewed. Commentary from fashion luminaries like Pulitzer Prize-winning fashion journalist Robin Givhan and Joel Towers, the dean of the Parsons School were also included.
This subject hits close to home for Jean-Raymond, who between the ages of 12 and 18 was stopped-and-frisked 12 times. The New York City native believes that social media has made it impossible for society to ignore these injustices. And while there might be other issues he addresses in the future via his position as a fashion designer, right now this is the most important cause in his eyes.
In fact, Jean-Raymond said that he almost didn't present any clothes. "I wasn't even going to show the collection. I wasn't 100% sold on showing the collection. I wanted to just show the video, open the doors and let everyone out."
Good thing he didn't, his spring 2016 collection was an impressive showing of sleek, yet edgy, sportswear that was anchored by crisp white, perforated leather jackets and shorts, as well as refined tracksuits accessorized with white worker boots emblazoned with the names of black women that were killed by police and red paint to look like splattered blood.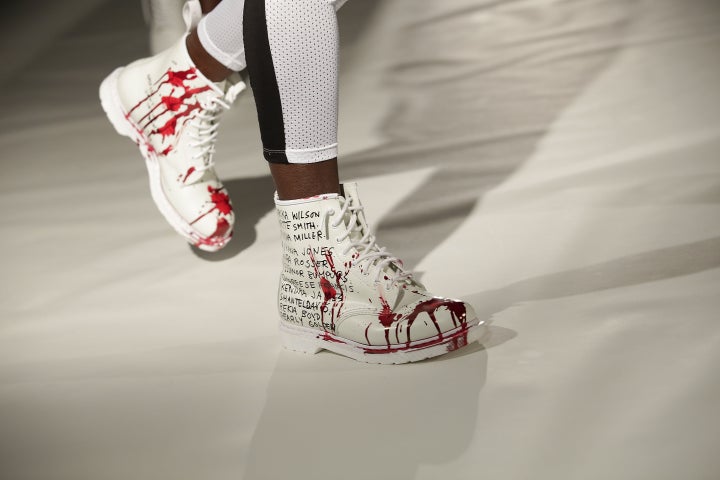 And for an extra dose of drama -- as if the film wasn't dramatic enough -- Jean-Raymond commissioned contemporary artist Gregory Siff to tag various outfits being modeled. For example, on one pair of pants he wrote the word "love" backwards and on an olive green jacket he inscribed "Breath, Breath, Breath."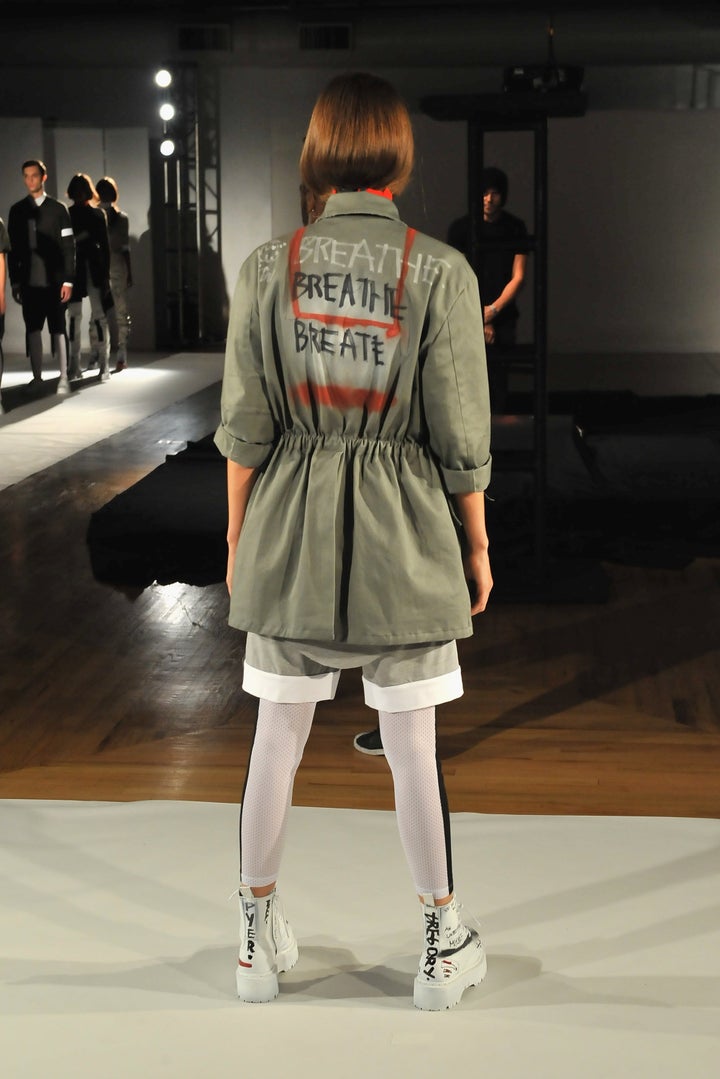 "If one person walks out of here today and is just nicer, or gives an opportunity... there are so many influential people in that room upstairs. If one person decides that I'm going to give a black kid a job now because the narrative I've been seeing on TV of him being a thug may or may not be true, I did my job. I changed one life and one life might change another life -- and that's how the world changes. Little by little."
Here's a closer look at the Pyer Moss spring 2016 collection.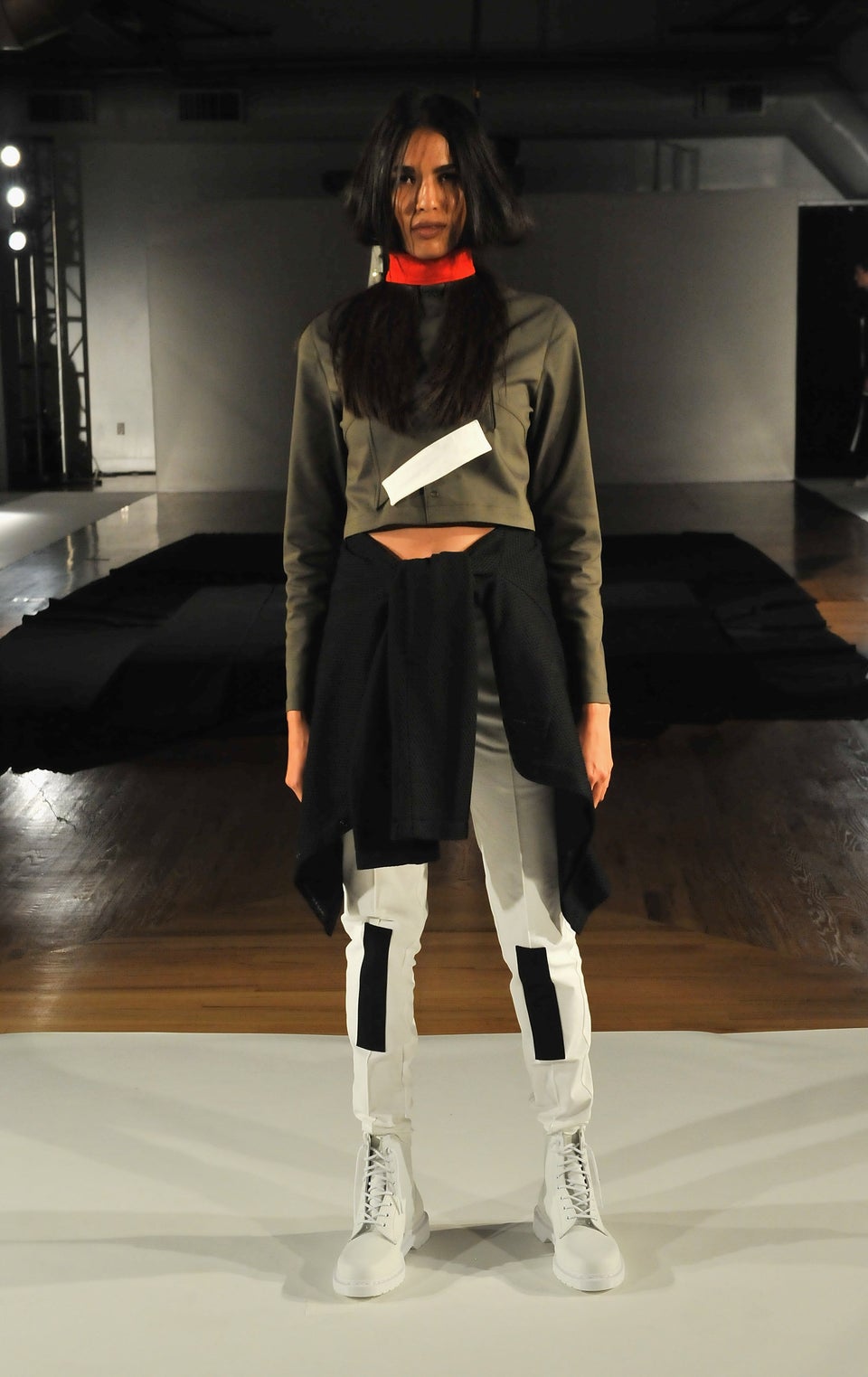 Pyer Moss Spring 2016
This season, HuffPost Lifestyle will disrupt New York Fashion Week to ensure that it is an inclusive event for people of all skin tones, genders, sizes, shapes and personalities. Over the next week, we'll be highlighting designers, models and runway shows that are working to democratize NYFW. Help us make fashion week an event for EVERYONE by spreading our hashtag #NYFW4ALL and be sure to check out all of our coverage.
Related