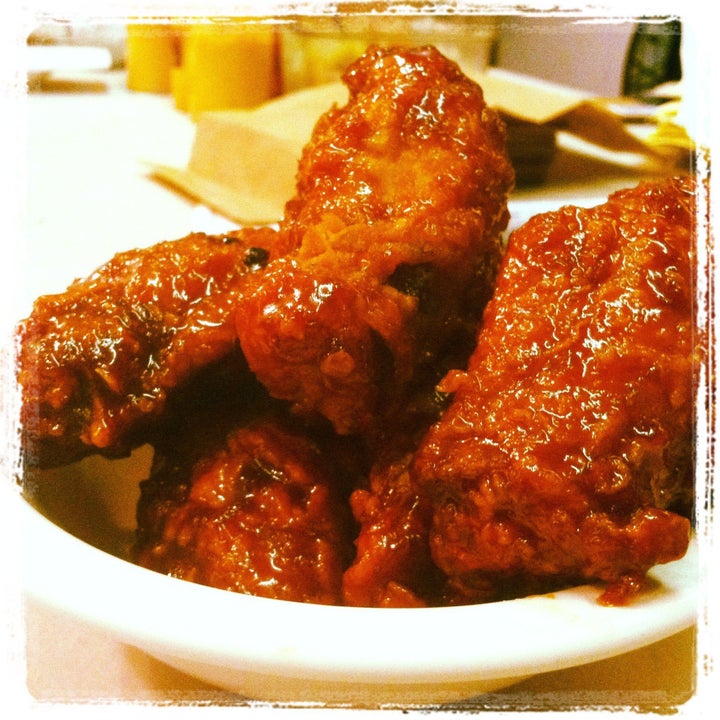 WASHINGTON -- On an average Wednesday night, The Blaguard Irish pub on 18th Street NW in Adams Morgan is filled with kickball folks and others looking to down a pint or two -- or three.
It's not the normal venue to expect Korean food.
"Korean menu? What is this?" one befuddled bar patron in a DC Kickball T-shirt asked last week Wednesday when he was handed the Pyongyang Gang's Korean food menu.
There may be only a few menu options, but the concept, as Pyongyang Gang co-owner Michael Thompson explains, is fairly simple. Take a bar that has an underutilized kitchen, like The Blaguard, and cook delicious Korean treats on what would normally be a slow weekday night. Thus far, it's been an under-the-radar hit and a win-win, as Thompson says, for him, his business partner James Jang, and the bar.
If you stop by, don't expect more complicated Korean fare like bim bim bop. The Pyongyang Gang had four offerings when The Huffington Post sampled the menu last week. There are two sandwiches -- the Pyongyang, spicy pulled pork with kimchi; and the Seoul, marinated beef with kimchi and caramelized onion jam.
There's also finger-licking good Korean-style battered fried chicken with a sweet and spicy sauce and french fries with dipping sauce.
Everything on the menu is priced $8 or lower.
Thompson met Jang while working at Shophouse, Chipotle's concept Asian spin-off restaurant that opened its first location in Dupont Circle in September. It was there where the idea was sparked to launch Pyongyang Gang, which has set up shop at The Blaguard every Wednesday this past month.
"We recognized the fact that there is a extreme lacking of good, cheap Korean food in the District so we thought we could fill that gap," Thompson, who would eventually like to open a Korean restaurant, said via email. "So far people have been loving our food and the reactions have been great."
Related
Popular in the Community