To the outside world, glimpses of daily life in North Korea are few and far between.
A Singaporean photographer, however, recently created a video tour of the country's capital. With permission from North Korea's notoriously secretive government, Aram Pan was allowed to mount a GoPro Hero 3 camera onto a car and roam the city of Pyongyang, filming the sights and sounds.
But he was never allowed to go anywhere by himself.
Pan was assigned a driver, a translator, a government official and a photographer -- all to keep watch over him as he documented his trip. The photographer, he told The Huffington Post, was enlisted to make sure "all representations of their leaders are photographed in full without cropping and in proper focus."
Pan told HuffPost the clandestine nature of the country drew him to document its urban culture.
"North Korea has always intrigued me," he said. "We know so little about what's on the ground and all the images coming out from the state seem to show little of life inside. I wanted to find out for myself and share what I see while I'm there."
The 22-minute video, released May 19, reveals wide and well-maintained roads that are largely empty of people and cars. As Pan drives along the desolate streets, his camera captures views of the simple, symmetrical buildings we will never see the inside of, bringing a touch of loneliness and isolation to the video tour.
However, Pan noted that based on what he was allowed to see, he was surprised by some aspects of life in the city.
"I wouldn't say that anything I saw shocked me, but I did find it surprising that the city looks much more normal than I expected," he told HuffPost. "The common folk are also exceedingly friendlier than I imagined."
Pan also caught a rare look at a bustling Pyongyang marketplace, though it's not shown in his film.
"While I was there, I asked to see shops in the hope of understanding what the North Korean concept of shopping was," he said. "At first I was only shown a few small shops selling a mix of random goods with no customers. Then I told them I really want to see North Koreans actually shopping and just not shops. What came after that blew me away. We went to some trade fair and the place was flooded with North Koreans from every walk of life. Everything was up for sale: computers, fashion, home appliances, food, beauty products and even automobiles. I would see locals just buy a washing machine and carry it off just like that. All the goods were coming in from China and sales were brisk."
Pan isn't the first outsider to document North Korea's capital city. In 2008, VICE produced a documentary called "The VICE Guide to North Korea," shedding light on Pyongyang's cultural customs, landmarks and the extremes it goes to to keep up appearances. In 2009, National Geographic correspondent Lisa Ling journeyed to the country and captured a shocking portrait of the physical and emotional tolls the country's rigid, militaristic government has taken on its people.
Pan plans to document more of North Korea in the fall of 2014, as part of his DPRK 360 project. Visit his website (here) to see more of the videos, photos and interactive panorama displays he's already compiled from his time inside the Hermit Kingdom.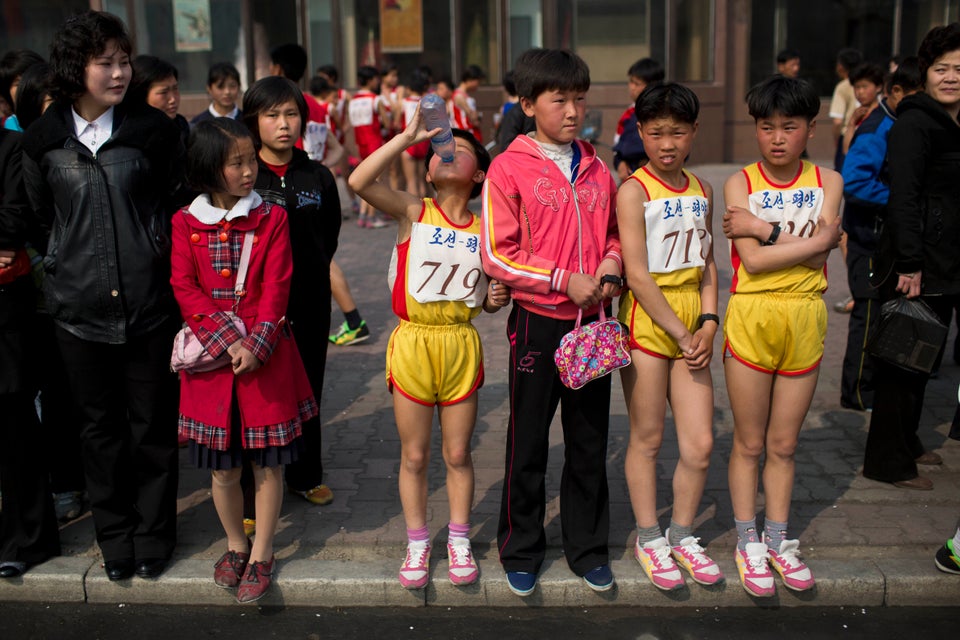 Pyongyang Hosts Marathon
Popular in the Community