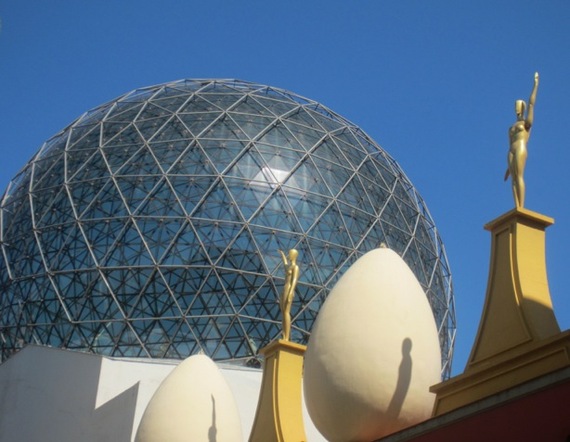 What was more brilliant, Alfred Hitchcock choosing to use Salvador Dali to create the dream sequences in Spellbound or Dali's creation of these iconic sequences himself?
The sequences if you recall are exemplifications of surrealist technique which is not surprising since the very structure of surrealism with its interests in humor, aggression and sexuality derive from the most primal elements of all dream life. And yes the dream in the movie helped to solve the crime.
If you visit the Dali Theater-Museum in Figueres you will see amongst other things a citation of Dali's book about Millet's "The Angelus." The three figures in Millet's painting a peasant, his wife and child receive shall we say an unconventional interpretation. They're father and daughter praying for absolution from the sin of incest. Dali was a believer in extreme subjectivity and he could be deemed a proto-deconstructivist to the extent that he believed that everybody will have their own interpretations of art and reality. He called his theory the "paranoiac critical method." Derrida was a Dali clone it turns out. For example, a nude of his beloved wife Gala hangs, in the central atrium of the museum You see the real Gala in his museum, but it's like a hologram. If you attempt to photograph it an image of Abraham Lincoln appears. In one sense it's just recycled impressionism. But the effect is like that produced by double and triple entendres in literature. Dali as many of the works in the Theatre-Museum reveal was a master of illusion. He was both the patient and doctor in a life long self-analysis and in fact he tried (unsuccessfully) to interest Freud in his work. His self-portrait (which faces a famous portrait he did of Picasso) shows a face with hanging skin interspersed with crutches. Underneath that is a piece of bacon and a fly. perhaps one of the flies who escaped from "The Persistence of Memory" -- where time literally flies. Perhaps Dali was saying he was as fragile and easily consumed as a piece of bacon. But memory is the constant Dali might have resisted contemporary neuroscientific investigations into the reconsolidation or reconfiguration of memory.
From the outside, the museum looks like Disney World and in fact Dali's 7 minute animation created with Disney is on exhibit too (Dali also shared an interest in cryogenics with Walt Disney). There are huge eggs on the roof, reflecting Dali's obsession with birth, funeral bread exemplifying his fear of death and female Oscar statues which attest to his fascination with transexuality. Is it a monument like the museum Picasso created for himself in Barcelona or a playground? But that is the point. He was a clown who famously sported Velasquez's moustache. His Velasquez sculpture with "Las Meninas" emblazoned on the artist's forehead appears in another gallery and it's interesting to note when you visit the Picasso museum in Barcelona that there's an early portrait of Velasquez with the famed Dali moustache or is it the other way around? And wouldn't that be Dali's point?
photograph by Hallie Cohen
{This was originally posted to The Screaming Pope, Francis Levy's blog of rants and reactions to contemporary politics, art and culture}