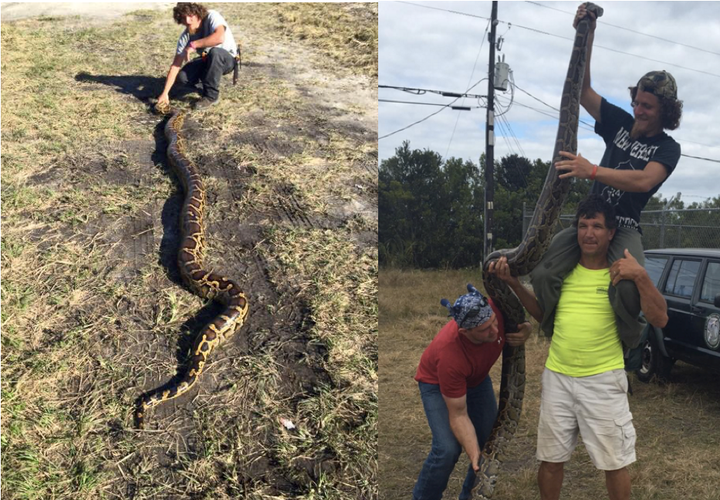 More than 1,000 hunters armed with pillowcases and their bare hands removed 106 invasive Burmese pythons from the Florida Everglades, the largest of which was 15 feet long.
The results of the monthlong 2016 Python Challenge were announced Saturday by state wildlife officials, with a landscaper from New Jersey taking two of the top cash prizes.
Daniel Moniz, 22, of Brick Township managed to bag 13 pythons, the most by any individual, as well as the longest by any individual, measuring 13 feet.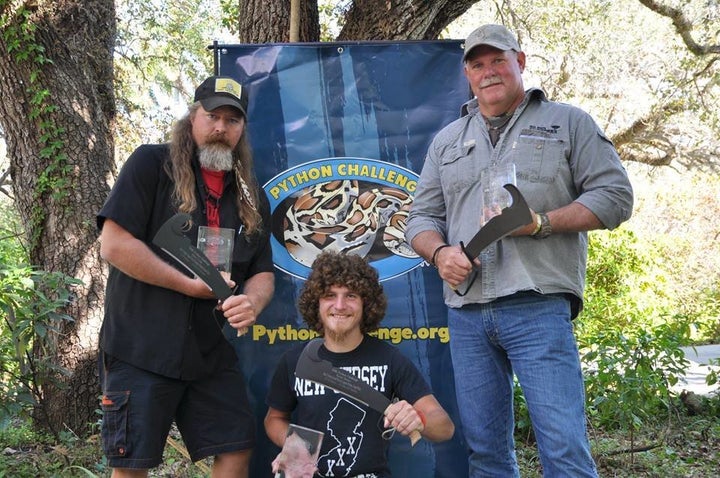 The longest snake captured, which was 15 feet long, was a group effort pulled off by Bill Booth, Duane Clark, Dusty Crum and Craig Nicks. That same team captured the most collective pythons with 33.
The annual hunt targeted the invasive species because of its detrimental effects on the local ecosystem. The snakes are capable of growing up to 26 feet long and prove to be a top predator of the natural wildlife, including alligators and deer.
Hunting Burmese pythons was what brought Moniz down to Florida after growing up catching snakes in the Garden State.
That's not to say he had ever caught a python before. His largest catch before the Everglades trip was a 6-foot black rat snake, he told The Huffington Post.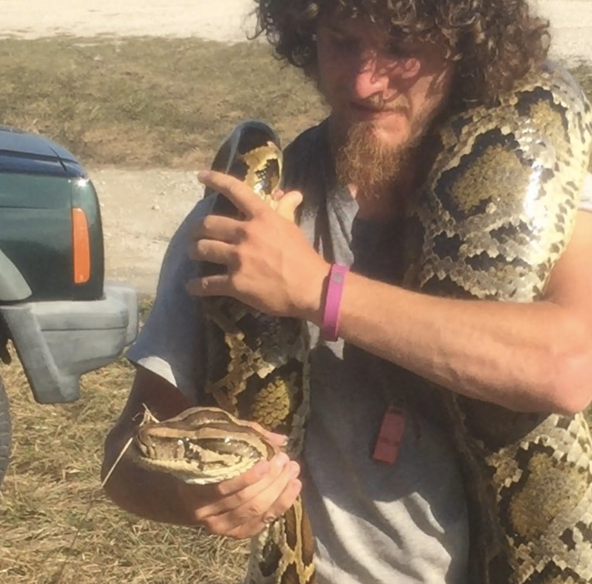 "I've caught a few venomous snakes before, which may have been smaller but equally as dangerous," Moniz said by email Sunday.
Asked if there were any particularly rattling moments during his hunt, he boldly replied: "I never really felt fear as I was hunting snakes."
"My biggest fear was probably scaring my mom too much -- especially the pictures of my bloody face," he said.
Those pictures were taken after he was chomped on by a 13-footer.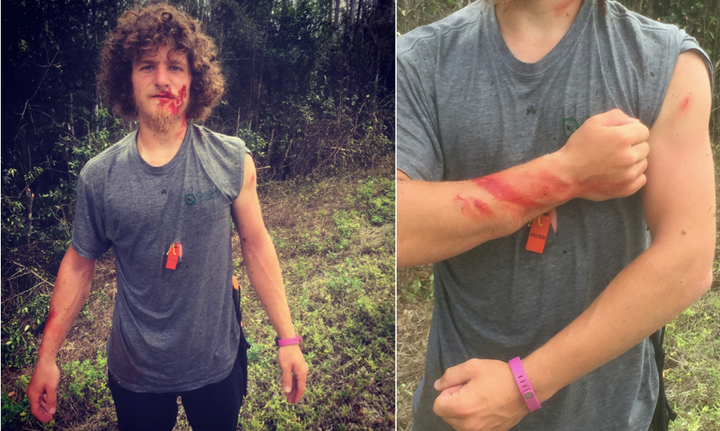 While Moniz was wrestling the snake, the monster reptile was able to sink its teeth into his cheek and neck. Once he pried it off him, it got another bite of his arm.
Fortunately for Moniz, he said none of the bites were major, and he didn't seek medical help.
On his blog he documented the dramatic fight, as well as the rest of his adventures while riding around on a bicycle with pillowcases. One such incident was his wrestling what he described as a 12-foot "monster female" that put up a tough fight before being successfully bagged.
"This python even managed to ankle-cuff me, making it hard to move! Definitely an experience, that's for sure!" he wrote.
The competition started on Jan. 16 and ended Feb. 14. All contestants were required to complete a course on how to identify, locate, and safely and humanely capture the snakes, according to the Florida Fish and Wildlife Conservation Commission.
"Our staff worked hard to provide these valuable training opportunities throughout south Florida," Nick Wiley, FWC executive director, said in a release. "We attribute much of the success to these expanded training opportunities."
This year's challenge proved to be a monumental success, as the original 2013 Python Challenge removed 68 Burmese pythons.
"We are excited to see so many people contribute to this important effort to conserve Florida's natural treasure, the Everglades ecosystem," said FWC Commissioner Ron Bergeron. "We need to keep this momentum going now that the competition is over."
Popular in the Community