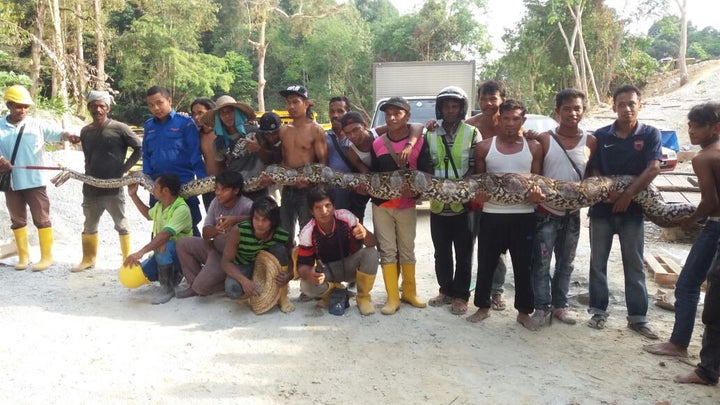 A massive python, which is among the longest ever found, has died after being captured in Malaysia.
The reptile died Sunday, just three days after it was found at a construction site on the island of Penang, the BBC reported.
Shortly after its capture, photos and videos emerged, showing it being stretched out and held up by groups of people. Originally, the snake was believed to be the longest ever found, but later measurements found it to be 24 feet, 7 inches, or about 7 inches short of the record holder, The Guardian reported.
A public relations officer for Malaysia's civil defense force gave a grim cause for its death, suggesting it may have killed itself.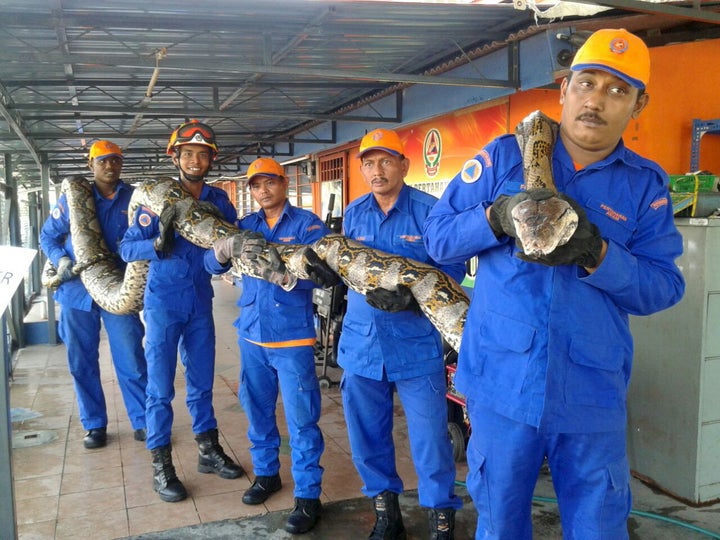 Others have waved off that suggestion, with one snake expert suggesting it may have been injured during or after its capture.
"The most likely reason is injuries sustained when caught or after being caught. Snakes are relatively delicate animals," Raymond Hoser, who runs snake handling courses in Australia, told The Guardian.
Hoser said the snake could have suffered internal bleeding or broken bones when a noose was forced around its neck. One video even shows a man kicking the animal with his boot, seemingly to get it to move.
Authorities said they had planned to transfer the python to the government's Department of Wildlife before it died. They later learned the snake was about to lay eggs. Just before it died, it released one egg, the BBC reported.
The current world record holder for longest snake in captivity is a reticulated python in Missouri that was last measured at 25 feet, 2 inches. Named Medusa, the snake lives in a haunted house in Kansas City.
REAL LIFE. REAL NEWS. REAL VOICES.
Help us tell more of the stories that matter from voices that too often remain unheard.
BEFORE YOU GO