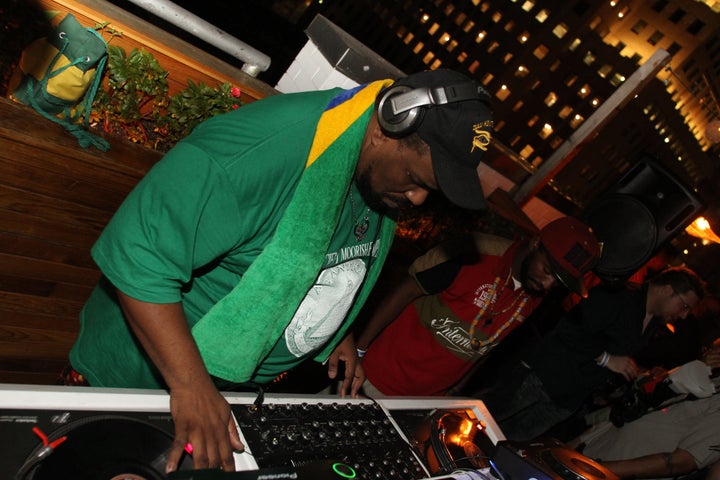 Afrika Bambaataa has watched hip-hop grow, transform and flourish for the better part of three decades.
The Bronx-born DJ is one of the forefathers of the genre.
He's proud of how popular hip-hop has become and how many people its sonic force has brought together.
But he worries that many listeners don't appreciate the four elements hip-hop has embodied from its very beginning.
Bambaataa contends that the music of DJs, dancing of b-boys and b-girls, and graffiti art have been shortchanged by most casual hip-hop fans who focus exclusively on the rhyming of emcees.
Before he manned the turntables, Bambaataa answered a few questions.
Q: How has hip-hop changed since you helped found it in the early 80s?
A: Hip-hop went through different stages, from the beginning in the streets of the Bronx, to the whole Tri-State area and then to the rest of the United States and the rest of the world. Now it's an international movement. I predict it will become intergalactic as we become intergalactic humans traveling to different planets in our universe.
Q: Is there anything that worries you about the state of hip-hop today?
A: What worries me are these so-called radio stations with program directors who don't play all the different flavors of hip-hop. They should play the old with the new, 24/7, 365 days a year. A lot of these program directors are just jiving around and not playing all the good music for the people.
Q: Anything else that troubles you?
A: A lot of times, when people say hip-hop, they don't know what they're talking about. They just think of the rappers. When you talk about hip-hop, you're talking about the whole culture and movement. You have to take the whole culture for what it is.

Q: Is that frustrating?
A: It's very frustrating, because many people who keep claiming "I'm hip-hop" don't really know jack-crap about hip-hop. They're just following what they see on MTV or what they've read in some magazine. But they never come back to the architecture of hip-hop and the pioneers of hip-hop.
Q: What are some encouraging trends in hip-hop?
A: It's brought more people together on this planet, with many so-called races and nationalities, than all the politicians put together. That's the greatness of hip-hop culture. When people can be among each other and party together and feel good.
Q: You've always gotten people interested in what you're doing as an artist. What's the secret to making people excited about your work?
A: It's all based on funk and spirituality. You treat people with greatness and greatness will come back to you.

Calling all HuffPost superfans!
Sign up for membership to become a founding member and help shape HuffPost's next chapter