The three things I find most charming about Holland are the architecture, the tulip fields, and profusion of old bicycles. Another major draw is that so many of the Dutch speak perfect English and reach out to foreigners.
There are also a number of expats living in Holland. Visiting Americans are bound to run into one on a visit. Laurie Poast is one expat who is living life in lovely Leiden. She works as a craft artist in her own atelier, a magical setting saturated with infinite inspiration for her one-of-a-kind clay creations.
I asked Laurie a few questions about living in Rembrandt's old stomping ground.
What is your craft genre?
I'm exploring an Old World aesthetic with clay and reclaimed antiquities, using the same old pigments and processes as did the artists of the Dutch Golden Age. My art objects, mobiles and jewelry all share textures that appear centuries old. The process is slow and laborious, but the romance and the effects of working with these old methods are significant to my work.

Where do you live?
I'm nestled in a seventeenth-century Dutch canal house in Leiden, The Netherlands, just twenty steps on a cobblestone road from young Rembrandt van Rijn's home. I peer out my window at the same windmill and drawbridge scene as did young Rembrandt. As an American artist, I'm absolutely amazed by and in love with the centuries-old cities and little villages here in Holland.

Describe your atelier's interior
My canal-side atelier is filled with the sights and sounds of tall-masted old sailboats and put-putting tugboats outside and that ochreous Dutch sunlight pouring in during the afternoon. I work directly at the street with the eyes of curious Dutch children often peering in at my art mobiles suspended from the massive wooden ceiling beams. The beautifully renovated interior contrasts wonderfully with the early 1600s structure, ten-foot-tall windows and crumbling garden walls.
Are many of your handmade items inspired by your travels?
Each and every piece in my current body of work is inspired by my time here in Europe. I run the Dutch landscapes painted by Paulus Potter and Jan van Goyen; drink my coffee in the cafés of Toulouse Lautrec's Montmartre; sit and work in the slivers of golden light painted by Johannes Vermeer and Rembrandt van Rijn. Each train ride inspires something new. This body of work idealizes the places I explore throughout Europe as enchanting lands of fantasy and fairy tale: stony and mineral-stained French farmhouses, creaking and battered old windmills from Greece, Spain and Holland, suspended white rabbits leaping through the air, and things that, if just for a moment, turn our dreams of sweet old world romanticism into something precious we
can hold and keep.
Your unusual planter necklace caught my eye. Tell us about it.
Holland is famous for its secluded "hofjes," secret gardens that, once one steps through their heavy gates, transform the bustling city noise into remarkably serene spaces. Against crumbling cobblestone facades hang old wooden clogs and terra cotta pots filled with the best blooms of the season. My little wearable garden pot is inspired by these little Dutch gardens.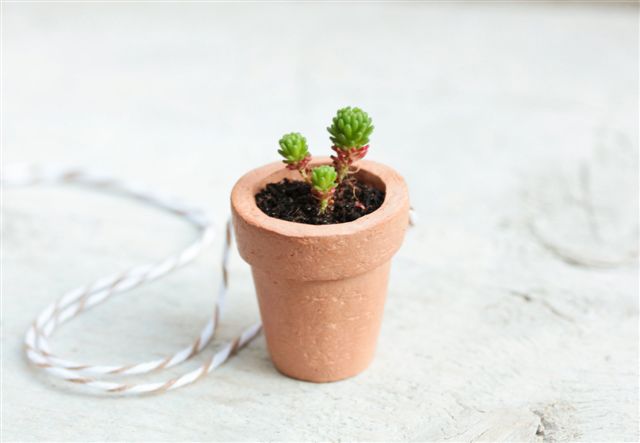 Photo: Yves Aubert
Lastly, where is your favorite place in Amsterdam for a cappuccino & chat with a friend?
There's nothing that charms my heart more than trotting through Amsterdam's cobblestone streets in an old-fashioned horse-drawn carriage. Starting at the Dam Square and guided by a top-hat wearing driver and a tall, decorated horse, it drops us off at Café In de Waag for a cappuccino and a walk through history. This modern café sits in a remarkable castle-like port building that was part of the original city wall built in 1488.
For more information on traveling to Holland, visit Holland.com
Related