Manhattan's Westside Theatre has a fresh new resident, Curvy Widow, the hilarious and naughty musical comedy based on the love life of Bobby Goldman (widow of legendary writer James Goldman). I saw Curvy Widow during its George Street Playhouse run in New Jersey in May, and loved it. I look forward to returning for its NYC run, the previews of which begin July 20. The official opening night is August 3. Tickets are available here.
I recently chatted with the show's star, Tony Award Nominated actress, Nancy Opel about all things Curvy Widow.
Xaque Gruber: Have you ever played a widow before?
Nancy Opel: I did play a widow once though you don't really think of her as one. I was in Cinderella on Broadway and replaced Fran Drescher as the evil stepmother. She's a horrendous widow, and she's not a curvy widow. When I was in Urinetown, I also played an evil person. A Tony nominated evil person. Normally I seem to play evil villains, but not this time.
XG: How did you hook up with Bobby Goldman?
NO: I did a very early reading of Curvy Widow. Before it was a musical, it was going to be a play. This was at her house many years ago. Then they sent me the new version of the script with the songs, and I immediately wanted to sign on for it, and the timing worked out.
XG: Bobby Goldman has said to me that show business is the wild west.
NO: She's right. It kind of is.
XG: When was the last time middle-aged sex was a topic in a musical?
NO: Not often. Women have approached me after the show and said "these are my feelings, and this is my kind of story." One woman said to me "Well, I'm not having as much sex as Bobby Goldman is having in this show, but it is still so real for me." So there's clearly a need for this show and it's hit something in people.
XG: Is physical comedy your thing? In Curvy Widow, you slap a guy on the first date. You also tumble around on the furniture. It's very Lucy.
NO: You just have to be loose enough to go with it. Do you ever see someone walk down the street and think 'that's the way they walk?' So I have to think of those things when developing a character. I'm very comfortable in comedy. Some people aren't. You have to understand timing. And you have to understand how to lay comedy out the right way like a tray of hors d'oeuvres. You can't put your finger in the deviled eggs.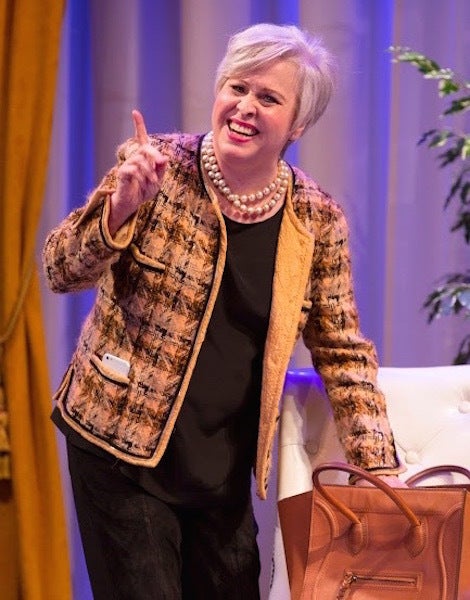 XG: Tell me about working with (writer) Bobby Goldman, (director) Peter Flynn, and (composer) Drew Brody.
NO: The great thing about Bobby and Peter is when I make suggestions, they listen and have been unbelievably easy to work with. Some people are not. Some people want to be the boss all the time. This show has been a great process of collaboration. Bobby is very ego free with her writing, and I can say the same thing about Drew Brody. He's been a delight to work with. I don't even know how many songs he has written that we are not doing. If a song didn't work, he would just go off and write another gorgeous song in a day.
XG: You bring many colors to the stage through your performance. You're not painting Bobby Goldman with broad strokes, but with an intricate Impressionist palette of emotion.
NO: Life isn't just funny or sad. It's not that simple. Bobby is a real human and real life is a mosaic of emotion. Sometimes in tragic moments we find the humor and laugh at death. Sometimes in jubilant celebrations we're melancholic. You can't just paint a story like this with a broad brush. Sometimes in life there's unexpected crazy crap. There's a lot in life that doesn't make sense. The problem sometimes with what we do as people is we seek to organize everything in our life including our art, and once you start organizing your art, you run the risk of making staid and predictable choices. How often have you thought in life "I never thought it would be like this?" I mean everyone could have that on their tombstone. "I never thought it would be like this."
XG: The closing of Bobby's journey is lovely, and it's not a Disney ending.
NO: And part of what I loved about the show is they did not try to tie it up with a pretty bow. You know, Bobby has a "and they lived happily ever after" ending with a man. In my own personal life, I'm single. The unpredictability and the adventure of being single can be what you choose rather than the safety of "that guy's nice, handsome, terrific - he'll do." Okay, but then what are you giving up for that? Everybody doesn't ride off in the sunset with someone. If this were a formula romantic comedy, it would have a more obvious ending, but life isn't formula, and I'm glad about that.
Previews for Curvy Widow begin July 20. Official opening is August 3. Check it out at the Westside Theatre (407 W. 43 St. NYC 10036).