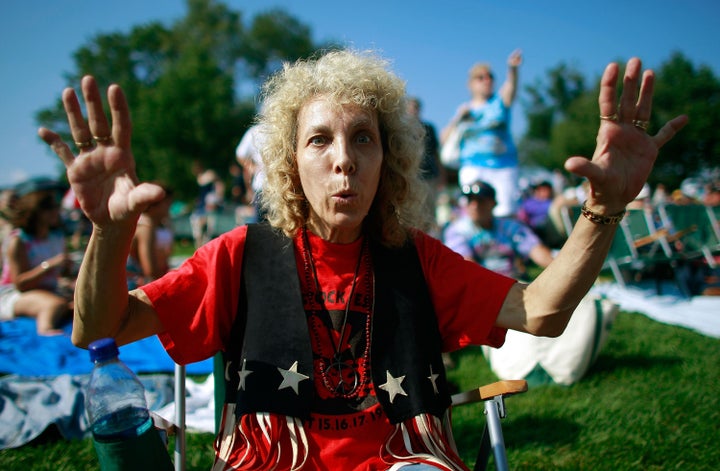 For such a young actor, Jonathan Groff has had this charmed life. First, he lands one of the highest profile roles in a musical, Spring Awakening, a show that was meant to confront Broadway conventions. Right after he leaves that show--with a Tony and Drama Desk Lead Actor nomination in hand for his performance as Melchior Gabor--he goes on to play Claude in The Public Theater's Shakespeare in the Park 2008 revival of the '60s revolutionary classic Hair. In both roles, the sweet-faced Groff challenges authority with a smile and triumphs theatrically, if nothing else. And this is all accomplished before his 24th birthday. As a newcomer to New York City, making his way here from Ronks--a town near Lancaster, PA--Groff went from high school theater geek to Broadway contender in a very short order.
But of course, with these two achievements under his belt, getting tapped to play the part of Woodstock organizer Michael Lang in Ang Lee's Taking Woodstock seemed a natural progression from Hair. Though he has limited screen time, he so effectively slipped into that role that he physically seemed to mutate into Lang.
Now, besides his illustrious cinematic debut playing a historically resonate figure on the heels of the 40th anniversary of the actual Festival, Groff adds further heat to this summer's boil by playing Dionysus in The Public Theater's Central Park presentation of Euripides' The Bacchae.
And despite some mixed reviews for The Bacchae, the play provides him with another way to provoke through a sort of primordial counter-cultural figure. Groff has had an uncanny instinct for landing provocative parts in great shows, created by well-recognized artists such as the legendary Greek tragedist, the Oscar-winning Lee, or the award-winning playwright Craig Lucas.
Q: Seeing you in The Bacchae, it's clear there's a connection between lots of the things you've done so far. Though Dionysus is a dark figure in this context, the idea of him unleashing sexual tension fits with your other projects. You embrace that kind of role. In Spring Awakening you are part of a generation that would have been hippies if they'd been in the 1960s. So you've experienced this cultural phenomenon being expressed in all these different vehicles.
JG: That's so true. It's funny; I've never even thought about it until you were talking about that. Yeah, I feel really lucky to get to play these revolutionary guys that are working for a cause; it's a really exciting thing. As we were rehearsing for The Bacchae we were doing the press for this movie, and I was on the phone with my dad a couple of weeks ago. I literally said to my dad, "I can't believe it, but there is a lot of Michael Lang in Dionysus."
Everyone talks about Michael's smile and how certain people view it as an angelic smile and other people view it as a devil's smile covering up something. It's the same thing with Dionysus; in the mythology, when they originally performed it in Greece, the mask for Dionysus was a smile. He was doing all of these evil things with a smile on his face.
Q: Wine was the intoxicant of the time but it could have just as well been psychedelics. You've got him going to the women and saying, "It's okay to be yourselves, to leave your husbands. It's okay to frolic nude in the woods with other women." Using intoxicants, unleashing women...
JG: Totally. And the gender-bending; seeing a man dressed up as a woman, which was a clichéd thing for some people, it still is to this day. Anthony Mackie, who plays Pentheus, was telling me about how people from his life, his neighborhood, are like, "Dude, I can't see you in a dress." They won't come see the play, they're like, "It freaks me out, it makes me feel weird," and he's like, "Really?" They know me, they've seen me in a bunch of stuff and it still freaks them out." It's mind-boggling.
JG: I did a Craig Lucas play at Playwrights Horizons, Prayer for My Enemy, and then did a Craig Lucas play at the Public, The Singing Forest and was playing these characters that were incredibly moral, searching, confused and heart-breaking. [Groff won the 2009 Obie Award for both productions--he's pictured at left with the award and former fellow Hair cast member Karen Olivo]
I was talking with Craig one day, and he was like, "What do you want to do next?" I was like, "I think I want to do a classic play because I've never done a classic. I'd love to play a character that's not so moral, not so upstanding."
Even in Hair and Spring Awakening, they were rebels but they were really good people. But [Dionysus] is very revengeful. At the end of the play I ruin the old man, Cadmus' entire life but he didn't do anything wrong.
Q: When I look at the metaphor, I don't find him all that bad--at least not in you.
JG: It's interesting because there are a lot of parallels between Jesus and Dionysus. I mean, a new religious figure coming in out of nowhere and people starting to worship him.
Q: When you look at the values of the time there was the male dominance and women were supposed to follow orders--he attacked the values of the time.
JG: Totally. The son of god, the son of Zeus; a mortal mother, a sort of immaculate conception thing that some people believed in, and some people didn't. Spreading a new way; Jesus did, "Here's my body and here's my blood." That's all in there. It's really fascinating. I literally have so much fun doing this play, I go to bed at night thinking about how I get to do it the next day so I wake up in the morning and I want it to be 8 o'clock.
Q: How do you do this in all the heat we've had?
JG: We rehearsed in that heat. We we're there all day rehearsing, which is a lot. But the park is the most incredible space in New York; it's just magic A) because it's outside, and in the middle of Central Park which is my favorite place in all of New York, and B) because everyone, most everyone, that comes has waited in line all day to see the show so it's an audience like no other because people are hungry to see this play.
People have to work, or know someone, or find a way in, so when you they get there, and are in the audience, it feels very special and of the moment.
The other night, for example, there was that huge storm that came so we finished just in time before it started raining. There were huge cracks of thunder and lightening. And they keep calling the god whose voice is thunder, I was standing at the end, and I revealed myself as the god in the end. I was standing at the top in my sparkle thing, and there were, literally, strikes of lightening coming down from the thing and we were like, "Whoa, this is so cool!"
We had those moments in Hair too; suddenly a breeze would come through and it changes the entire meaning of everything. It's like you're standing there and suddenly a wind catches you. One night in Hair we were so hot, literally, that our bodies were steaming, and just the energy of it, it's just an amazing space.
Q: You played the one character who is the link to the real Woodstock experience, Michael Lang. You're at the right age, and getting to see this experience filtered through meeting him... How was that whole experience for you?
JG: Now Woodstock is obviously such a huge part of my life and I know so much about it, but when I try to think back to what I knew before this movie, even before I did Hair and before my life was consumed with the late '60s, I remember knowing that Woodstock was a very famous concert in the late '60s and knowing that Janis Joplin, Jimi Hendrix, Richie Havens, and The Who were all there.
It was a movement in some way and that's pretty much all that I knew about it. Now I know so much more about it, and have been learning a lot about it, so being a part of it and living in it for that summer was really inspiring. Michael Lang was 24 years old when he did that and it's mind-blowing. I'm 24 years old and to think that someone had the vision, that drive, and that idea at 24, and actually saw it through, is completely inspiring.
Q: And the fact that he wasn't intimidated.
JG: He's just this chill dude. I asked him, "450,000 people, a disaster area, not enough food, not enough bathrooms, people threatening not to play, rain--why were you so chill? Or even building up to that; what made you so relaxed the whole time? Is it just who you are?"
His answer to me was that he saw it. He said he was the only one; he knew exactly what it was going to look like, what it was going to feel like, what it was going to be like, and what the movement was going to be--what a beautiful thing it was going to be. He saw the light at the end of the tunnel.
Everyone else was sort of throwing their arms up, screaming, running around and doubting, not knowing, and he said, "I just knew that it would work and so I had complete confidence." It's just also who he is.
Q: How much are you like that or not?
JG: He and I have a lot in common; I think we share a similar quality. Like when I spent the weekend with him I learned just as much about playing him as a character as I did about a way in which you should live your life. I felt like what a cool thing, beyond finding a mannerism, or talking to him about the experience and getting information, it was just cool to spend time with this guy who knows how to live his life with such ease, passion and confidence. He has a lot of faith in people and I think he's incredibly positive. We sort of share that. And it takes a lot to ruffle his feathers; I'm sort of the same way.
Q: Sometimes, it's not good to meet the person you're playing, and there are other times when it's essential. This was an essential moment because you were the one person who plays a character that has to give authenticity to the film.
JG: That was one thing that when I sat down with Ang for the first time and he put the research in front of me, he was like, "Michael Lang, people not only know what he looked like, what he did, and they know his name, but they also know how he interacts with people, how he smiles, his look on his face, his vibe."
Michael's vibe is very specific and people that really know Woodstock really know him. He's also an important part in the movie because he represents all the business stuff like finding a location and doing the press conference and changing the hotel and making it offices and all of that stuff.
But Ang said to me, "When you come off that helicopter in that scene, I want to see Woodstock in that moment. Like Woodstock is landing in his front yard, like this is the start of the whole thing." So he was very, very intent on that and on that day when he shot, he kept saying that to me, he's like, "I really need that vibe, I really need to get that vibe."
Q: Had you ridden horses before?
JG: My dad trains and races horses for a living, but he does harness racing so I had never been on the back of a horse; I didn't know how to ride a horse. A huge part of the joy of shooting the movie was that for two weeks I got to go horseback riding in upstate New York. That amazing horse that I ride at the end, this beautiful white chocolate horse that is RJ, the horse they use in Hidalgo. It was incredible, literally the most beautiful fields and trees and forests; it was so much fun.
Q: In Spring Awakening you're the character that leads the charge, in a sense, right?
JG: Yeah, Melchior's an atheist. It's a society in 1891 Germany where the kids are completely repressed, sex is obviously completely taboo; the very first scene of the play this young 14 girl asks her mom where babies come from and she says the stork. And my character is the only one in the whole play who was raised with liberal parents who taught me about sex.
With my best friend in the play, Moritz--who ends up committing suicide because his body is so out of control--I end up educating him and I write him a sex essay which gets me then kicked out of school. I have sex with that girl and get her pregnant; she has an abortion and dies. So Melchior's the rebel, the revolutionary; he's the open-minded guy that's going to lead. The final lyric that I sing in the show is "One day all will know," because he's going to go out and change the world.
Q: I really like the songwriter. Duncan Sheik. His pop music sounded a little bit like he is an heir to David Bowie for that post-Bowie generation. ?
JG: Duncan can't write a bad song. I'm a fan of his music as well; I listen to it all the time, I have his anthology. But it's so stunning. It's totally his own voice and it's completely unique.
Q: Then you do Hair--they came to you for that?
JG: At that point I had an agent so they submitted me for it, then I had an audition, a call-back for that, and then got it.
Q: Though it's very much an ensemble, the one or two of the characters that anybody remembers is yours, the nominal leader of the Tribe. Did you actually grow your hair for that part or was it a wig?
Q: You were never tempted to really grow it out?
JG: I totally would have if I could have, but I didn't have enough time. It was incredible though, to go from Spring Awakening where we were in these buttoned-up, 1891 costumes. Yes, we got to let loose in the songs, but the teachers were hitting us, we were on wooden chairs.
But then in Hair I got to literally release, physically. The whole show is about freedom, as if the kids in 1891 could have had rock 'n roll--that was the whole point of Spring Awakening.
Q: So when you get into Hair, the actual cast really is experiencing the idea of Hair--the idea of the moment. And, except for yourself, everybody else gets that moment of nudity on the stage. I'm sure they didn't do that before on stage back then. The fact that it's still provocative is even interesting.
JG: It is, it's fascinating. You know they say that moment of nudity in Hair, it's always optional, it's always been optional, like since '68 you could do it if you wanted to. They said that moment is about feeling free, whatever that means to you.
Q: You're the only one that isn't supposed to get naked.
JG: Yeah, because I don't burn my draft card, so I'm not free. And so I sing a song about it, and get completely upstaged by all the naked people. Literally, I've never been more upstaged than at the end of Act One of Hair, when you're singing this ballad, "Where Do I Go?," and you're crying and singing. It's this beautiful song, and people are literally in the audience craning their necks to look around you to see the naked people. It was hilarious.
But, when we started rehearsals, that show forces you to experience the vibe of the time. If you're really going to do Hair, you're really going to go there; you live it. It's pretty much all music, with some scenes here and there. Everyone's on stage the whole time. When we were doing it, we were outside in Central Park under the stars, the stage was made of grass. It was like we were really experiencing something that was other worldly.
There are lines like "look at the moon" and there was the moon in the sky in Central Park; and "Good Morning Starshine," and the stars are literally right above you. There are people dressed as hippies in the audience, people that actually experienced that time, and they're pulling out their own clothes and coming to celebrate. Then people that are my age that think that it's cool, are dressed up and sitting in the audience. And they come on stage with you in the end and dance with you.
JG: Wow, that's so cool. One of the first things that I asked Michael while I was at his house--because obviously he's a pretty savvy music guy--I was like, "To you, who really knows the music of the late '60s and was really involved in the authenticity of what it really was, is Hair sugary and silly to you?" And he was like, "No man, that was the real thing. The Vietnam War was happening and they were protesting it on stage."
I was talking to some of the original cast members that came to see the show and they said that after the show was over, at the stage door, some kids would be like, "Do you think I should burn my draft card?" I mean, I can't imagine what it must have been like to be performing that show in 1969 on Broadway.
Q: So how long a gap was it between Hair and Taking Woodstock?
JG: Spring Awakening closed and five days later I auditioned for and got Taking Woodstock. And then I got Hair and Hair began. And then I was performing Hair at night, getting in a white van that drove me to upstate New York to rehearse with Ang, and then the van would drive me back the next morning and I would get up, go to rehearsal and then do Hair at night. That was back and forth for a while. And then I left Hair on a Saturday night and started shooting Taking Woodstock on Monday. So it was literally those two projects back to back.
I did it for about a month. it was a really intense time. It was completely joyful and exhausting at the same time.
Q: Well, I must admit, I wasn't sure how I was going to be affected by Hair. Did it resonate with Ang?
JG: When he cast me, he didn't know that Hair was happening. He didn't know anything about it. He just cast me. I literally put myself on tape, and hours later got a call that they had fast-tracked the tape to Ang and he was interested. So it was this happy accident; Woodstock didn't know about Hair, and Hair didn't know about Woodstock. They just happened to overlap and all the research was good for both. The characters that I played were actually pretty different, but to feel like you were in the world and you were living that time was a real gift.
Q: It was amazing to see how people were trying to re-embrace it and, I think, are still trying to re-embrace. I'm curious to see how Taking Woodstock is accepted.
JG: I can't wait. I think the thing that we have gotten away from, or at least that my generation has gotten away from that we're ready to re-embrace, is the idea of being passionate about something.
I feel like detachment and being an arm's length away and not caring or whatever is like the cool thing. Because in the '60s it was the very passionate defiance of the authority that was great, do you know what I mean? It wasn't that you were detaching like, "Fuck you, we don't care," it was like "Fuck you, we do care about something else."
There was a fire underneath everyone, and I think that that's what is coming back. For example, I was in Midtown when Obama got elected. First of all, up until the election, kids my age were going to Pennsylvania and Ohio and they were campaigning and they were asking questions and they were passionate about something.
Then, when he got elected, I was with my friend Allison Case from Hair, we were at a bar in Midtown when he got elected. It was like New Year's Eve; people were crying and running and screaming and shaking each other. That's the thing; whether it's peace and love, there's always an opposite and all of that, but it's the passion. It's the idea, which Michael had too, the idealistic view that we can hold each other's hands and make change, make something happen, and that we, whatever little thing that I do, can make a difference.
Q: Well I'm hoping is that people can have that feeling without being embarrassed by it.
Q: Well, as good as those guys at Focus Features are at making hits that also have political and cultural credibility, Taking Woodstock is a risk. As Ang has said, "I want to do something that not everyone thinks about doing."
JG: I'm so inspired by Ang. Someone mentioned to me in an interview--that some critics at Cannes were disappointed because they thought it was going to be more about a concert and they also thought that, with Ang Lee, it would be more deeply, dramatically, intense or something.
Q: It is but it's not negative.
JG: That's the thing. When you go and see an Ang Lee movie, you should have no expectations--he reinvents himself with every film. All you know is that you're seeing a piece of art because Ang is a true artist and he listens to his instincts. He listens to his heart, is incredibly detail-oriented, does his research, is a hard worker, has an opinion about things, and puts together a work of art, whether it's comedy, a drama or whatever.
Like the inspiration for Taking Woodstock was that he was doing The Ice Storm and he always researches back five years before the movie. He was taken with the Woodstock thing and wanted to do something positive. This is a guy who reinvents himself every time he makes a movie, from Crouching Tiger, Hidden Dragon to "Sense and Sensibility", to The Ice Storm, to Ride with the Devil, to Brokeback Mountain--which is about gay cowboys--now to this movie about Woodstock. He's unbelievable.
Q: So are you getting weird offers, getting good offers or what?
JG: I'm back to auditioning again; back to square one.
Q: At least you're making a living.
JG: Totally. At this point, it's about just looking for the good writing. I love acting in the theater,but I'm fascinated with acting on film. I love acting on film, but I've been fortunate enough to work on projects and with writers that are really challenging.
I've learned so much from them and grown as an artist so the rule is if it's well written you can't lose. If it's a film or a play or whatever, if the writing is good and you really feel passionate about it, you just can't lose. You'll grow from it. Whether it's a success or not is neither here nor there; you're going to grow as an artist from this experience.
Q: When this is over do you have other things in hand?
JG: No, I have nothing, I'm free. As of September 1st, I'm unemployed.
Q: At least you get unemployment right?
JG: I do actually; in theory I can.
Calling all HuffPost superfans!
Sign up for membership to become a founding member and help shape HuffPost's next chapter