The past three weeks I've been interviewing key players in the upcoming film Halfway, written and directed by Ben Caird and produced by Jonny Paterson. Today, I'm thrilled to have the opportunity to chat with the film's star, Quinton Aaron!
Many will remember Quinton from his lead role in The Blind Side with Sandra Bullock, for which he received several nominations including Black Reel Award, Best Breakthrough Performance; Teen Choice Awards 2010, Breakout Male Actor; and MTV Movie Awards 2010, Best Breakout Star. Quinton has also appeared on shows such as Law & Order and One Tree Hill, as well as a smattering of others.
In Halfway, Quinton plays the role of Byron, a recently released convict who finds himself caught between two worlds. Byron's urban criminal past haunts his new life as the only black man in a predominantly white, conservative Wisconsin farming town. The film chronicles Byron's struggles as he adapts to his new life on probation, while trying to elude the very real threat of falling back into his old life of crime.
Q: How long have you been acting? What made you want to be an actor? How did you get started?
A: I've been acting for as long as I can remember. I grew up on the stage when I was in high school in New York and have just always wanted to be an actor. I've been imitating actors from my favorite movies ever since I could talk. I remember being a kid and loving the James Bond movies, I think because I wanted to be a secret agent at that time as well as an actor (and I looked great in a tux!). As I got older, I started to realize that I enjoyed the discipline associated with performance, and that led me to start acting more and more. I joined an organization for teenagers called Teens in Motion, and was lucky enough to be afforded some opportunities to develop that love for acting with them.
Q: What was your first reaction to this script, when Jonny [Paterson, the producer] approached you with it?
A: As soon as I heard about the story and got the gist of what it was and who the character was, I felt it was a project I could really get behind. One of the cool and defining things about the movie is that is has a strong causal message that resonated with me when I read the script. It's about a young man who has just been released from prison and finds himself up against a very real set of circumstances: does he take the second chance that has been afforded to him, or does he take the easier route and revert back to a life of crime?
When I observe some of the problems that we create for ourselves in our communities I have felt in the past that we, in a sense, imprison ourselves by feeling a sense of duty to stay committed to the world that we come from, instead of being brave enough to branch out and recognize that that might not be what is best for us. In Halfway, my character Byron maintains ties with his best friend, Paulie (played by Marcus Henderson), and finds it incredibly difficult to make that decision to move on with his life, because he's a loyal guy but also because it's how society has sort of trained young men like Byron character to behave.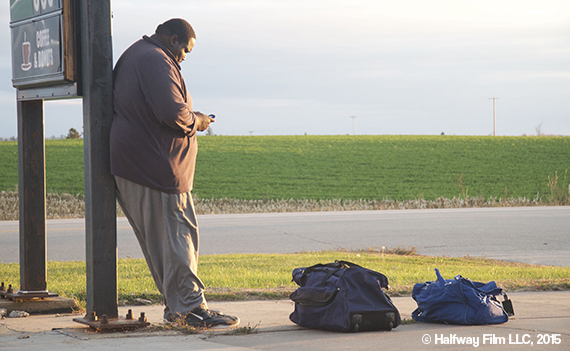 Quinton as Byron on the set of Halfway, waiting at Mills Market in Montfort, Wisconsin. © Halfway Film LLC, 2015
Q: What were some of the challenges in taking on this role?
A: We shot the movie over four weeks on the Lepeska family farm in Montfort, WI -- a part of the world I had never been to before! So the biggest challenges for me on this project were to try and learn about farm life, manual labor, how to feed calves while adjusting to the smell of being around animals all day and other things of that nature. It was a very unique experience in that sense and I owe a great deal of thanks to the Lepeska family who went out of their way to show me the ropes. Also, working with the director, Ben Caird, to understand how my character would maneuver in this very alien environment was challenging, but for all the right reasons. Ultimately, I love what I do and am very grateful for the opportunity to grow as a person as well as a performer in each role that I take on.
Q: What did you love about this role?
A: Not only the story that is being told through my character's eyes, but the message that I hope he can deliver to folks who watch it. If an audience can resonate with Byron, like I did in many ways, they might make better decisions under difficult circumstances. As our producer, Jonny Paterson, said in his interview a few weeks ago, a great outcome for us would be for young men and women who are about to be released from prison to watch the film and resonate with Byron and thus make better decisions when they find themselves released back in to their community. Do they want to be another statistic and fall back into their old ways, or do they want to be stronger and braver and take on the second chance that is afforded to them?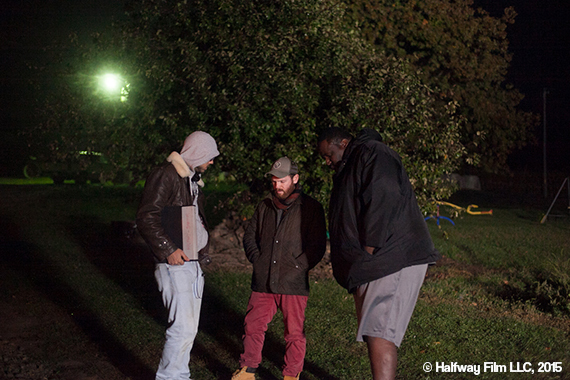 Quinton on the set of Halfway with writer/director Ben Caird and producer Jonny Paterson. © Halfway Film LLC, 2015
Q: Did this story impact you personally? If so, how?
A: I haven't actually seen the movie as of yet, as I've asked to wait until it's finished before I do and so it's tough for me to answer the question from that perspective. However, from the perspective of having lived as Byron for four weeks in rural Wisconsin and speaking the words that Ben Caird scripted for me, certainly the story impacted me personally. I have a deeper appreciation for how lucky I am to be in this fotunate position to do what I love. To have seen the world through the eyes of Byron was an incredibly sobering experience at times. I'd also say that I have a new found respect for farmers and those hard working Americans who live in rural communities and do an amazing job of farming the food we eat and the milk we drink! I think before I made Halfway that I took certain things for granted in my own life that now, in hindsight, I am more grateful for.
Q: What message do you hope viewers come away with?
A: Everyone has made mistakes in their past, but when life gives you a second chance, take it and move forward with a positive perspective!
Q: How have your past successes changed how you approach a movie and a role?
A: Not too much. I'm the same person, very appreciative of opportunities that I'm afforded and I always approach roles in the same way; not taking anything for granted. The Blind Side was a wonderful opportunity for me, which opened many doors and allowed for me to collaborate with Academy Award winners. It has given me the chance to pursue a career that I'd always dreamed of, since those days watching James Bond and for that I will always be truly thankful. But, while it was a great start for me it definitely isn't my ending. There's a lot more to come and I hope that with Halfway audiences are able to see that there is much more to me than just Big Mike.
Q: You have a foundation, The Quinton Aaron Foundation, with a mission "to provide hope, encouragement, confidence and resources to children on the brink of suicide or battling the damaging effects on self-esteem and confidence caused by the actions or words of others." When did you form this foundation, what inspired you to tackle that mission, and what are your goals for the foundation?
A: I formed the foundation in 2012 with a mission inspired by own experiences. I was bullied as a child for my size, crooked teeth, awkwardness etc. After working on The Blind Side, I found myself speaking to a lot of kids for a lot of different organizations, trying to inspire them to follow their dreams, and the majority of kids who came to talk to me wanted to know about how they should deal with bullying. Many of them were going through the same sorts of things that I went through and as a result I felt I had a duty to try and use my experiences to help them. So, The Quinton Aaron Foundation was formed and we continue to go from strength to strength with a very clear focus on this mission.
Q: What are your career goals? Would you like to try writing, directing, producing as well, or is acting your primary passion?
A: Acting is definitely my primary focus, but I'm certainly interested in producing as well. I like being creative and although I don't consider myself a writer, I do enjoy coming up with ideas and developing them with writers who I like and want to work with. On the producing side, with Halfway my first experience of working more in that capacity (as an executive producer), I've really loved it. It's been awesome to work closely with Jonny on this film and I think I've learned a lot about what it takes to actually get a movie made. It's an experience I'll always carry with me.
Q: What types of roles or movies would you love to be in?
A: Well as I mentioned earlier, I'd love to be James Bond one day!
007, are you listening?!? Thank you so much, Quinton, for your time!
Read the rest of the interviews in this series:
Somewhere between funny and philosophical lies the truth in Pam Stucky's writing. Pam is the author of several books including the Wishing Rock series (Northern Exposure-esque contemporary fiction, with wit, wisdom, and recipes); the Pam on the Map travelogues (wit and wanderlust); and the YA Sci-Fi The Universes Inside the Lighthouse (wonder and wisdom). Pam's driving forces are curiosity, the pursuit of happiness, the desire to thrive, and the joy in seeing others do the same. Pam is currently working on writing a screenplay, because life is short, so why not try?
Popular in the Community